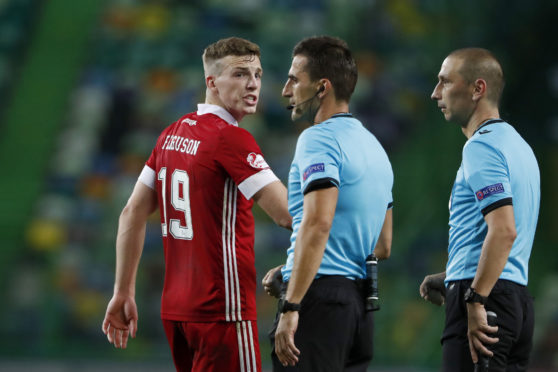 Aberdeen midfielder Lewis Ferguson reckons the Sporting Club de Portugal test has given him a taste of top-level football.
The Dons emerged with credit from their 1-0 defeat in Lisbon on Thursday night, exiting the Europa League at the third qualifying round stage but not disgracing themselves by any means.
For Ferguson it was another notch in his belt in continental competition and feels it will serve him well going forward.
He said: "Of course (you want to play at that level). Playing against that on Thursday night was a good experience and it will be stand me in good stead. That's the level you want to get to, that top European level. Playing in a stadium like that, that's the sort of place you want to play. That was a good little taster and hopefully we can get more draws like that.
"They moved the ball sharp. It's one and two touch. If you go and try and get after that, they've got the ability to pop it round you. We had to try and contain them. But I think the way they moved the ball is the difference. Every one of them is technically at a very high level. They're all quick, they're all athletes.
"We also had a few chances ourselves. On another day, the one that falls to Hedges, if that goes in, it's a different story. The positive we can take is that we contained a top level side. Most of the boys experienced playing against a team of that level in a stadium like that, which is good. But it was disappointing not to come away with anything."
The performance of Ferguson's midfield counterpart on Thursday night, the Brazilian Wendel, caught the eye of the Dons schemer.
He said: "The boy I was up against, Wendel, was a good player. He was busy and always on the move and finding space. He never did anything too fancy, he kept it simple. But I don't think he ever gave a pass away.
"He was always on the move, he was kick he was strong and when we were on the ball he was the one to come after us.
"I think their centre-half (Sebastian) Coates looked comfortable. Every time he got the ball he just stood on it and waited on one of us to go and press him and then the ball was popped about so I'd say those two."
The Dons return to domestic action tomorrow with a trip to Ross County, where Aberdeen will bid to respond from their 3-0 defeat to Motherwell a week ago.
Ferguson added: "It's a completely different game. We had to sit in and contain a top side – it's going to be a bit different on Sunday. Domestic football is completely different to European football; it's 100 miles an hour, tackles, boys are in your face. We're going to need to switch our game back to domestic and try get the three points. I'm positive if we go up there and put in a winning performance, we'll be fine."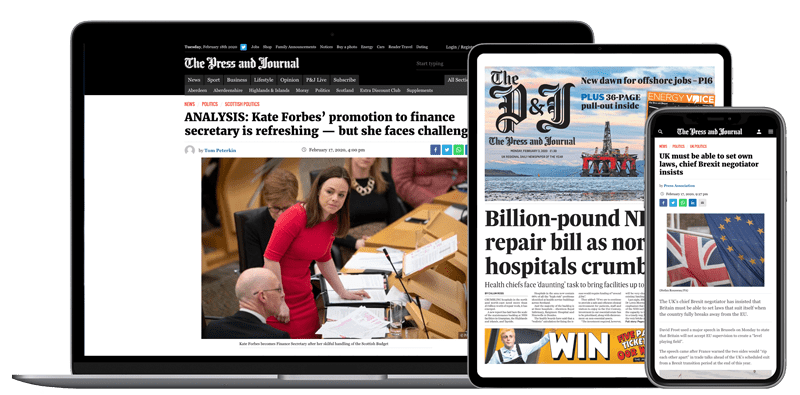 Help support quality local journalism … become a digital subscriber to The Press and Journal
For as little as £5.99 a month you can access all of our content, including Premium articles.
Subscribe