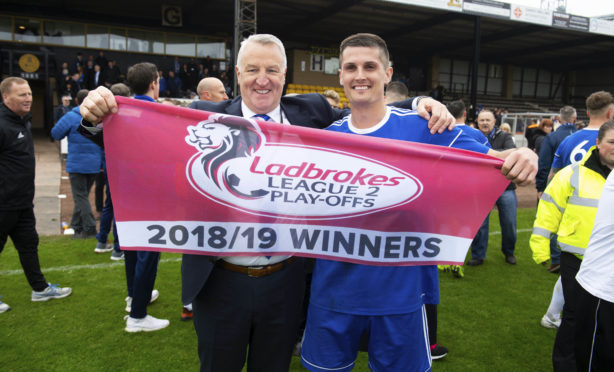 John Sheran insists family will come first as he ponders whether to remain in the dugout at Cove Rangers next season.
The Highland League champions will start next season as a League 2 club after beating Berwick Rangers 7-0 in the pyramid play-off final but Sheran, who is recovering from the heart attack he suffered last month, has still to decide whether to continue as co-manager alongside
Graeme Mathieson.
He said: "I'll see how things progress over the next few weeks and then make a final decision on whether I want to be in the dugout next year or not.
"I have to put my family first. They need me more than football needs me and I have to bear that in mind but once we've got all the information we'll make a decision.
"I would think I would still be involved here in some capacity but I haven't spoken to the chairman or Graeme about any of this as the focus has been on the play-offs. I haven't really thought about it since Saturday as it has been a whirlwind."
Sheran has a big decision to make but the good news is that he is firmly on the mend following his health scare, although he has pledged to take it easy as he steps up his recovery today.
He said: "I'm feeling fine. I'm not sure how I should feel after a heart attack but I'm slowly getting my confidence back and feel like I'm ready to do things.
"I had an assessment at the hospital last week and they are happy for me to start rehab tomorrow and I'm looking forward to putting the heart under a bit of pressure again and getting things working.
"I've got eight weeks of rehab to do and I'm not expected to go back to work until six to eight weeks which takes me up to the end of June.
"I was in the shower on the Sunday morning and bang, that was it. I had a burning sensation in my ribcage and my arm went heavy. My wife, who is a nurse, knew right away and she called the ambulance which got there quickly.
"It happened at 9.30 and the blockage was cleared by 11.15. They work on you really quickly and you feel it all happening. It was amazing how quickly they got the blockage cleared and that was the important bit as it reduces the damage to your heart.
"I'm lucky I've been given a second chance and it's important I heed that warning by losing a bit of weight, eat a bit healthier and try to slow down a bit."
Sheran was confident Mathieson and first-team coach Roy McBain could complete the job of leading the club to the SPFL in his absence but he is also grateful to former Dundee manager Paul Hartley for helping out in the club's time of need.
He said: "Immediately after it happened I didn't think about football. My thought was 'will I be here in the morning?'
"There is a fear which comes with having a heart attack as I'm sure anyone who has had one will tell you, but in terms of the club I trusted Graeme and Roy to do what needed to be done here. They know exactly what we do, what was required and I knew the players would be fine.
"Not being in the dugout was not a big concern for me. Paul Hartley also stepped in and helped out with the training on Wednesday nights and it was good to the players to have a fresh voice.
"He also did some analysis of East Kilbride and Berwick for us and I know he was a big help to Graeme in Roy in terms of being someone they could bounce ideas off. From that point of view I owe Paul a big debt of thanks.
"The players knew what was required. In the weeks leading up to the play-offs we went with the team we hoped to play and in the formation we thought we would use but with the top players we have got here I knew they wouldn't let us down."
Sheran has lower league experience from his previous jobs at Montrose and Peterhead and he knows moving up to League 2 will be a considerable jump for his squad but he is confident the Highland League champions will hold their own in the SPFL.
He said: "The biggest change for us will be playing good quality sides every single week. There will be no easy games.
"Strikers are a little bit sharper, take more chances, and everything is just that little bit better.
"We have tried to build a squad which is capable of playing in the SPFL and we feel we have a squad which can compete.
"We need to add two or three new faces but I'm sure the players will rise to the challenge."