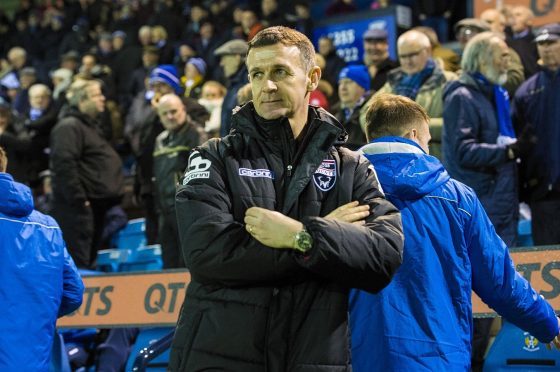 Jim McIntyre had spent a lot of time reflecting, even before the current lockdown.
As an out-of-work manager, he has had to experience the rough that follows the smooth, or even just a heavy dose of the former.
McIntyre has been without a manager's job since leaving Dundee in May last year, parting company with the Dens Park club after their relegation to the Championship.
It came less than two years after his time at Ross County was brought to an end, before they too dropped out of the top flight.
Morning walks with the dog and pre-lockdown rounds of golf have filled some of the time, with McIntyre treating his spell out of the game as an opportunity to learn.
"You always reflect after a period of time and if you look at the way things have gone, after I left, then you know we had a good thing going there (at County)," he said.
"But times move on and football owners make decisions, managers make decisions – sometimes we get them right, sometimes we get things wrong. We're all big boys, we know how it works.
"Sometimes you get the sack and it's unfair, sometimes you get the sack because your results determine you lose your job. You've just got to accept it and move on. There's always learning curves whether you're successful or not.
"You're never as good as people say you are when things go well and you're never as bad as people say when you're going through a poor period.
"You've got to stick to what you believe in and have the strength of character to see it through. You will get time or you won't – that's a decision other people make."
At County – a job he took after leaving Queen of the South in September 2014 – he at least had the high of a sixth-placed finish and winning the League Cup. Dundee brought very little in the way of positive experiences, with poor form proving fatal to his and the club's fate.
"The job at Dundee was very similar to Ross County. When you assess a squad and realise there's got to be a substantial change in the January window, then you are gambling to a certain extent.
"The players that I chose to move on, had an opportunity to impress from that October period to the January window opening. I felt we didn't have enough and that's why you take that gamble.
"It worked at Ross County and we went on to have that stable success. At Dundee it didn't. You've got to take the criticism that comes your way because it was my choice to do that.
"Ultimately we never got the job done. That's life as a football manager."
He has made sure to stay productive in the intervening 12 months. The 47-year-old still attended games and stays in touch with former players, keeping himself ready for whenever the next opportunity may arise.
"I did a mental health course through the Chris Mitchell Foundation, who was one of my former players, which was two intense days. It was excellent. It was geared towards football, at different levels, and it was great to share experiences with guys that had been through that and had issues with their mental health.
"It's good to understand a bit more from people that have been through it themselves. It's also about going to games and keeping up to date with what's been going on in all leagues.
"When you're out of work as a manager it's always difficult, particularly when your last job didn't go well and you had a short spell in charge. That's the job we're in; you've got to take your medicine, reflect and go again when the opportunity presents itself. You can't feel sorry for yourself and there's always reasons why things don't work out.
"You also learn from some of the things that go on behind-the-scenes and make sure that doesn't happen, because that can have a negative effect as well."
---
Stuart Kettlewell and Steven Ferguson deserve great credit for what they have done at Ross County.
That is the view of former Staggies boss Jim McIntyre, who worked with the pair while they were, respectively, under-20s coach and head of youth development.
County won the Championship in 2019, securing an immediate return to the top flight after suffering relegation the previous year.
Since Inverness managed the feat in 2010, only two teams had come straight back up as champions: Dundee in 2014 and Hearts a year later.
McIntyre said: "They did a brilliant job getting Ross County straight back up.
"They took over with a handful of games left when Owen Coyle left – that season was a lot of turmoil which could have been avoided. But that was the choice Roy (MacGregor, chairman) made.
"It was a brilliant achievement to bounce back first time. I think Hibs did it under Alex McLeish and another club did it – not many do. It is difficult to get out of.
"The bigger challenge was always going to be when they got in the Premiership, after the initial bounce of getting back in it there's been some difficult results along the road."
The goal from the start, as stated by Kettlewell and Ferguson, was to keep County in the top flight, which would be achieved if the current standings are to be taken as final.
McIntyre reckons a change in the expectation level at Victoria Park has been beneficial in the period since he departed.
He added: "Certainly, I've seen from afar that Roy has lowered his expectations of where Ross County should be finishing.
"Staying up is the goal, whereas under us it was a different scenario and we were always looking to make top six. Maybe there's been a learning process there in terms of Roy's position.
"Stephen Robinson at Motherwell says the same every year. They will have their individual goals but staying in the Premiership for provincial clubs has got to be the goal to start with.
"You'll have higher aspirations of being best of the rest, which was always the case when we were there.
"Everybody talks about winning the cup and finishing top six and people recognise success, but keeping us up that year (2015) and the run we went on was probably our best season.
"To then go on and finish sixth and seventh in consecutive seasons was real success."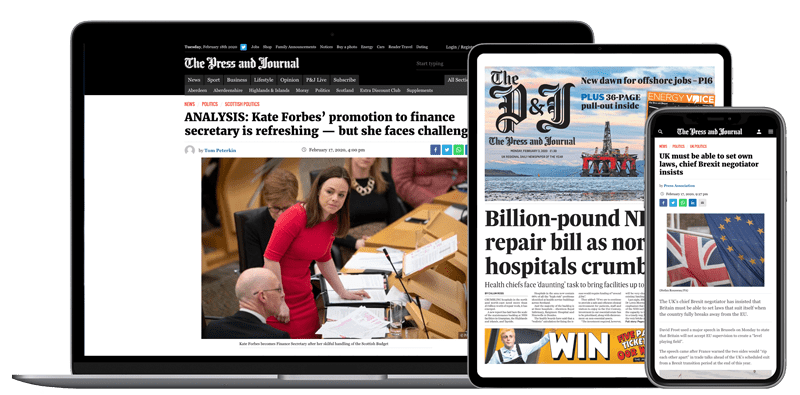 Help support quality local journalism … become a digital subscriber to The Press and Journal
For as little as £5.99 a month you can access all of our content, including Premium articles.
Subscribe