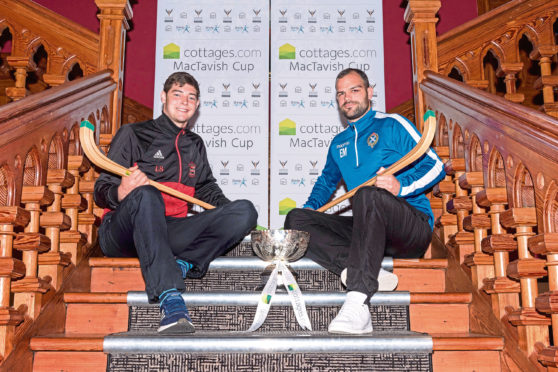 Shinty chiefs are to hold a phone-in conference with all clubs next week to discuss options for restarting the season.
But the MacTavish Cup, the North championship knockout tournament, whose quarter finals were due to be played today, is now in danger of not being played this year.
Camanachd Association president Keith Loades of Kinlochshiel revealed yesterday: "We've been looking at an array of options, but it's extremely difficult without knowing what time we'll have available to play matches.
"We might be able to squeeze in some action or, in the worst case scenario, the year could be a total write-off as far as our game is concerned.
"That's why all clubs have been notified of a phone-in conference arranged for 6pm next Wednesday at which we can take soundings on issues they're concerned about. What we can attempt to do as far as competitions are concerned is a key point for discussion."
The Inverness-based former shinty-hurling internationalist added: "There are thoughts about localised mini-leagues or just playing some cup competitions if we end up, for instance, being able to play from August to October.
"But I don't think it would make sense to play part of the league season this year and then complete it from next Spring – we'd be better ensuring a clean start in 2021.
"It's important that we listen to the views of the clubs on the alternatives, so this conference can be very helpful."
The president said that, with the new three-week lockdown into May, there was an obvious threat to the MacTavish Cup and its South equivalent, the Celtic Society Cup, in the present timetable. Clubs would need to be given reasonable time to resume training sessions before being asked to play and the MacTavish semi finals are due on May 18, with the final scheduled for Inverness on June 13.
The Celtic Society Cup, whose second round was also due today, has its final arranged for Oban on June 27. The first rounds of both competitions have yet to be played.
"I'm extremely doubtful we can fit in all the ties to be able to play the MacTavish final on its due date and it's obviously also difficult for the Celtic Society Cup," said Loades.
The Tulloch Homes Camanachd Cup first round is on May 9 and cannot now go ahead on that day, with the second round due on May 30 similarly unlikely. The final at Kingussie is not due until September 19 but the semi finals begin on July 25.
Loades disclosed that the association has furloughed three of its full-time staff but stressed: "They will not lose out financially and will return at the right time."
He said: "We have held meetings by conference calls and loss of income is obviously a big issue, so we have been working up cash flow projections.
"Chief executive Derek Keir has been doing a fantastic job and even arranged a conference call of 28 governing bodies of sport, so they could agree a shared approach.
"There are undoubted difficulties but shinty will come through this and flourish again, helped by good, strong people at board and club level."