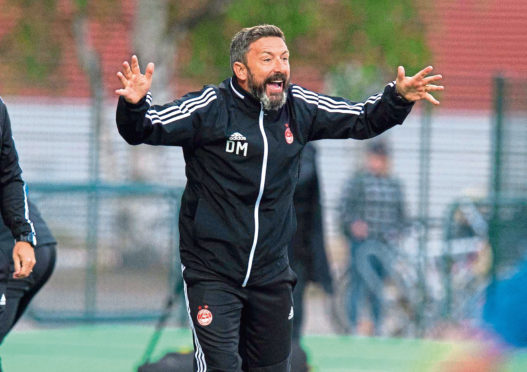 Derek McInnes reached a notable milestone on Thursday night, celebrating his 300th game in charge of the Dons with victory in Lapland.
It was a fitting outcome and one which keeps alive one of his unfulfilled ambitions, that of guiding the club to the group stages of the Europa League.
That won't be easy, and next week's trip to Tbilisi is fraught with danger, but the players will have benefitted from getting a second competitive outing.
The performance in Rovaniemi at no time hit the heights of the Pittodrie leg, and for 25 minutes the fear was growing it might be one of those nights, but the team ultimately did what it needed to, and thoroughly deserved to progress.
The manager praised his players' mental strength and felt there was much to enjoy, particularly their ability to settle the game and turn things round, and that is certainly an important aspect for any side. Over the piece, it has been a highly satisfactory start to the campaign and the Dons comfortably avoided the kind of horror-show suffered by Kilmarnock.
Having recently extended his contract with the club, there seems every chance Derek will be with Aberdeen for a number of years yet, but when he does finally depart, his statistics will ensure his place in the pantheon of Pittodrie greats.
Only the club's first three managers and Sir Alex Ferguson have been in charge for more games, and while Jimmy Philip's total could well remain forever unbeatable, McInnes will have the others in his sights.
That in itself is pretty remarkable given the average length of duration managers achieve these days, but Derek has built something of a dynasty, has a strong relationship with his board, and has proved himself over and over again.
Inevitably, given his longevity, there have been murmurings from some discontented fans on occasion, and at other times it has looked as if McInnes himself might be about to end his tenure.
His love for the club has helped to prevent that, as has his realisation the backing he gets from his employers at Pittodrie might not be as solid elsewhere.
Having lived through the ups and downs the decades have brought me as a Dons fan, I view Derek's reign as one of the more successful.
The only real disappointment has been the inability to add to the 2014 League Cup trophy win; but the level of consistency has been superb, he has qualified the club for Europe every season, and for a large part of his time he has been up against one of the best Celtic sides in decades.
Talk to the managers and players he has come up against, and you'll hear praise and appreciation for his efforts. Derek is highly respected by his peers, and that tells you everything you need to know about his talent.
We are lucky to have him, and hopefully he will be around for a long time to come.