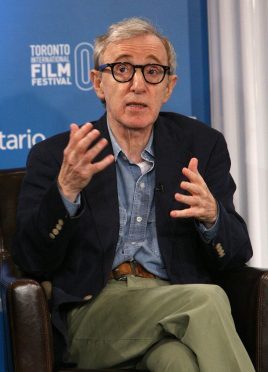 Woody Allen has rejected resurfaced claims he molested his adopted daughter Dylan Farrow.
The filmmaker accused his ex-wife Mia Farrow of "relentlessly coaching" the 32-year-old into thinking he was a "dangerous sexual predator" in a statement issued as Dylan was set to appear on US television network CBS to discuss the allegation.
Allen, 82, who has always denied the claim, was investigated over the allegation that he molested Dylan in an attic in 1992 when she was seven, but he was not charged.
In the statement to the Press Association, he accused the Farrow family of "cynically using the opportunity afforded by the Time's Up movement to repeat this discredited allegation".
"I never molested my daughter – as all investigations concluded a quarter of a century ago," he said.
Allen added: "When this claim was first made more than 25 years ago, it was thoroughly investigated by both the Child Sexual Abuse Clinic of the Yale-New Haven Hospital and New York State Child Welfare.
"They both did so for many months and independently concluded that no molestation had ever taken place. Instead, they found it likely a vulnerable child had been coached to tell the story by her angry mother during a contentious breakup."
He referenced claims from another of the former couple's adopted sons, Moses Farrow, who has previously alleged Mia was abusive.
Allen said: "Dylan's older brother Moses has said that he witnessed their mother doing exactly that – relentlessly coaching Dylan, trying to drum into her that her father was a dangerous sexual predator. It seems to have worked – and, sadly, I'm sure Dylan truly believes what she says."
Dylan's brother, journalist Ronan Farrow, was one of the first reporters to break details of the Harvey Weinstein scandal which prompted the MeToo and Time's Up campaigns.
Since then Allen has faced renewed questions over his alleged behaviour in an industry coming to terms with its history of sexual harassment and abuse.
A number of actors have shared regret at starring in the director's films, with Oscar-tipped Timothee Chalamet announcing on Tuesday that he did not want to profit from his role in upcoming Allen film A Rainy Day In New York and would instead donate his salary to three charities combating abuse and harassment, including Time's Up.
Rebecca Hall previously apologised for her role in the film and said she would also donate her earnings to the celebrity-backed initiative.
Others to distance themselves from Allen in recent weeks include To Rome With Love's Greta Gerwig, Wonder Wheel's David Krumholtz and Mira Sorvino, who vowed never to work with him again having won an Oscar for her role in 1995's Mighty Aphrodite.
However Alec Baldwin, who worked with Allen on three occasions, on Tuesday expressed his support for the director, saying the rejection was "unfair and sad".
In preview clips of Dylan Farrow's interview released by CBS on Wednesday, she said she felt "outrage" following years of being ignored.
The full interview, which airs on Thursday and is Farrow's first on television according to the US broadcaster, comes after she used a newspaper article to question why Allen has been spared by the "revolution" that ended Weinstein.
In the preview clip, she said: "Why shouldn't I want to bring him down? Why shouldn't I be angry? Why shouldn't I be hurt? Why shouldn't I feel some sort of … outrage that after all these years, being ignored and disbelieved and tossed aside?"
Asked why people should believe her, a tearful Farrow replied: "I suppose that's on them, but all I can do is speak my truth and hope … that someone will believe me instead of just hearing."
She added: "I am credible, and I am telling the truth, and I think it's important that people realise that one victim, one accuser, matters. And that they are enough to change things."