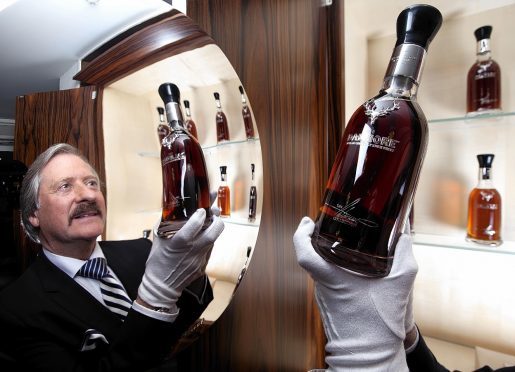 The man they call "The Nose" in Scotland's £5billion-plus-a-year whisky industry is celebrating his 50th year of creating some of the worlds most coveted and iconic drink brands.
Richard Paterson has achieved legendary status as the foremost whisky expert of his generation, having been master distiller at The Dalmore, based in Alness, for nearly five decades.
Such is his reputation for sniffing out the best of Scotland's national drink, his nose was insured by Lloyd's of London for nearly £2million.
At the 2013 World Whisky Awards, he was recognised with an "Icons of Whisky" lifetime achievement gong and entered into the event organiser's hall of fame – a permanent tribute honouring noteworthy individuals who have made a lasting contribution to the industry.
His 50th year in the business will see him host a series of tasting events around the world, while showcasing special editions including The Dalmore Paterson Collection and the recently released The Dalmore Quintessence.
Mr Paterson said: "The past 50 years has flown by and I am so proud of what I have achieved in the industry.
"My time with The Dalmore has provided me with some of my fondest moments.
"The chance to create and work with the world's oldest and rarest malts has been an absolute privilege and I'm forever grateful that I've been able to share these treasures with fellow whisky lovers across the world."
He added: "While my work with The Dalmore has undoubtedly been a career highlight, I've also been fortunate enough to share my passion with whisky fans whilst contributing to the work of the Wine and Spirit Education Trust. This variety has made my time in the industry all the more enjoyable.
"The next 18 months are shaping up to be among my best yet. I enjoy meeting people who have a passion for whisky and I'm relishing the chance to share my celebration with connoisseurs from across the world."
Bryan Donaghey, chief executive of The Dalmore owner Whyte and Mackay, said: "With a unique flair and unwavering passion for developing only the finest whisky, Richard continues to be a driving force in the industry.
"His natural ability is unparalleled and he is, without doubt, a master of his art. Watching Richard work with The Dalmore is inspiring, and we are privileged to be able to help him celebrate such an important milestone in his career."