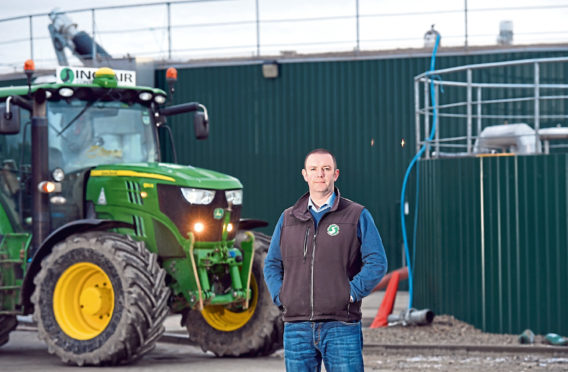 Innovation is the name of the game for north-east agricultural contracting business Sinclair Agricultural and Recycling Services.
The business, based at Kinknockie, Udny, near Ellon, is run by Magnus Sinclair in conjunction with his father Alistair and with support from his wife Fiona.
"It's a family business. My grandfather moved here from Orkney and started a dairy farm with 350 cows," said Magnus.
"In 1998 we put 400 acres into trees, kept the dairy and bought a contracting business."
The family has been out of dairying for more than 10 years now and the main focus is on the contracting business as well as a 500kW on-farm anaerobic digestion (AD) plant, which was installed in 2014.
"When we started agricultural contracting we employed eight people, but now we employ 31," said Magnus.
He said the 800-acre farm was split in two, with 400 acres used to grow energy crops for the AD plant and the rest used for woodland.
"The AD plant is doing well," added Magnus.
"We need about 500-600 acres of grass to fill all of ours but we rent in a little bit extra ground for it."
He said the contracting business, which recently won the coveted title of Contractor of the Year at the Farmers Weekly Awards in London, includes all types of agricultural contracting, renewables, haulage, and waste management.
Award judges praised the business for its diverse range of services, willingness to embrace new technology, and excellent record management.
"We do a bit of everything. We spread a lot of digestate (from AD plants) and liquid waste from dairies and piggeries," said Magnus.
"that type of thing is our niche and also harvesting energy crops for a lot of AD plants."
Magnus said the family's experience with its AD plant meant it had a unique understanding of what customers with AD plants needed.
This knowledge, along with a passion for using the latest technology, has helped the business grow and it now serves customers from Inverness in the north to Dundee in the south.
Green and yellow are the colours on show at the Sinclair plant and Magnus says the family is very much "in with John Deere" with all of its 11 tractors sourced from the manufacturer.
"They (John Deere) have been trialling stuff with us including a lot of software and management packages," said Magnus.
"MyJobs is the main one we have been doing with them, and we have been one of the first guys to use John Deere's manure sensing technology for accurate slurry applications."
He said the use of this type of technology meant the company was able to offer a more professional service to customers and show them the value of their waste.
Magnus said MyJobs allows him to create all the different job sheets for staff to access electronically, and helps management keep track of workloads.
"The men see it on their phone and it allows myself and the other operations managers to see all the jobs," he added.
"It's all electronically done and the staff can input how many hours they have worked on the job."
In addition, the renewables side of the business is growing and the company supplies woodchip for biomass boilers.
Excess heat from the AD plant is used to dry timber, which is bought in and chipped, however Magnus said the family hopes to start harvesting timber from the woodland on the farm in future.
The excess heat has also enabled Magnus' daughter Ellie to create a standalone business – The Veg Company – growing chillies and tomatoes and creating various sauces and chutneys.
On future plans for the business, Magnus said a "considerable investment" was being made in upgraded facilities including improvements to the mechanic's workshop.
"We are going to build new offices due to the number of extra office staff we require, and we will be taking on up to three new members of staff," said Magnus.
"They are going to be built, so we can take on another 10-15 extra people if it comes to it."
He also has aspirations to add agronomy and consultancy work to the firm's offering, and to be able to utilise John Deere's technology more with customers.
"We have not done it yet but I'm told we are going to be able to allow customers to have access to their own data (taken from contracting work)" said Magnus.
"It's going to be a complete bundle. I'm pushing them (John Deere) for the data to go right through to the invoices, and we are trying to go paperless from a timesheet point of view."
Lastly, Magnus praised his wife Fiona and said without her support he would not have been able to grow the business to the scale it is today.
"Fiona has been instrumental and very understanding with the building of the business," said Magnus, who admits that up until five years ago he was tied to the business and very rarely able to get time away with his family, which includes son Euan.
"We are now at the stage where I have good people in management roles that allow me to focus on other things in the business."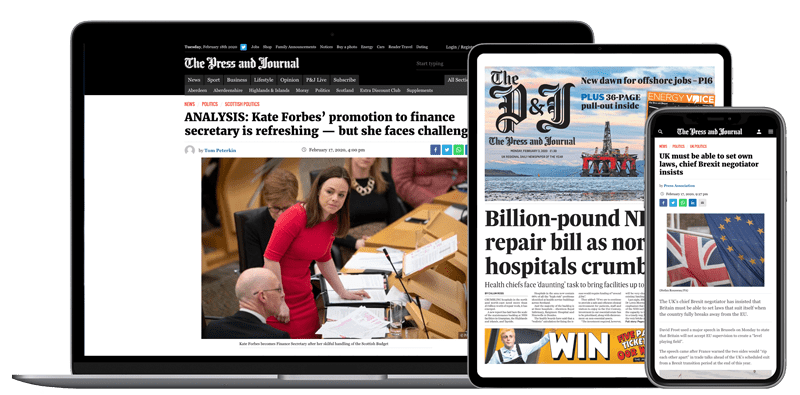 Help support quality local journalism … become a digital subscriber to The Press and Journal
For as little as £5.99 a month you can access all of our content, including Premium articles.
Subscribe