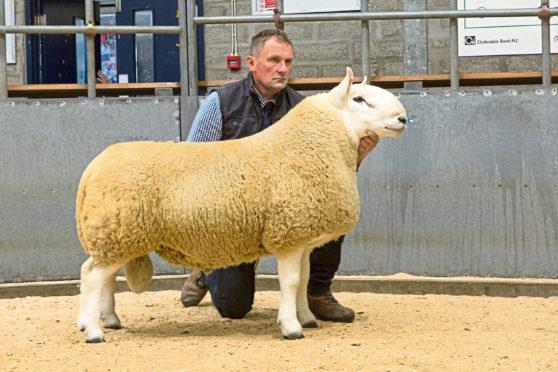 North Country Cheviot rams sold to a top price of £4,100 at the breed's annual show and sale at Aberdeen and Northern Marts' Caithness Livestock Centre.
The sale, which attracted buyers from Wales, Northern Ireland and Shetland, saw 58 rams average £831.55, back £124.06 on the year for nine less sold.
Sale leader was Bardnaclavan Xanadu from Johnny Campbell's 150-pure ewe flock at Bardnaclavan, Westfield, Thurso.
By the privately purchased Allanshaws Tank, he stood reserve male champion at the Royal Highland Show. The buyers were the Barclay family, Harestone, Crathes, Banchory.
The same home then received £2,200 for Bardnaclavan X Boyfriend when sold to George Cormack, Wester Dunnet, Thurso. This shearling is by Sebay Vermount, out of a home-bred ewe by Allanshaws Silverstar.
Later in the sale, Mr Campbell sold his female champion for £1,400 to JS Armstrong, Leam House, Enniskillin, Co Fermanagh. By the £1,400 Durran Thunder, this gimmer stood second in her class at the Highland. James Mackay of Biggins, Killimster, Wick, sold his overall champion for £4,000 to Messrs T Sinclair, Reaster, Lyth, Wick. This was Biggins Xyler, a shearling by Smiddyquoy Ransom.
Mr Mackay's reserve champion, a shearling named Biggins Xach, sold down to Wales for £2,600 with M Thomas, Knowle Farm, New Radnor, Presteigne. Reserve champion at the Black Isle Show, he is by Overton Wizard.
Andrew Polson, who runs his 180-ewe Smerlie flock at Roadside, Smerlie, Lybster, received £2,400 and £2,200. Dearest was Smerlie Xtreme, a shearling by the £3,000 Allanshaws Sensation, which sold to James Baillie and sons Hamish and Balfour from Sebay, Tankerness, Orkney.
The other was a shearling named Smerlie Xavier by the £38,00 Upper Cornquoy Trademark, which was knocked down to Charlie Angus, Oldfield, Thurso.
James Allan, Durran Mains, Thurso, sold Durran Xizang, by Bardnaclavan Terminator, for £2,200 to W and S McCarthy, Myrelandhorn and HRH Queen Elizabeth's Castle of Mey Trust, Longoe.
The Baillie family from Sebay sold two shearlings for £2,000 apiece.
First at this money when purchased by Findlins Farm, Hillswick, Shetland, was Sebay Xtra Special, by Nistaben Wonderboy, while the other Sebay Xcitable, by Wester Trouble Maker, sold to J and M MacDonald, Tormore, Dunbeath.