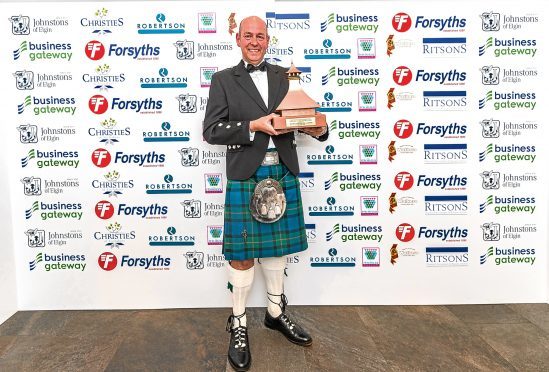 The makers of one of the world's most revered single malt whiskies and a family-run bakery took the top honours at the Moray Chamber of Commerce (MCC) annual business awards last night.
More than 270 people gathered at the Alexander Graham Bell Centre in Elgin for the black-tie dinner and awards ceremony.
The most prestigious honour of the evening, the main business award, went to the Macallan Distillers.
It was presented by Moray Council economic development and infrastructure committee chairman John Cowe to Graham Macwilliam, head of distillation and warehousing at Macallan-maker Edrington.
Founded in 1824 at Charlestown of Aberlour, in the heart of Speyside, The Macallan was one of the first distilleries to be legally licensed.
Employing 90 people, it is now owned by Scottish international drink company Edrington, which is currently building a new £100million distillery and visitor centre at the site.
Graham Hutcheon, Glasgow-based Edrington's managing director of group operations, said: "The iconic distillery and brand home opening next summer will bring significant economic benefits not only to The Macallan and Edrington, but also to the wider local community.
"What makes this award particularly special is the level of collaboration that has made it possible.
Mr Hutcheon paid tribute to The Macallan's workforce and hailed the support offered by other local firms, including Robertson and Forsyths, over many years.
Maclean's Highland Bakery (MHB), of Forres, won the evening's other top honour, the Moray export award, which was presented to managing director Lewis Maclean.
In the past year, MHB has seen export trade grow from 17% to 20%, supplying customers in countries including China, South Korea and Brazil.
Mr Maclean said he was "humbled" to win "as there are some great businesses in Moray".
MCC office manager Lara Mackay said: "Even in a tough business climate, Moray businesses are remaining resilient and proving time and time again they can grow and thrive."