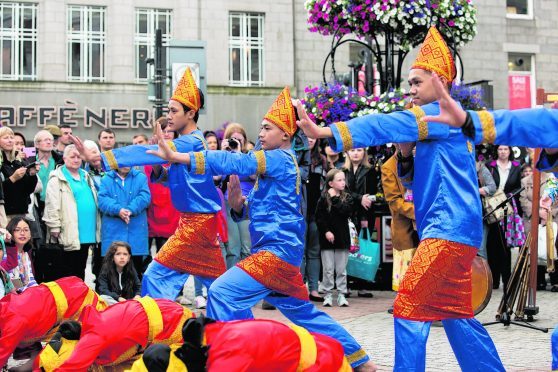 It's been a whole year of festivals and 2016 has seen the biggest growth in audiences for the region's festivals since the Aberdeen Festivals group started working together almost two years ago.
The hugely successful SPECTRA kicked off the year in spectacular form when 35,000 people visited the UK's biggest urban light festival in February.
SPECTRA has since won Festival of the Year at the national events and festivals awards, so onwards and upwards for the 2017 festival, which takes place from February 9-12.
Aberdeen Jazz Festival carried the festival flame through March and increased its ticket sales by a huge 40%, bringing a range of local, national and international jazz stars to the city for a fabulous line-up of both free and ticketed events. Aberdeen Jazz Festival returns in 2017 from March 15-19.
The city's visual arts and design festival, Look Again, took things to a whole new level, attracting thousands to the city centre to experience everything from a huge cube mirrored pavilion at the Castlegate to work by Turner Prize-winning artist collective Assemble. Look Again takes place in 2017 from April 27 to May 1.
The University of Aberdeen's May Festival increased audiences by almost 2,000 during 2016 with an exciting mix of speakers, science, music and children's events all wrapped up into a programme hosted mainly on the university's historic Old Aberdeen campus. May Festival returns from May 26-28, 2017.
The city's longest-running festival, Aberdeen International Youth Festival (AIYF), attracted hundreds of young people from across the world to Aberdeen during the summer and will, once again, present work from the very best performers locally and internationally across all art forms. AIYF is on from July 28 to August 5 next year.
TechFest, one of Scotland's top science festivals, has a longer festival programme next year and will take place from August 26 to September 25.
September, always one of the region's busiest months, sees North East Open Studios (NEOS) kick off from September 9-17, 2017. NEOS increased its audiences this year from approximately 18,000 visitors to almost 26,000. A massive leap for one of Scotland's most prestigious open studios events.
For the second year, True North, the north-east's festival of music and song, brought in some of the UK's top singer-songwriters and hosted the likes of King Creosote and Richard Hawley in some of 2016's best live shows. True North will take place again in September 2017. Dates are yet to be confirmed.
October heralds Scotland's national festival of contemporary dance, DanceLive. Organised by dance development agency City Moves, DanceLive offers national and international works by some of the world's top choreographers and dance companies. Local groups also get a look-in and make this one of the region's most exciting and diverse festivals. For 2017, DanceLive will take place from October 12-28.
Scotland's festival of new music, Sound, brought the year to a close as it premiered new and exciting work from new composers from close to home as well as national and international commissions and collaborations. Sound will take place from October 26 to November 12 2017.
Also look out for the festivals calendar which will be delivered with the Press and Journal in early February, containing all the information on the 2017 festivals.
Get the dates in your diary!