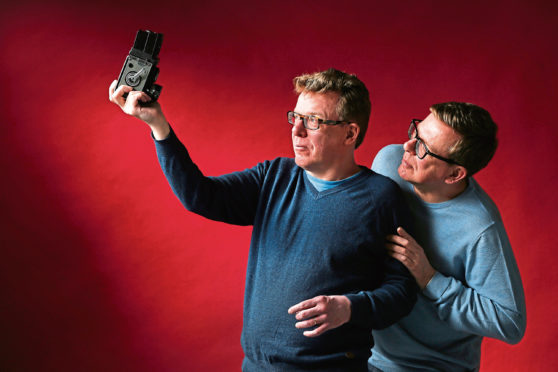 Long before they were famous, twin brothers Craig and Charlie Reid – aka The Proclaimers – regularly played gigs in the upstairs bar of the Market Bar in Inverness.
It's a small space, and on sultry summer nights it can be hot and sticky as regulars and tourists alike cram in to listen to good music being played live on the venue's tiny stage.
Little did the brothers know that those Inverness experiences might one day stand them in good stead…
Last weekend, they took to the stage at Glastonbury in sweltering hot conditions.
Charlie said: "That was the hottest gig I've ever done, and that includes many nights spent in clubs and pubs over the years.
"It was about 33 degrees when we walked on to the stage, and while it went very well, it took me about a day to get over it."
The Proclaimers, along with a star-studded cast of supporting acts, return to the Highlands on Saturday to play a big-top tent in Bught Park, Inverness.
"I was on holiday last year and visited Inverness and every time I go there a lot of great memories come flooding back, including playing the Market Bar."
It's 11 years since the lads performed live in Inverness – the same year they played Edinburgh Castle's esplanade for the first time.
This year, their Edinburgh Castle concert sold out in just under 10 minutes with Castle Concerts reporting this as the fastest sell-out in their 25-year history.
A second show was added, and it also sold out within 24 hours because, quite simply, people can't get enough of The Proclaimers and their music.
You'd expect home-grown crowds to welcome them with open arms, but what about audiences in other parts of the country?
"To be honest, I have expected things would get rough for us because of Brexit and the Scottish referendum votes, but it's never happened," said Charlie.
"We've never hid our allegiance to an independent Scotland or allegiance to left of centre politics and were expecting problems, but up to now it hasn't happened.
"What we do is walk on stage and hopefully entertain people – our own political beliefs are secondary."
So has the current political situation had an influence on their songwriting?
"I think it's having an influence on everything and certainly, it looks to me, like the British state is coming to an end," said Charlie.
"Populism in politics in Western Europe and throughout the world is breaking up the old political system and central government.
"Everything is up for grabs at the moment I'd say and we're living through a time of trauma.
"Who knows where it will all end, but things always change and you can't stop progress.
"But for the old-style political parties across Europe, things will never be the same again."
Pages of history books are written every date and on many a page the music of The Proclaimers appears…
That's because songs such as Let's Get Married and 500 Miles are often played at personal history-making events such as engagement parties and weddings, while the anthemic Sunshine On Leith is regularly played at funerals in Scotland.
"I think it's great and we're really happy about that," said Charlie.
"We often get requests backstage, before a show, to say something like, Andy's got to ask something of Susan and then dedicate Let's Get Married to them.
"Craig is convinced there will be a refusal one day, but it's not happened yet."
Those lucky enough to have tickets for Saturday's concert are in for a treat.
"They can expect a show that's overwhelmingly up-tempo – what we do is always pretty high energy and as it's in a tent, even more so than a theatre show," said Charlie.
"The show starts many hours before we go on and I hope people will feel they've had their money's worth as there are great support acts.
"We were given a break, many years ago, by several people, particularly The Housemartins, and it's nice if you are at a certain level, to be able to invite people on to your show."
Gates open at 3pm and DJ Tam Coyle will be on hand to whip fans into a frenzy of excitement building towards the moment Scotland's favourite twins take to the stage.
First act to grace the stage at 4.30pm will be Astrid, the four-strong guitar-pop group who formed in Glasgow, but have strong links to the Isle of Lewis.
The band were discovered by Stevie Jackson from Belle & Sebastian, who was so impressed he invited the boys along for the first UK Belle & Sebastian tour.
Next up, at 5.20pm, is singer/songwriter Zoe Graham, from Glasgow, who has appeared several times at Celtic Connections and been championed by Radio Scotland's Roddy Hart.
Rising star of the Scottish music scene Charlotte Brimner, aka Be Charlotte, takes to the stage at 6.15pm.
At 21, the lass from Dundee has already toured Europe, North America and Asia, as well as sharing the stage with Major Lazer in Africa in 2018.
Many will remember her for the blistering performance she gave at the Slessor Gardens concert celebrating the opening of the V&A in Dundee last year, which introduced her to a host of new fans around the country.
The honour of being last support act on falls to the hugely popular Fatherson.
The rock band from Kilmarnock also have a huge army of supporters who have helped secure sell-out gigs and seen them tour the UK and Europe with the likes of Biffy Clyro and Kings of Leon.
They are expected to take to the stage around 7.15pm, with The Proclaimers walking 500 miles – possibly a little less – to be centre stage at 8.30pm.