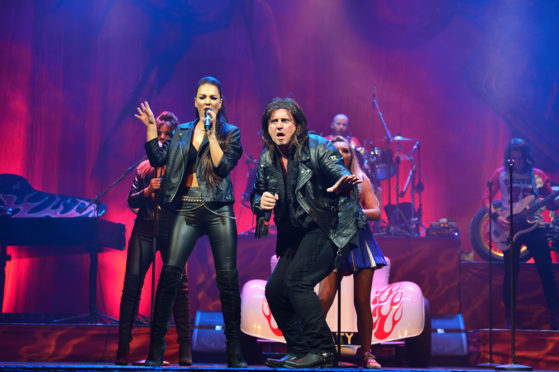 Susan Welsh saw Steve Steinman's The Meat Loaf Story at Eden Court Theatre, Inverness.
Less than three weeks after wowing the audience with his fantastic show, Vampires Rock, Steve Steinman took centre stage at Eden Court Theatre once more, this time to present The Meat Loaf Story.
With a fantastic backdrop resembling the iconic art work which featured on American singer Meat Loaf's Bat Out Of Hell album, the show burst into life with a rocking version of, Paradise by the Dashboard Light.
There was a bit of comedy banter between Steinman, wearing a dark wig and 50's-style jacket, and cheerleader, Peggy Sue (Haley Russell) and the audience before he launched into another cracking number, All Revved Up With No Place to Go.
The first half of the show rattled along at break-neck speed with numerous tracks from the album which has sold more than 43 million copies worldwide and clearly has a special place in a lot of people's hearts.
Despite being billed as the Meat Loaf Story there was, rather surprisingly, no story about 'Meat' himself, so I know no more about how he became to be a singing superstar than I did before I saw the show.
Steve, who first came to fame after appearing on the TV show, Stars in Their Eyes as Meat Loaf, has a superb voice, one which can switch in an instant from heavy rock to ballad.
This was showcased beautifully in a moving renditon of, Heaven Can Wait, which he sung backed only by a pianist playing a flame-painted grand piano.
The pianist, also played a brilliant, acoustic almost classical-like version of Celine Dion's hit, It's All Coming Back to Me Now, which was also sung later in the show.
Before the first half was over, Steve had abandoned the wig and American accent, then went on to deliver a great version of, For Crying Out Loud… You Know that I Love You.
The second half of the concert, I say concert because it felt more like this than a show or story, saw the five-piece band, three female singer/dancers and Steve belt out a variety of rock and Meat Loaf songs, some of them less well known.
And in true showbiz style, he saved the best to last, with a superb version of Bat Out of Hell, bringing the curtain down.
Steve will return to Eden Court next year with Vampires Rock with guest star, X Factor's Sam Bailey, but before then brings The Meat Loaf Story to His Majesty's Theatre, Aberdeen tonight.