An affinity with struggle has brought new meaning to Russell Watson's charity engagements, he tells Andrew Youngson
Despite being known widely as an opera singer, Russell Watson doesn't feel like he always sat comfortably within the genre.
As he approaches his 15th year as a recording artist, he has become philosophical about the fact that some people in the opera world have never welcomed him with open arms. Case in point: in a recent BBC Radio 4 interview, he was introduced as "opera singer Russell Watson". A small pocket of listeners took exception to this description, feeling that Russell's lack of training at one of the world's royal conservatoires meant he didn't deserve it.
The fact that the 47-year-old Lancashire singer has been trained by some of the world's top opera vocal coaches aside, Russell has learned to brush off such opinions. He's used to the slings and arrows of being an artist who straddles the musical worlds of opera, pop and musical theatre.
It wasn't easy in his earlier years in the industry, though.
"It was very difficult, because I felt like I was the enemy," Russell said.
"I adopted an attitude because I felt uncomfortable. I would walk into classical environments like the Classical Brit awards and feel intimidated. So I put a shroud around myself, which, at the time, was probably misconstrued as arrogance, but it was actually because I was quite frightened by it all."
Things are different now. Surviving two battles with brain cancer – the first in 2006, and the second the following year – plus having the firm support of his loved ones has bred a healthy sense of perspective.
"I don't feel that fear any more. I feel if somebody doesn't like or respect me for what I do, there's nothing I can do to change that. And I'm not going to try to change it. I have an incredible fan base that's been massively supportive; I actually get quite emotional talking about them. My career as a recording artist has lasted almost 15 years and I have gone through hell and high water to sustain that."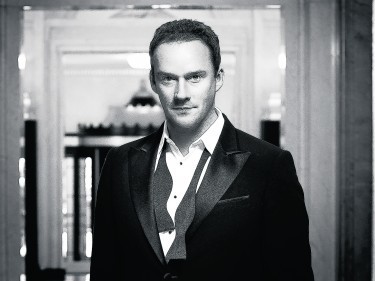 Russell's appearance in Aberdeen tonight, Thursday, August 21, is intimately tied to the journey he has gone through in the past decade. A spectacular concert arranged by the Lord Provost's Charitable Trust, the HM Theatre performance will feature the singer up front and centre. Accompanied by Aberdeen Sinfonietta, he will showcase the full breadth of his talent and repertoire – traversing classical genres in the form of Neapolitan and sacred arias, through to musical theatre hits from Phantom of the Opera and Les Miserables, plus some numbers from his latest album, Only One Man.
The concert is being held in aid of Scottish social care charity Cornerstone, which provides services for people with disabilities and other support needs. Russell has done similar charity gigs throughout his career, but, having endured his own battles with ill health, such concerts have naturally taken on a deeper meaning.
"It's different now because I have a real affinity with struggle and, when you have walked down the dark path of life a couple of times, you recognise how fragile life is and how many people out there are in need. And in greater need than yourself, too," he said.
The aims of charities like Cornerstone are particularly poignant for Russell, as they recognise the impact that disabilities and illnesses have on the people around the afflicted individual.
"I know that when I was poorly six or seven years ago, I was the victim. I was the person it happened to, but, to a large extent, I didn't know what was going on. But the people around me, my mum, children, dad and friends who were around me when I was at my sickest, they were the ones who suffered the most."
Doing these concerts, like life in general for Russell, is a joy. He says he's in "a very positive place" these days. He's taking time away from recording to concentrate on his live performances, noting his next album will most likely be Christmas 2015. He also wants to savour each moment – something which he hasn't always been able to do in the whirlwind which has been his life since the release of his maiden album, The Voice, in 2001.
"It's like I've woken up and it's 2014. It's been like a blink of the eye. Getting old scares me, because I can see how time goes by so quickly," he said.
"I was reminiscing the other day, looking through family pictures, and I noticed how many of my aunties and uncles are gone. The time has gone so quickly and life is so short. And that's the point: you have to make the most of it and treat every day as a gift."
Russell Watson will perform alongside the Aberdeen Sinfonietta at the Lord Provost's Charitable Trust concert at HM Theatre, Aberdeen, on Thursday, August 21, at 7.30pm. Tickets are available from www.aberdeenperformingarts.com or by calling 01224 641122.