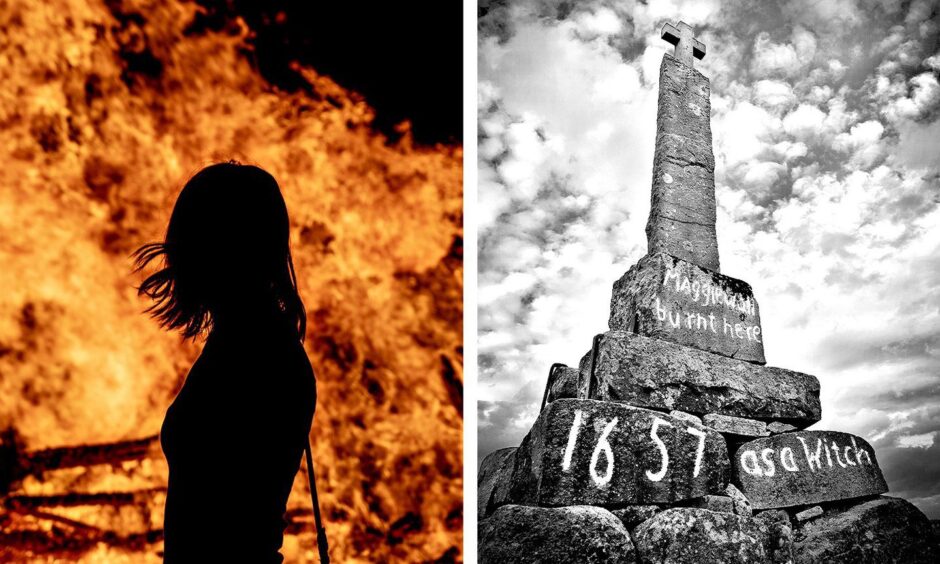 In the days ahead, thousands of Scots will celebrate Halloween with pumpkin lanterns and Fright Night bites, creepy spiders and cosplay indulgence.
The occasion, which has mushroomed in popularity as a largely American import, to the stage where supermarkets now have whole aisles decked out in scary merchandise, will see youngsters dressed up as witches and wizards, with magic wands and spells being cast on the back of such musicals as Wicked and the Harry Potter film series.
But, for anybody venturing out on October 31, perhaps it's time for a little crash course on the shocking events which happened more than 500 years ago in Aberdeen – a time when fear and hysteria led to the execution of hundreds of women who were branded witches, occasionally ducked in a river or sea, and subsequently burned at the stake.
'That scared the daylights out of the city'
Across Scotland, around 400 people, the vast majority of them female, were put on trial and a suspected 200 killed during one of the worst outbreaks which began in Dyce in January 1597. From there, the investigation and persecution, moved to Stonehaven, into Aberdeen city and then onto Lumphanan before coming to an end in Banff in June.
And these victims of the Witchcraft Act, which was in existence from 1563 to 1736, and were of all ages and backgrounds, never had any chance to argue their case, such was the rigidity of the law and the ferocity of public opinion weighted against them.
New interactive map shows where women accused of witchcraft lived in the north and north-east
Aberdeen University professor Bill Naphy said the deaths, which were carried out with a grotesque sense of ceremony in the city's Gallowgate, usually involved the so-called witches being tied to a stake, strangled and set on fire.
He added: "The first six months of the panic was entirely focused in Aberdeen and Aberdeenshire. They [the authorities] arrested a family in Aberdeen and the son confessed that at Halloween, he met with a group of witches at the Fish Cross which is in front of the present Tolbooth. That scared the daylights out of the city and they started to think they had a serious problem on their hands.
Panic spread from village to village
"Nearly a dozen from the village of Lumphanan were killed – which at the time would've been a considerable proportion of the female population. We have small pieces of information, bits of the trials of individuals which is why we have a few names.
"It appears to be down to relations – someone who was accused in one village, had a family relation in another village and so the investigation followed accordingly."
"Village 'wise men or women' were common at that time and, although they were feared, they were usually tolerated and respected because of their perceived power."
Author Ailish Sinclair admits she knew little about the extent of the witchcraft trials across Scotland in the 16th and 17th century until she began delving into the subject in Aberdeen as research for her book The Mermaid and the Bear.
She told me: "When I first visited the Tolbooth Museum in Aberdeen several years ago, I read about the 'witches' who had been imprisoned in the steeple of the Kirk of St Nicholas and I knew that I had stumbled onto something which was little known, but was truly terrible: a story that needed to be told."
Bessie never had a chance
Ms Sinclair cited the case of Bessie Thom as an example of what happened to one of the more than 3,000 victims of the witch trials in the 16th, 17th and 18th century.
She said: "Bessie was accused of murdering her husband by means of witchcraft in Aberdeen and was executed as a witch on March 9 1597. She denied all the charges right to the end, despite undoubtedly having been tortured to obtain a confession.
"But was Bessie innocent as she claimed? Or did she commit murder? And, if so, why? At a time when women were considered to be the property of their husbands, there were no services available to them if they were abused.
"These days, leniency is sometimes given when someone has suffered years of cruelty. Bessie did not live in such a time. There would have been no due process or proper investigation, so she was certainly not 'proven guilty' as we understand it today.
It was a very public execution
"She may have been imprisoned in the steeple of St Nicholas Kirk as it was used at the time. There is a corner of Aberdeen harbour that is said to be where witches were 'dooked' and 1597 is one of the few years when this practice occurred in Scotland.
"Bessie, quite possibly, went into the North Sea before being committed to the flames during a very public execution."
One of the most disturbing incidents revolved around the arrest, torture and execution in Orkney of Alison – or Alesoun – Balfour, who was implicated in a plot to murder the notorious earl, Patrick Stewart, who was widely regarded as a tyrant in his community.
Yet, despite pleading her innocence of any crime, she and members of her family – including her husband and seven-year-old daughter – were tortured. And, for Mrs Balfour, the latter's cries of pain were the final straw.
These crimes happened everywhere
Watching and listening to her child's ordeal, her resolve eventually broke and she confessed to witchcraft and was sentenced to die at "Heiding Hill" in Kirkwall in 1594.
Before she perished, she retracted her confession, stating it had been issued to spare her husband and children further torture. But the execution went ahead as scheduled.
And the killings continued all the way through until the 1730s.
Rachael Ironside, an assistant professor at Robert Gordon University, is among those who are horrified at the state-sanctioned executions of so many women, often on the flimsiest of pretexts, or because they were suffering from such conditions as dementia.
She said: "The persecution of 'witches' in Scotland offers important insight into our society, relationship with religion and magic, and perceptions of women at the time.
"Thousands of women were tried and executed as witches over this 200-year period using barbaric and humiliating methods of torture. While some men were tried of witchcraft, women were the most likely victims, and would often face remarkable accusations relying on very little evidence to prove their guilt.
Witch Hunt: Granite Noir play tells story of those prosecuted for witchcraft
'An easy way to get rid of someone'
"As such, women could be accused of witchcraft for simply behaving out of character for women of the time or exhibiting symptoms of illnesses we would easily diagnose today, such as epilepsy. It was, sadly, an easy way to get rid of someone you had taken a dislike too, and women were the unfortunate victims of this.
"It also tells us something about our relationship with religion and magical thinking, and the movement away from what we might consider ancient spiritual beliefs towards indoctrinated religious thinking of the time. The witch trials were a form of control by the church to assert power and gain a loyal following."
George Mitchell: Should we apologise over Scotland's witches?
Last year, the former First Minister, Nicola Sturgeon, issued a posthumous apology to the thousands of people persecuted as witches in Scotland, underlining that the deep misogyny behind this "colossal" injustice is something women still have to live with.
She said: "Those who met this fate were not witches, they were people, and they were overwhelmingly women.
"At a time when women were not even allowed to speak as witnesses in a courtroom, they were accused and killed because they were poor, different, vulnerable or in many cases just because they were women."
And she added: "There are parts of our world where even today, women and girls face persecution and sometimes death because they have been accused of witchcraft."
That's a sobering thought as you prepare to dook for apples.
Further information on those who died can be found at witches.is.ed.ac.uk/