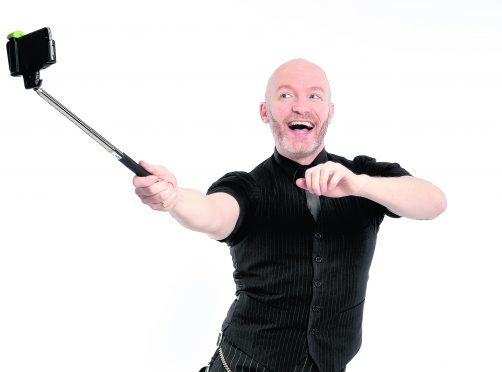 It's hard to believe, but it's that time of year when we say goodbye to Your Weekend for a couple of weeks; but before we return in January with details of all the latest entertainment, music, movies and theatre events in your area, there's one last chance to look at some of the fantastic Hogmanay events taking place this year
INVERNESS
The Highland Winter Festival draws to a spectacular and dramatic close when thousands of people are expected to attend Scotland's largest FREE Hogmanay concert, The Red Hot Highland Fling, which takes place in the Northern Meeting Park Arena in Inverness on December 31.
Comedian Craig Hill, a Highland favourite, returns once more to host the four-hour show, keep the party moving and introduce a number of top acts including headliners Capercaillie, who will be joined by two former winners of the Scottish Trad Music Live Band of the Year Award, Breabach and Skerryvore.
Craig, who takes his outrageous show Playing With My Selfie to Aberdeen, Stornoway and Inverness next year, said: "It's always a great night for the whole family. Most other New Year events would be too big or perhaps too rowdy to take youngsters along to, but this one has a great, happy atmosphere which you can't help but get caught up in.
"There's been many highlights over the years, but I think the most memorable one was when someone asked if they could propose marriage to their girlfriend on the stage in front of 10,000 people. It was nerve-racking and very moving, but super exciting for me to be part of that."
Making their Highland Fling debut are Capercaillie, featuring the peerless voice of co-founder Karen Matheson who is recognised universally as one of the finest Gaelic singers alive today. The band are really excited about performing at their first Red Hot Highland Fling, as band member Charlie McKerron said: "We are really looking forward to seeing the crowd jigging and reeling along to our set for ourselves because we have heard so much about the great party you have up there."
Karen's husband and fellow band member Donald Shaw, who is also assistant director of Celtic Connections, which gets under way on January 14, said: "We jumped at the chance to perform in Inverness as we tend to favour doing live events at Hogmanay and have performed previously at Hogmanay shows at Stirling Castle, George Square in Glasgow, and Edinburgh.
"As a band, our members live all over the place – Glasgow, Manchester, Amsterdam, Donegal, Edinburgh and Aviemore – so, in many ways, New Year for us is not that different to anyone else, as it's a time when you want to get together and celebrate with your pals, which is what we'll be doing. We'll have fun at the Inverness show, then perhaps try to find a couple of parties before hitting the road the next day."
Gates to the Northern Meeting Park open at 8pm, with Craig taking to the stage 30 minutes later. Timings for the show are: 8.45pm, Breabach; 10.50pm, Capercaillie; 11.25pm Skerryvore; 23.58pm Craig Hill and Provost Helen Carmichael; midnight, Fireworx Scotland display followed by Auld Lang Syne; 12.05am Skerryvore; 12.30am, event closes.
ABERDEEN
Aberdeen's Winter Festival continues until January 3, and highlights include the city's first-ever Christmas village, with open-air ice rink and festive fairground rides. On Hogmanay, in the entertainment marquee within the village, there's FREE entertainment from 7.30pm, when a number of bands battle it out to be named top band. Then, at midnight, a stunning and spectacular fireworks display, lasting an impressive 10 minutes, will be fired from the rooftop of HM Theatre. The best views for the fireworks display will be from Union Bridge, Union Terrace and Schoolhill.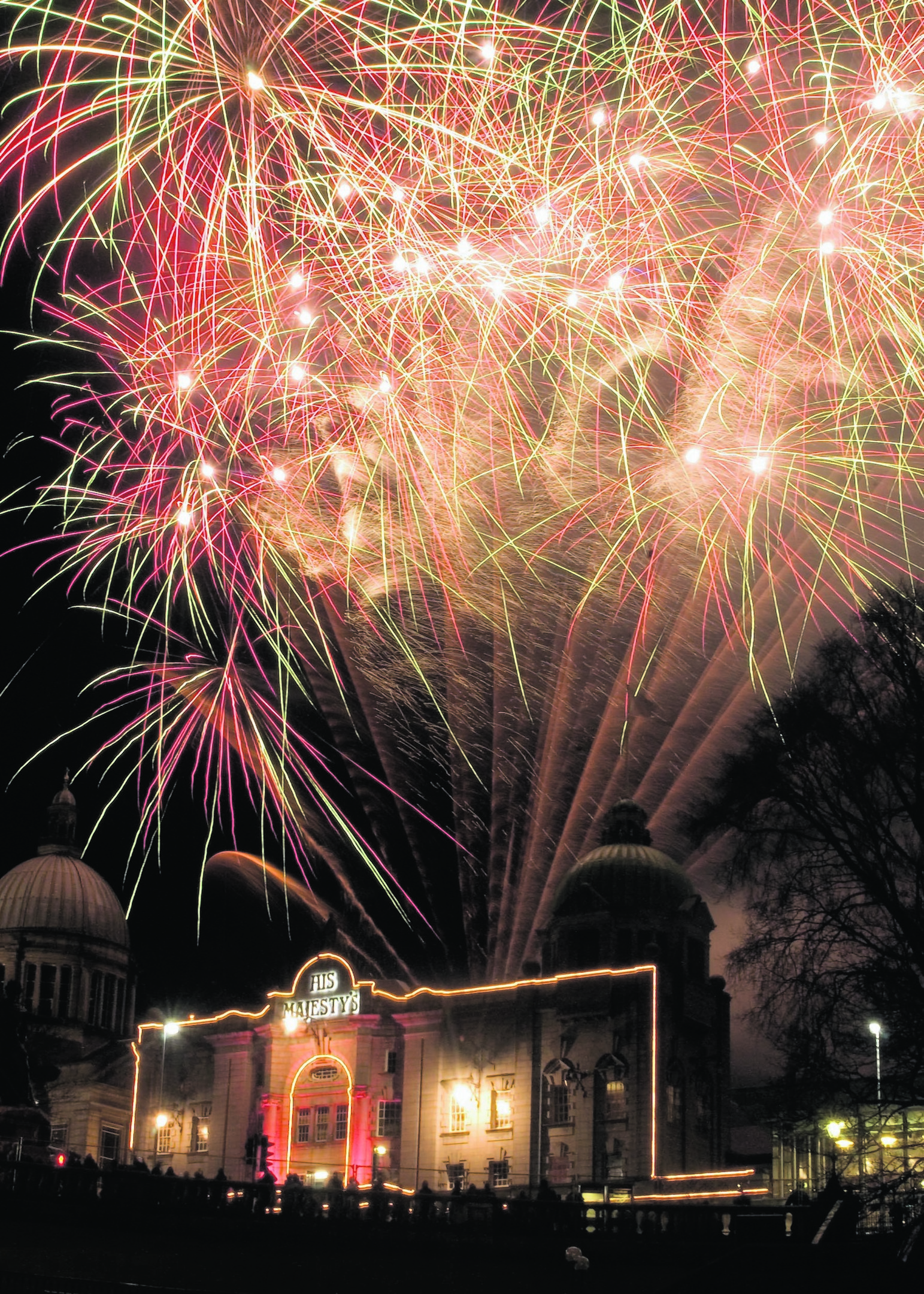 Elsewhere in the city, there's a traditional Scottish Hogmanay in the Music Hall from 7.30-10pm, hosted by Robert Lovie and headlined by international opera star Richard Morrison, with The Jonny Hardie Ceilidh Band, and Calum Brown, plus Paul Anderson, Calum Stewart and Ali Napier collaborating in a new band called The Doric. In the Lemon Tree Lounge on West North Street, there's a Hogmanay party with top five-piece band The Limit. Doors open at 8pm.
STONEHAVEN
It's a case of out with the old year and in with the Blue in Stonehaven, as chart-topping Scottish rock group Deacon Blue headline the town's Open Air in the Square Hogmanay party. The well-loved band follow in the footsteps of Simple Minds, The Human League and pipe-rock crowd-pleasers the Red Hot Chilli Pipers, who have all performed at the Market Square gig in previous years.
Deacon Blue lead singer Ricky Ross said: "We are really looking forward to coming to Stonehaven, it's a place I know quite well. When I was young, I grew up in Dundee and used to go to lots of places along the east coast. I haven't been in Stonehaven for a long time and I am looking forward to going back there; it's the first time we will be doing a gig there."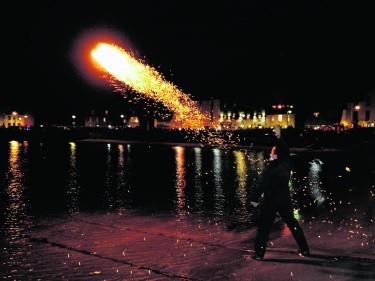 Gates to the event open at 7.45pm. Also appearing on the bill are Lorraine and the Borderlands, The Supernaturals, Supa and the Kryptonites, and the winners of a battle of the bands contest, the Rolling Drones. Adult tickets are priced at £34.50 plus £1.50 booking fee and can be bought at www.oaits.org. Those attending should note that no alcohol can be brought into the arena, but drinks can be bought at the event itself.
Elsewhere in Stonehaven, the annual Fireballs ceremony takes place, traditionally starting on the first strike of midnight, although there's plenty of entertainment from 11pm onwards. Thousands of people cram into the town to watch the procession of fireball swingers as they march along Stonehaven's High Street and make their way to the harbour area, where the huge fireballs will be thrown into the chilly harbour waters. This is then followed by an impressive fireworks display, starting at around 25 minutes past midnight.
STORNOWAY
An Lanntair is the venue for what looks set to be a spectacular night of entertainment to bring in the New Year featuring Willie Campbell and Breabach. Willie, along with members of his band, The Open Day Rotation, will be joined by Colin MacLeod, Jane Hepburn and Iain "Spanish" Mackay, and tickets for this event are now much sought after and expected to sell out soon. Continuing the theme of returning home for New Year, piper James Mackenzie will be heading to Lewis as part of traditional band Breabach, who can also be seen at An Lanntair on Saturday, January 2. Visit www.lanntair.com for full details.
STRATHPEFFER
The annual Hogmanay ceilidh at the village Pavilion is suitable for all ages and always attracts a fantastic crowd of folk ready to welcome in the new year. The ceilidh starts at 8pm and music comes courtesy of local band The Cat's Ceilidh Band, who will entertain with a lively set of ceilidh favourites.
DUFFTOWN
Dufftown has its own distinct take on Hogmanay. While most of its New Year celebrations are much the same as you would find in small towns and villages up and down the country, it adds its own special twist. After the annual Hogmanay ceilidh at a local hotel, the community gathers in The Square, where drams of whisky and pieces of shortbread are shared out to see in the bells, courtesy of the local Glenfiddich distillery and Walkers biscuit factory.
DORNOCH
Dornoch is a town that likes to celebrate in style and, at New Year, it has three days of parties and organised events, ranging from ceilidhs to guided walks and a seaside dip. The annual street party on Hogmanay is a highlight for many and attracts thousands of visitors. It starts on the 31st at 10.30pm with dancing and drinks in the town square. At midnight, a lone piper plays on the ramparts of the Castle Hotel, heralding the New Year, then there's a spectacular fireworks display. For full details visit www.visitdornoch.com
TAIN
The Hogmanay Live event takes place on Tain's High Street and starts at 10.30pm. Along with refreshment and food stalls, entertainment comes from Wood and Stone, supported by Keilan Ross and Dave Fleming, along with guest pipers.
NEWTONMORE
The Hogmanay party here starts with free shortbread and a dram, before walkers, led by a piper, take part in a torchlight parade. Meet at Glen Hotel and the Balavil Hotel in time for the parade, which sets off at 11.30pm. After the bells, there's an excellent fireworks display. Torches are available to buy in advance and all donations go to Newtonmore Winter Lights Association. Contact: visitcairngorms.com/
STIRLING
The streets of Stirling will come alive with a carnival parade of light and sound, and midnight fireworks over the city's historic skyline. The Hogmanay celebrations include a programme of family-friendly entertainment for the countdown to midnight fireworks. The celebrations will be rounded off on January 1 with Stirling's Resolution Run, a 5K organised with local sports clubs to kick off the New Year. Contact: www.visitscotland.com/winter
GLASGOW
Glasgow doesn't have one big Hogmanay party, but several organised events. In the days leading up to Hogmanay, George Square is a hive of activity, with free, family-friendly entertainment from noon-10pm on weekdays and 10am-10pm at weekends. There's daily family-friendly activities in the pavilion bar area and fun to be had on fantastic fairground rides, including a much-loved traditional carousel.
On December 31, Merchant Square is hosting a Hogmanay party from 7pm-1am. Tickets cost £30 and there's live entertainment from Edward Reid, The Capitals, The Platinum Rock Dancers and DJ Colin McArdle. Throughout the evening, participants can visit their favourite Merchant Square bars and restaurants soaking up the party atmosphere. Highlights include the famous balloon drop at the stroke of midnight to welcome in the new year.
EDINBURGH
The New Year celebrations in Scotland's capital city start on Wednesday, December 30, when around 50,000 participants and spectators take part in the Up Helly Aa Vikings torchlight procession which features massed pipes and drums and thousands of torch carriers as they march from George IV Bridge to Waterloo Place and Calton Hill to view the breathtaking Torchlight Procession fireworks. Seeing thousands of torches illuminate the city is truly a breathtaking sight to behold, so be sure to head along and take part in this wonderful Edinburgh tradition.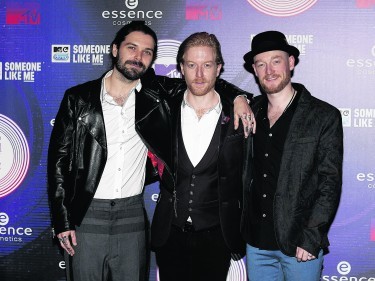 On December 31, live bands and DJs fill the streets with music and the city centre comes alive with festivities as revellers from all over the globe come together to bring in 2016 in style. This is one of the world's biggest outdoor parties and, as the clock strikes midnight, images of the fireworks from Edinburgh Castle are beamed to over a billion people around the world. With four exciting music stages, extra screens and a larger arena, this is one New Year's celebration you won't forget. Biffy Clyro will lead the all-Scottish line-up for this year's Concert in the Gardens, and they'll be joined by special guests Idlewild and Honeyblood, rocking partygoers into the New Year. For details of all these events and for pre-booked torches for the Torchlight Procession, visit: edinburghshogmanay.com