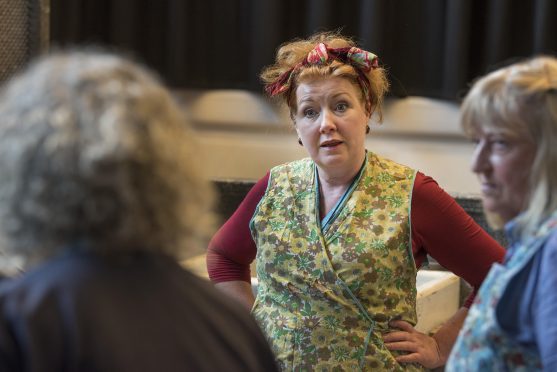 Mary McCusker tells why The Steamie 
is still relevant to audiences as it celebrates its 30th anniversary tour.
"I wish my mother could be here to see this," said Mary McCusker, talking about her latest play The Steamie.
Take a step back in time to the 1950s in Glasgow, with a show that offers a snapshot of a society and a time. The Steamie is an ode to the hardworking women of a bygone city, tied in an intricate web of humour and pathos. A Scottish theatre classic, it follows young Doreen as she envisions a new future while Mrs Culfeathers, played by Mary McCusker, is looking back at the past.
"It is a fantastic play to be in," said Mary.
"My mother would have been in a steamie, but now you would never see one."
Born in Glasgow, Mary is more than at home with the dialogue and the heartwarming but truthful storyline in The Steamie. She has played many leading parts in contemporary and classical drama, from Kate in Brian Friel's Dancing at Lughnasa, and Isabella Bird in Caryl Churchill's Top Girls, to Lady Macbeth and the title role in Schiller's Mary Stuart.
The play shows a cross-section of strong women in a time which many of our mothers will remember, even if the youngest generation will never know what a "steamie" was. Set in a washroom where the women are hard at work, they share the stories of their lives. Written and directed by Tony Roper, the cast of the 30th anniversary tour of the well-known play had the honour of the writer directing them during their rehearsals.
"The show has a great warmth which the audience are part of," continued Mary, who went to drama school with Tony, yet this is the first time they have worked together since then.
"It reminds me of my own childhood and of working really hard.
"Tony is great at creating a good atmosphere in the rehearsal room. He helps me tap into the feeling my mother had. It is so well written, it is so easy to tap into the tiredness but also the great warmth of the other women.
"If the energy is too high in the room, Tony can bring it down, and there is a lovely dynamic. You can rely on Tony to kick butt if something is wrong.
"We are playing other people and we need to stay true to the character, but it is easy to play life and truth. You keep the truth of the person you are playing inside you and it is easy with the brilliant lines to be true to the character.
"People can have different interpretations, but we have the advantage of the writer directing us. He really captures people. Even though it is set in another time, people's lives are still similar. We may have washing machines now, but we still have all the same fears and the material still makes you laugh."
Mary didn't leave Scotland until her 30s, but every time she goes home it is like she has never been away.
"Glasgow has changed dramatically over the years, but the voices at the bus stop are still the same. The rhythm of conversation as you pass is the same, and it reminds me of when I was a wee lassie," she reminisced.
"It reminds me of my mother's voice. I'm sorry she never lived to see this play. It gives respect to the worries you have in life and captures what it means to be alive."
Even though lives have changed now, with technology and social media, Mary believes that our inner lives have remained just the same. She explained: "You still worry about how your man treats you and your children.
"In the play, all of Mrs Culfeather's children have gone away and she is bereft. That feeling hasn't changed."
As part of the tour, The Steamie has been visiting venues across Scotland, including Kirkcaldy and Dundee, Aberdeen and Inverness.
"We have our tech rehearsal in Kircaldy and then we are off on tour," said Mary.
"The audiences are always different as the play resonates differently. In Dundee and the east coast, you get a good reception as they are more aware of the steamies, but there is a distinctive difference in Glasgow as many have had that experience personally.
"You can feel a Glasgow audience breathing through the show."
Unlike a traditional plot where there is bad and good, The Steamie focuses on the little dramas and tensions and resolves them amicably by the characters trying to get on.
"They recognise the need for a community," said Mary, whose dream play to be in would be Who's Afraid Of Virginia Woolf, although she says she is now "too old".
"I would love to be that bad!" she said.
For now, she is more than content with her part in The Steamie, thanks to her proximity with the reality of the characters in the well-known play. Mary explained why people should make the trip to go and see the show when it visits the north-east: "Regardless of where you live or how old you are, it warms you up and reminds you of what is good and how good we are at surviving.
"It is funny and sad and I wish my parents could be alive today to see it."
The Steamie plays in Inverness at Eden Court from Tuesday, October 3, to Saturday, October 7. See 
www.thesteamieplay.com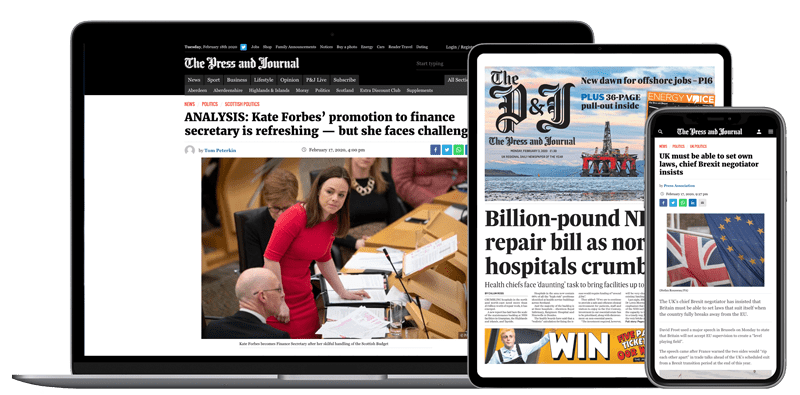 Help support quality local journalism … become a digital subscriber to The Press and Journal
For as little as £5.99 a month you can access all of our content, including Premium articles.
Subscribe