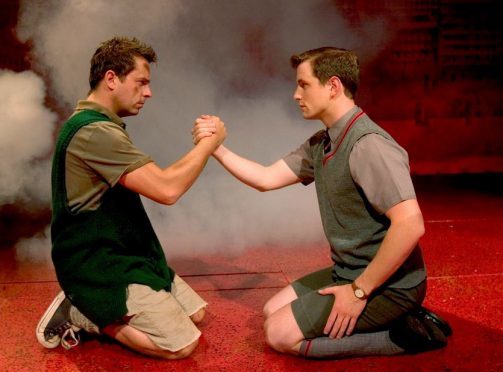 Gritty, gripping, and oozing with dark humour – the legendary Blood Brothers took to the stage at HMT last night.
As a devotee of the show, I might as well admit that I've cried at the ending five times in a row and I didn't break with tradition.
That is perhaps what makes the Willy Russell script so utterly brilliant – the fact that it can repeatedly evoke a lump in the throat with its haunting song and fascinating take on social class.
Blood Brothers tells the story of the Johnstone twins, "as like each other as two new pins" who were separated at birth and went on to live vastly different lives.
Mickey remains with his birth mother in working class Liverpool, and transforms from a loveable troublemaker to an angry young man doing time in prison.
Edward is sent to live with the upmarket Lyons family and enjoys an idyllic childhood before going on to university. The pair repeatedly meet despite their mother's best intention to keep them apart, and they ironically carry out a blood brother ritual as young children, clueless to the secret surrounding their birth.
Their fateful friendship provides the audience with moments of great hilarity but also of heartache, and stands as a running commentary on opposing upbringing and the opportunity which social standing may, or may not offer.
Sean Jones played Mickey and seamlessly slipped between a loved-up teenager and a young father beaten down by circumstance and inevitable bad choices.
Part of Mickey's endearing appeal is the comic timing in the delivery of his one-liners, which Sean mastered perfectly.
Sarah Jane Buckley must also be noted for her portrayal of Mrs Lyons, a lonely woman unable to have children and driven mad by her decision to deceive her husband through a fake pregnancy.
Her belief in superstition provides a recurring theme after she forced Mrs Johnstone to swear on the bible in a bid to confirm their secret pact.
Danielle Corlass played Mickey's childhood sweetheart, and their growing bond was convincing from the early scenes.
Blood Brothers can only be as strong as its leading protagonist and Lyn Paul captivated the audience with her impressive vocals in the role of Mrs Johnstone.
Fierce and determined that her family will succeed against the odds, she played a convincing matriarch following a 20-year run in the production.
As the play hurtled towards its devastating conclusion, the haunting finale of "Tell me it's not true" saw the applause continue long after the final curtain call.
An incredibly talented cast made for a brilliant show, which will continue to stand the test of time.