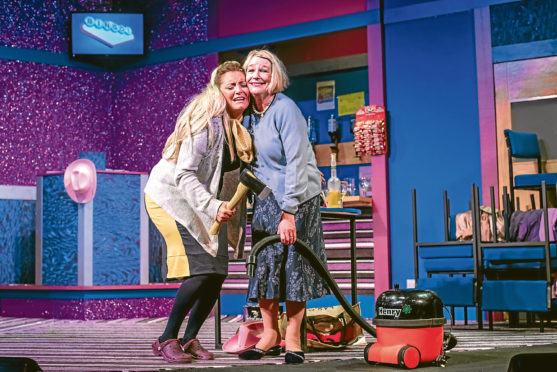 Every week, more than two million women pour into local bingo halls across the country, each one secretly hoping that tonight will be the night they get to shout, "house!", scoop the big money prize and change their lives forever.
Opening tonight in Inverness, a new musical comedy, Bingo!, shines a light on the lives of six regular bingo players and one fateful night.
Betty, played by the wonderful Jane McCarry, a theatre stalwart probably best known for playing TV's favourite nosey neighbour Isa in Still Game, knows first hand how a win at the bingo can change your life.
"My husband Robert's gran won the national prize – £42,000 – 20 years ago and bought her wee council house with the money," said Jane, 47.
"After that we started going to the bingo regularly as I was thinking, if she can win it, so can I, and it would be a good way to pay off my student debt! It was good fun, but the players took it seriously – you could hear a pin drop when the numbers were called.
"During rehearsals for this show the cast all went to the bingo, which has changed quite a bit. It's hugely popular with young folk and students and there's even a bingo rave you can go to, which is mental!"
Presented by two superb Scottish theatre companies, Grid Iron and Stellar Quines, the show has been co-written by Anita Vettesse and Johnny McKnight, with music by Alan Penman.
It's packed with cracking original songs and funny, cheeky banter performed by a stellar cast of household names including Louise McCarthy (Daniella), of BBC's Scot Squad and Two Doors Down; Wendy Seager (Mary), who played Susan in Killing me Softly and featured in Still Game; Barbara Rafferty (Joanna), star of River City, Brave New World, Rab C. Nesbitt and The Last King of Scotland; Jo Freer (Ruth), who starred in Dundee Rep's Sunshine on Leith as well as River City; Darren Brownlie (Donny), known from Dundee Rep's Witness for the Prosecution and BBC Scotland's Scot Squad, as well as the much-adored Jane McCarry.
Jemima Levick, artistic director of Stellar Quines, said: "Every time I read Bingo! or hear it read aloud, I am reminded of just how brilliant women are. It's a play about comradery, friendship, parenthood and strength in numbers, but also about hope, and 'that' fantasy that we all have – of how our lives might change with that big win. It's a play that never fails to take me by surprise, it makes me laugh and cry."
Jane is particularly delighted that for this role, she doesn't have to "age up" or wear frumpy clothes.
"I've never had glamorous roles, even when I was younger, but I do love costumes, wigs and being in disguise. I'm known for playing Isa, a pensioner, so it's nice to be playing someone my own age for a change – people might get a shock when they see that I'm not really that old!
"I can walk down the street and nobody knows who I am, but when I'm with one of the boys from the Still Game cast, it's non-stop recognition. I really have the best of both worlds playing Isa as I'm part of a successful show but nobody knows me when I'm not."
That's about to change as she steps into Betty's more glam shoes.
"Betty works in the bingo hall with Donny (Darren Brownlie). We are the best of pals and also live together.
"My pals and I have been saving up for my hen night which Donny is supposed to be organising. It's all very jolly then goes off in a very dramatic manner.
"The story takes strange twists and turns that you might not expect and different audiences get different things out of it. Sometimes younger members and students are howling with laughter about a line relating to the Kardashians – older audiences might not know who they are – while at other points, older folk laugh at things the students might not know about."
Daniella, played by Louise McCarthy, stars as one of the women hoping for a big win. Except she isn't just hopeful. She's desperate. She needs Lady Luck to smile down on her tonight as she's done a bad thing, and her card doesn't have those winning numbers. She's going to have to resort to desperate measures to take home that prize money.
A bittersweet, heartwarming tale about friendship and forgiveness, Bingo! is at the Empire Theatre, Eden Court, tonight, Thursday, April 19, and tomorrow, Friday, April 20. Performances take place at 7.30pm nightly.
Contact: Eden Court Box Office on 01463 234234 or visit www.eden-court.co.uk