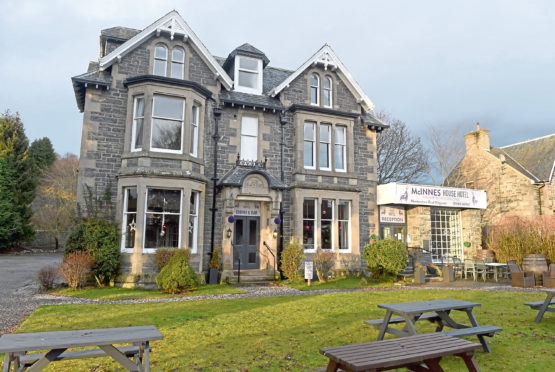 I wasn't sure what to expect when I took my family out for an evening meal in Kingussie at the tail-end of last year.
Knowing we'd be in the tourist town for a few days, I had done a bit of research on eateries and decided on Café Bistro on the main road. However, when we arrived, it was closed, so we tried the grand-looking Duke of Gordon Hotel just along the road. With two coachloads booked in for dinner, it was a case of no room at the inn, so we hoped it would be third time lucky at the McInnes House Hotel next door. It looked nice, had a decent menu and, crucially, had room for us, so we accepted the warm welcome from the friendly waitress and made our way past an open fire to our table by the window.
Despite only being 6.30pm on a Friday night, the section of the dining room we were in was full. Diners of different nationalities chatted happily as we took in our surroundings.
It transpires that the owners have been working to improve the 150-year-old Victorian hotel and give it a complete overhaul, and have been doing so for the past couple of years. The result is a stylish and welcoming bar and restaurant painted in grey tones with some lovely Scottish art on the walls, including a painting of Highland cows, a grand stag on a mountain and thistles positioned here and there.
The real fire was a nice touch on a very cold night, however we couldn't really feel the benefit of it where we were and the cold from the windows meant I didn't heat up until I swapped places with my son who was wearing a few more layers than I was.
The menu offered a fairly standard variety of staples. As we often do, we decided to share some starters. Being a party of two adults and two young children, I like this as it usually means I get plenty to eat, but their growing appetites put paid to my cunning plan as they made sure they ate all of their "share". A sign that they enjoyed the produce in front of them.
We ordered haggis bon bons, brie wedges, bruschetta and mozzarella sticks.
The highlight for me was the deep-fried brie. It was nicely gooey inside and came with a pot of cranberry jam and dressed leaves. Very nice indeed.
The mozzarella sticks were fairly bland themselves, but what turned them into something altogether better was the unusual salsa dip, which was more like a chutney and had a lovely flavour.
The haggis bon bons didn't have a great kick to them and came with a pepper sauce I wasn't too fond of, but the bruschetta was fresh and full of flavour and went down well with us all.
So far, so good.
I struggled to decide what to have for my main course but finally settled on the Thai red chicken curry after eschewing the likes of chicken Balmoral and steak pie.
The sauce in which the chicken was served was delicious. Full of flavour but not too spicy, I loved it. However, I felt there wasn't enough of it, especially with such a large helping of rice alongside. I would also have preferred my chicken to have come in chunks, as is the norm in a Thai red curry. I enjoyed the baby carrots and sugarsnap peas, but thought it slightly odd that it was also served with the same salad as all the starters had come with.
My wife was impressed with the range of vegetarian dishes available, and enjoyed her vegetarian sausage pie, which came with steamed vegetables and boiled potatoes. However, I'm afraid the kids were let down by their pizza, which appeared to be a frozen pizza pie that had been microwaved and was a rather soggy affair. It certainly seemed that not as much attention had been paid to the children's fare as the adult dishes.
With space left in their bellies, there was no way they were going to go without dessert. There was a good choice on offer, and one went for the old faithful – sticky toffee pudding – while the other chose the amazing-sounding cookie-dough caramel cheesecake, after prompting from me.
I thought this sounded far too heavy on sweet ingredients, but I was wrong. Described as a chocolate pastry case filled with salted caramel, chocolate and honeycomb pieces with a toffee-flavoured mousse, topped with cookie-dough balls, this actually worked wonderfully well, and wasn't too sickly in the slightest. It was fantastic.
The sticky toffee pudding went down a treat on the other side of the table too.
On the whole we enjoyed our visit to McInnes House Hotel. The toilets are the next area due for an upgrade and it was good there was a sign explaining that.
The owners have done a good job of creating a pleasant environment in which to enjoy a meal or to sample one of their many whiskies or local ales in the bar area. And the service couldn't be faulted, either.
Maybe a further stage of the refurbishment could focus on the children's menu, but other than that I applaud their endeavours to date and wish them all the best for the future.
McInnes House Hotel
Newtonmore Road, Kingussie, PH21 1HE
t: 01540 661967
w: mcinneshousehotel.com
The bill
Brie wedges £5.50
Haggis bon bons £5.50
Mozzarella sticks £5.50
Bruschetta £5.50
Thai red curry £13.95
Vegetarian sausage pie £13.95
Kids' pizza x 2 £12.50
Sticky toffee pudding £6.95
Cookie cheesecake £6.95
Large glass of cabernet sauvignon £7.50
Sprite £3
Diet Irn-Bru £3
Fresh orange juice £2.20
Total: £92