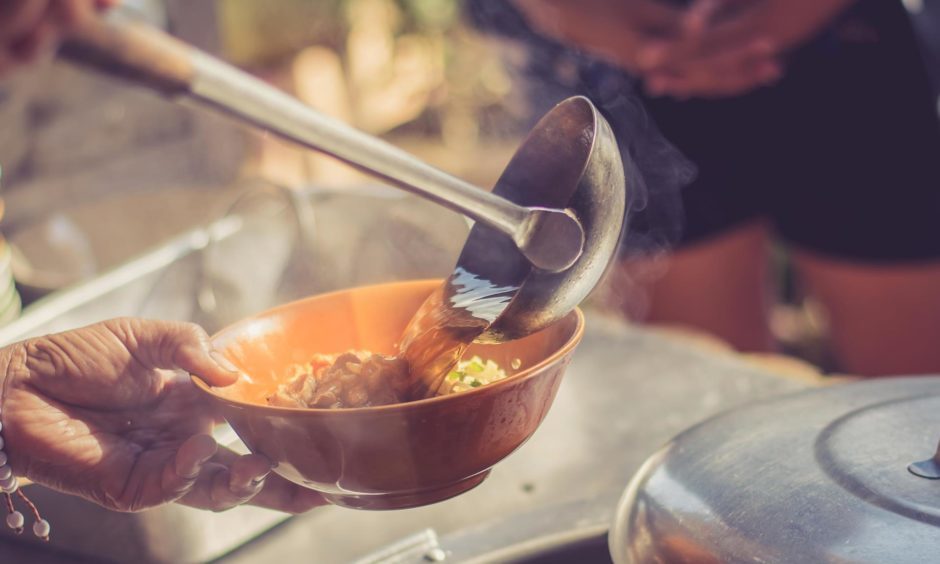 This week, our culinary Friday Fakeaway journey takes us to Thailand where we find a tasty hot and sour noodle soup with prawns.
Thai cuisine is amazing – spicy, hot, sour and so, so flavoursome.
Thai soups in particular are almost a meal in themselves and are extremely easy to make at home, too.
The flavours in this soup are incredible – sour lime leaves and lemongrass mix with hot chilli and fish sauce to provide a dish that is unbelievably moreish.
And if you don't care for prawns, just swap it for some leftover chicken or add more vegetables like baby corn or mangetout to make it even more wholesome for your Friday Fakeaway.
Hot and Sour Noodle Soup With Prawns
Ingredients
1 tbsp vegetable oil
2 cloves garlic
2 shallots, thinly sliced
2 1/2cm piece of fresh ginger, thinly sliced
4-5 small red chillies
1.5 litres chicken stock
400ml tin coconut milk
3 kaffir lime leaves
10cm piece of lemongrass, chopped
225g vermicelli noodles
20 large prawns (peeled)
6 tbsp fish sauce
6 tbsp lime or lemon juice
2 tbsp brown sugar
16 mushrooms, sliced
Coriander leaves
Method
Heat the oil in a large pan and stir fry the garlic, ginger, shallots and chilli for about a minute.
Add the chicken stock, coconut milk, lime leaves and lemongrass and bring to the boil. Simmer for five minutes.
Soak the vermicelli noodles for three minutes, rinse, drain and divide equally among four bowls.
Add the prawns,  fish sauce, lemon or lime juice, sugar and mushrooms to the soup and simmer for two to three minutes.
Pour the soup into the bowls and garnish with coriander leaves.
---
More in this series…
Whether it was invented in Birmingham or Pakistan the Chicken Balti is the ideal Friday Fakeaway to start your National Curry Week celebrations
Make this scrumptious nachos plate and enjoy a spicy Mexican Friday Fakeaway delight