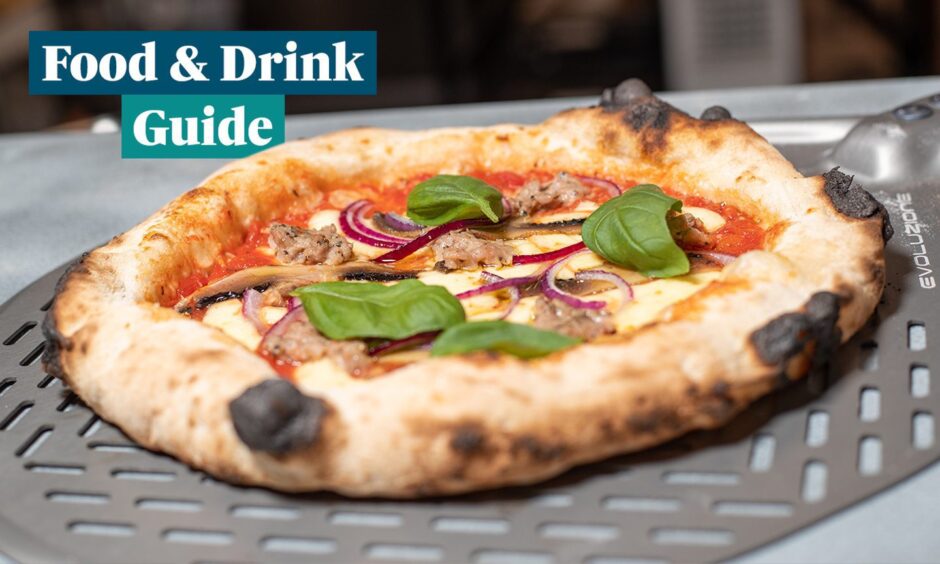 The Ellon food and drink scene. Where do I begin?
It's fair to say that the Aberdeenshire town has something to suit all tastes – from pizza shops and chippers to convenience stores and cafes serving full-cooked breakfasts, hot chocolates and more.
Local business owners and members of the community agreed with this when I caught up with several earlier this week as part of my Town Spotlight series.
We also talked about what could be improved about the Ellon food and drink scene, as well as their favourite food and drink businesses.
Noting them down, I have pulled together this guide on where to eat and drink if you're spending the day in Ellon.
Breakfast
8am to 11am
If you want to start your day off right, then The Coffee Apothecary should be on your must-visit list for breakfast.
You'll find everything from teas, coffees, and sweet and savoury pancakes to French toast, bagels and, of course, a full-cooked breakfast.
It comes with bacon, pork sausage, black pudding, free range eggs – fried, scrambled or poached – mushrooms, baked beans and sourdough toast.
There is also a vegetarian option on the cards featuring halloumi and vegetarian haggis, among other things.
At Symposium, I cannot recommend the pancakes and bagels enough.
Pancake toppings include bacon and maple syrup, banana, toffee sauce and whipped cream, butter, Nutella, honey and more.
Are you hungry yet? I certainly am.
Coffee and cake
11am to 12pm
Speaking of sweet treats, The Chocolate Bar – located in The Square – is well-known in the town for its range of coffee and home bakes.
Oh, and hot chocolates are also available – perfect for sipping away at as the weather turns cooler by the day.
Choose from white chocolate, hazelnut, chilli, caramel, salted caramel, honeycomb, vanilla and brownie when picking your flavour.
The white chocolate option has my name written all over it…
Lunch/brunch
12pm to 3pm
Noon has now hit, and whether you've worked up an appetite by visiting the Ellon Castle Gardens and/or Haddo House, or have simply been out for a leisurely stroll, you'll have to make time to visit The New Inn Hotel.
Located on Market Street, the family-run business offers an extensive menu of dishes made from fresh and local produce.
There is something to suit all tastes – including the fussiest of eaters – on the lunch menu.
But if you'd rather hold off your visit until later in the day, then the dinner menu won't disappoint either.
Snack
3pm to 6pm
The list of tempting businesses doesn't end at lunchtime.
If crepes, waffles and ice cream are up your street, then the Ellon Shakes 'n' Cakes branch will prove a new favourite of yours.
A chocolate fudge shake, chocolate chip and strawberry cookie dough, and a knickerbocker glory are among the lengthy line-up of desserts on offer there.
However, there are also pancakes and savoury crepes if you don't have a sweet tooth.
You'll find Greens of Ellon after a short five-minute walk. And here, there are plenty of snacks to get stuck into.
The store sells products from a wide range of local businesses – including Col's Baking Kits, Fierce Beer, Barra Berries and Ellon Spirits, to name a few – along with ice cream from Peter's Ices.
You'll be spoilt for choice, to say the least.
Dinner
6pm to 8pm
More galivanting complete, I have the perfect suggestions for dinner.
First up is The Gaff, which you'll spot on Bridge Street in Neil Ross Square.
Open from 4.30pm to 8pm Wednesday to Saturday for delivery (excluding Wednesdays) and collection, I'd recommend placing an order early doors to guarantee a slot.
Orders can be made online, so the process couldn't be easier.
If you and you're friends/family are steering more towards a fish supper, then consider Jax Chipper.
Again, you can place your order online – and there is plenty to choose from.
There are chicken-based dishes, haddock, pies, burgers, sausages, loaded fries, and more.
The shop even offers four gluten-free options, including smoked haddock fish cakes, chicken fillets, beef chilli and fish goujons.
Drinks
8pm to late
I should mention that lunch/brunch and dinner would go down a treat at BrewDog DogTap too.
From burgers and homemade pizzas to chicken wings and salad bowls, you won't be leaving hungry, that's for sure.
But stopping by for a pint or two of beer – or a gin and tonic – is a must if you're spending the day in Ellon.
BrewDog DogTap also hosts brewery tours and a beer school experience, so be sure to sign up for one if you and your party are all over the age of 18.