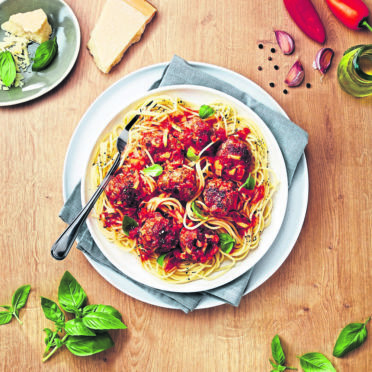 Scotland's natural larder is the envy of the world, thanks to our lush, fertile land, innovation and high production standards.
Scotch Lamb is a prime example of food produce at its very best, representing the highest quality of meat you can buy.
When you see the Scotch Lamb PGI (Protected Geographical Indication) label in your supermarket, butcher's shop, or restaurant it signifies the meat has been specially selected and only sourced from Scottish farms that meet stringent criteria when it comes to animal welfare, feeds and production methods.
Just the thought of a delicious Scotch Lamb Sunday roast is enough to tantalise the taste buds. But the fantastic flavour of lamb can be enjoyed in so many different ways – and the good news is, it's both easy to prepare and quick to cook.
This recipe is quick and easy to cook and can be ready in 30 minutes.
Herby Scotch Lamb meatball spaghetti
Ingredients
Serves 4
500g Scotch Lamb mince
½ onion
1 heaped teaspoon dried oregano
50g white breadcrumbs
2 x garlic cloves – peeled
Sea salt and black pepper
400g tin chopped tinned tomatoes with herbs
1-2 vegetable stock cubes
150ml boiling water
½ courgette
2 mini peppers
Rapeseed oil to fry
280g dried spaghetti
Directions
Preheat the oven to 200C/400F/Gas 6
Finely chop the onion and garlic.
In a large bowl add the minced lamb, chopped onion, garlic, oregano and breadcrumbs, then season with salt and pepper.
Mix well then divide into 16 and roll into balls – approx 30g each.
Saute the meatballs in some rapeseed oil for 10 minutes stirring as you fry.
Transfer to the oven to cook for five minutes.
Pour the boiling water over the stock cubes and stir well, then blend the stock and tinned tomato until smooth.
Chop the peppers finely, discarding any white pith or seeds.
Grate the courgette, then put into a pan along with the chopped peppers and tomato sauce and heat through.
Meanwhile, cook the spaghetti in some salted boiling water with a little oil for as long as instructed on the pack and drain well.
Serve the meatballs on a bed of spaghetti topped with the tomato sauce.