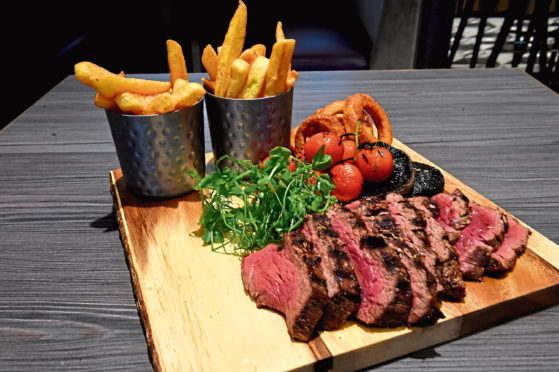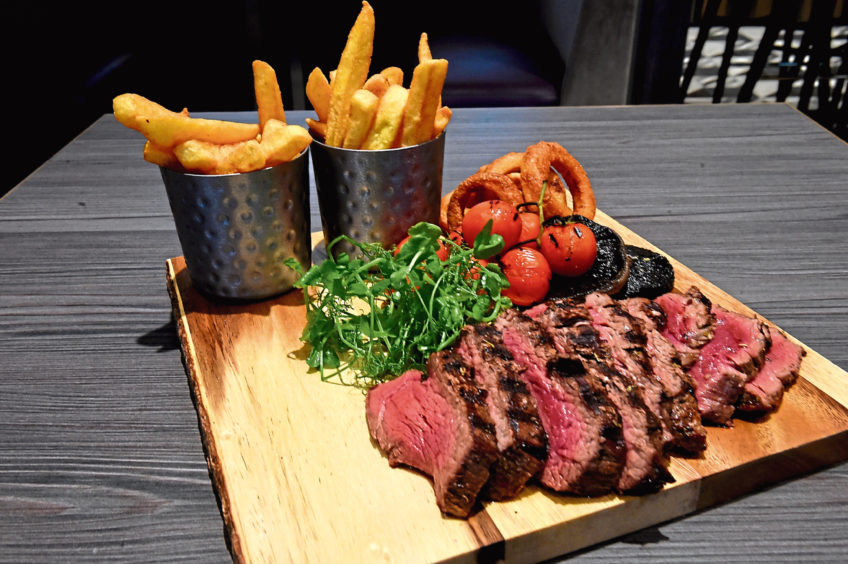 P&J Live, Aberdeen's brand-new events venue, opened last August and has already welcomed thousands of visitors to concerts and conferences.
Its closest neighbour is the four-star Hilton with 200 bedrooms, flexible meeting spaces and a relaxing spa.
After a work meeting at the hotel, my colleagues and I decided to stay on for dinner at the Quarter House Bar & Grill. Being a brand-spanking-new hotel, the interior is stunning with high ceilings and floor to ceiling windows letting in an abundance of natural light. Soft furnishings are chic and classy in shades of rich greens and dusky pinks with a mix of textures including leather and velvet. The bar area just before the dining area is minimalist, with gold beer taps and table lamps and a glistening green-marble top.
We were warmly greeted and escorted to our table at the back of the restaurant. I noticed a curtain could be drawn if you wished a more private dining option.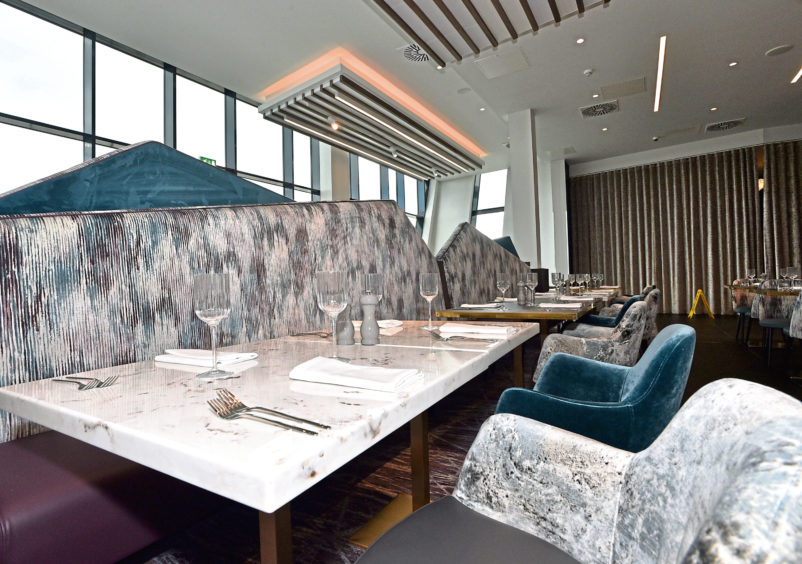 The menu is fairly small with half a dozen starters, eight main courses and a variety of steaks from the Quarter House Grill Experience. Our server advised they had a special offer on their Chateaubriand steaks with a reduced price from £69 to £40. This of course brought much debate around the table as to who would like to share and how do you like your steak cooked. We opted to go straight to main courses, but some of the nibbles sounded very tasty including a sticky honey glazed chorizo and an unusual warm tattie scone with beef and onion butter and a beef dripping dip.
So decisions made while the lovely young waiter coped admirably with all the different requests, we sat back enjoying some gins and tonic.
Luckily for us, my colleague liked a medium steak, but when the Chateaubriand arrived it did look a little pink for my liking. However, at the other end of the table, someone else was commenting to the staff that their steak looked a bit over done as they had requested medium rare. Problem solved, and after a quick swap of the large rectangular plates, everyone seemed happy.
Chateaubriand is the prized cut from the fillet head and the meat was delightfully soft and tender. We chose a peppercorn sauce to accompany the steak, which shared the plate with some onion rings and the finest chips I have had in a long time. A minor quibble would be that the steak wasn't as hot as I would have liked.
Finally there was a hush around the table as fellow diners tucked into large bowls full of wild mushroom, truffle and parmesan risotto and a fillet of cod with cauliflower textures, kale and parmesan. Truffle oil can often be overpowering, but I was advised that it had just the right amount drizzled over the top while the Italian rice was the perfect creamy consistency.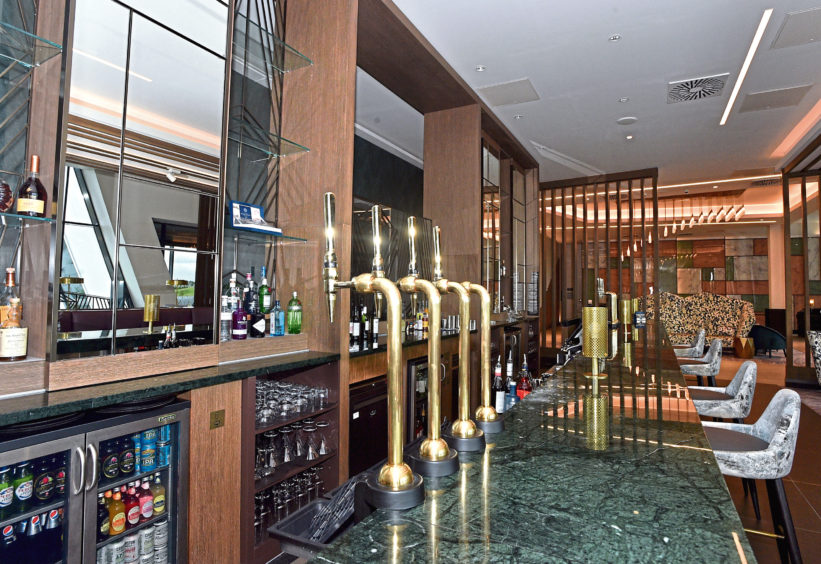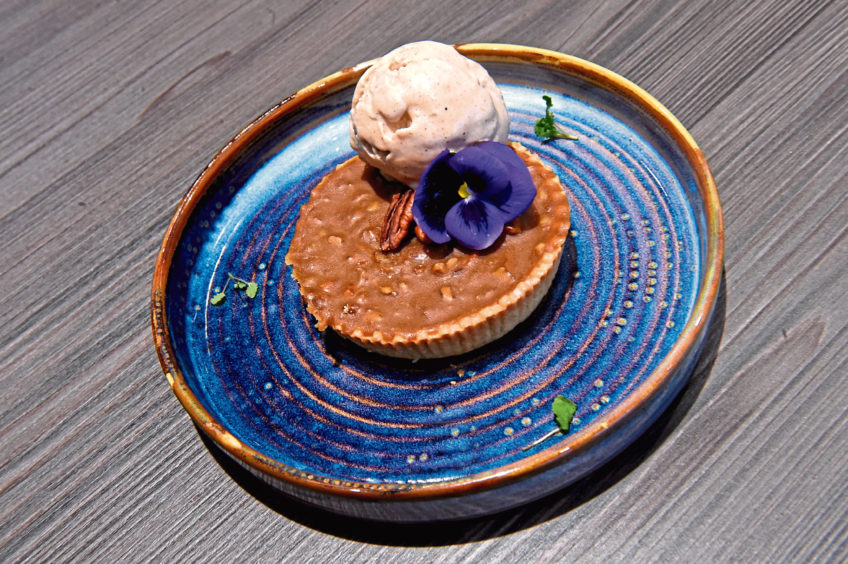 The cod dish was also a winner, with the cod perfectly flaky but firm, and the nuts provided a welcome crunch, however the cauliflower could have done with more seasoning.
After skipping starters we felt we deserved a sweet treat, and for review purposes we ordered a few to share including a sticky toffee pudding, a pecan pie and a white chocolate and spiced fruit cheesecake.
The sticky toffee sponge was divine, swathed in rich toffee sauce and served with a mouth-watering honeycomb, crème caramel ice cream. The traditional American Thanksgiving dessert, pecan pie, was sweet and nutty and combined well with the cinnamon ice cream. Last but by no means least was the cheesecake which was deconstructed and served in a large glass. It tasted like Christmas in a jar with the addition of the spiced fruit. The accompanying prune and Armagnac ice cream divided opinion, but was certainly something different to try.
The hotel has a good choice of wines and we enjoyed the Monte Verde Merlot from Chile which was juicy and light and the perfect accompaniment to the steaks.
Being so close to P&J Live, this hotel will prove very popular with concert goers attending events.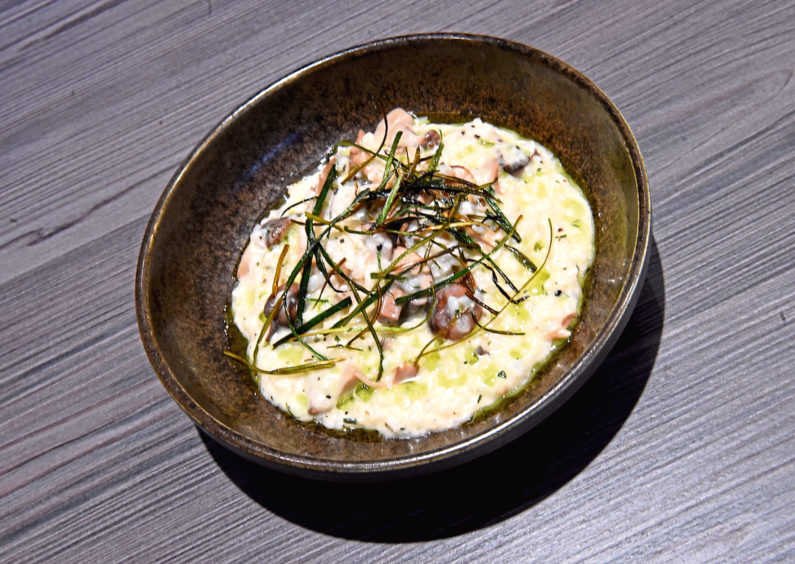 Dishes are good quality at reasonable prices and served in sumptuous surroundings, and who knows, you may even be lucky to spot a celebrity at the bar.
The restaurant
Quarter House Bar & Grill
Hilton Aberdeen TECA, East Burn Road, Aberdeen AB21 9FX
t: 01224 984111
w: www.hilton.com/en/hilton
The bill
Chateaubriand x 2 (on offer) £80
Cod £17
Risotto £14
Sticky toffee pudding £7
Pecan pie £7
Cheesecake £7
Merlot £24
Gin and tonic x 6 £24
Total: £180