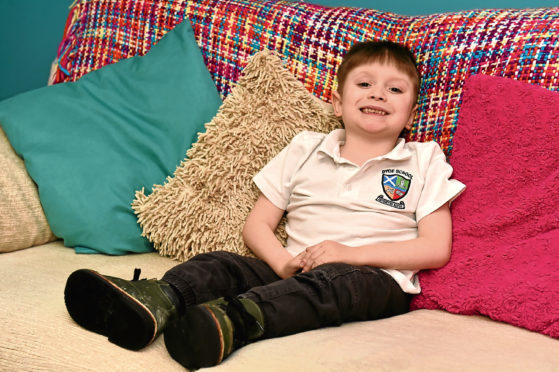 At six years old, Baxter Dick is determined to be a dentist and there is no doubt that he will achieve his childhood dream.
Dentist today, policeman tomorrow, Baxter may change his mind as children do, but his determination is a constant. That resolve shines through in his mother, Ailsa, too – had she taken the doctors' advice, Baxter would not be here today.
Each milestone attests to her belief that her son could and would survive.
Baxter is shorter than his two-year-old sister, Caledonia, and may never reach the height of big brother, Brodie, who is eight.
But size is immaterial when you've been battling for survival since before birth. "Baxter has spina bifida, hydrocephalus, scoliosis, and a potential genetic disorder," said Ailsa.
"My pregnancy had been progressing normally until I had a routine scan.
"A nurse left the room and when she came back she simply said: 'I think there is a problem with your baby's brain and spine'."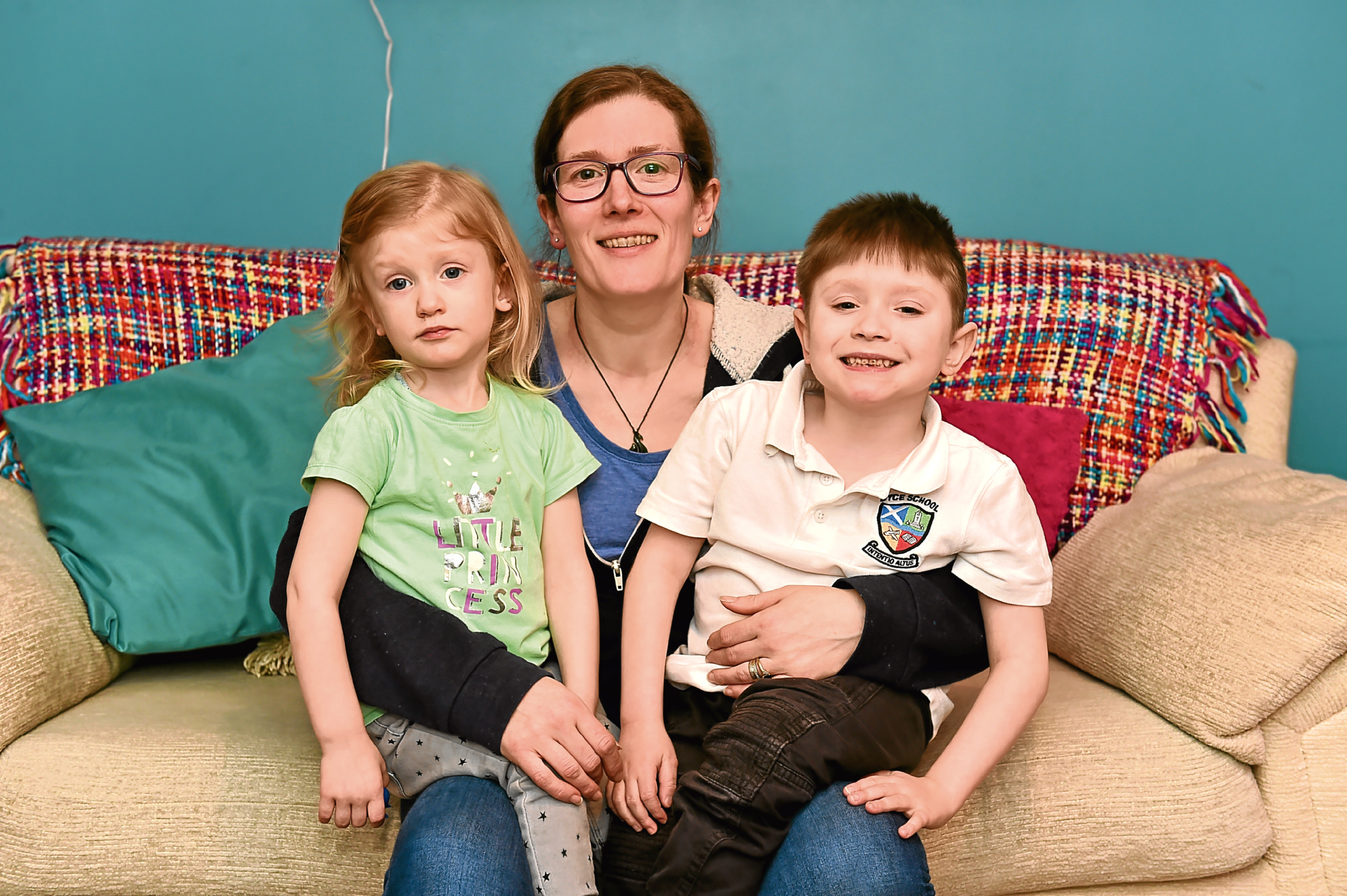 Ailsa had been excitedly preparing for her second child, only to be offered a termination almost immediately. "We were told that Baxter was so severely disabled, it would be a miracle if he survived birth," she said.
"They said he wouldn't have enough brain tissue to ever breathe on his own. He wouldn't be aware of his own existence and he would have no quality of life.
"I was offered a termination before I even knew what his conditions were."
Faced with such a devastating prognosis, Ailsa had no idea where to turn.
Experts even told her that she was in denial over her baby's health when she questioned the future.
Rather than bow to whatwas told could happen, she armed herself with knowledge about spina bifida and hydrocephalus.
Were it not for the charity, Spina Bifida Hydrocephalus Scotland (SBHS), Ailsa believes she may have felt completely alone in the diagnosis.
"It took two weeks to pluck up the courage to phone them because I didn't know what I would say," Ailsa said.
"It turned out not to matter because I just cried down the phone in the end."
After much soul-searching, Ailsa and her husband James decided to go ahead with the pregnancy.
Baxter is now thriving at Dyce primary school and has defied every damning prognosis stacked against him.
There is no escaping the seriousness of his condition, though.
"Baxter does need a lot of care, it's a round-the-clock job," said Ailsa.
"One of the main things is that his oral reflexes don't work, so Baxter can't bite, chew or move food around in his mouth.
"He needs to be tube-fed overnight for 12 hours instead.
"Similarly, his bowels don't function normally, so he has a catheter to help manage this."
Baxter's severe hydrocephalus means that he was born with excess fluid in his brain, which needs to be drained in order to release pressure.
"They fitted a shunt when he was just 24 hours old," Ailsa explained.
"It's essentially a valve which attaches to a ventricle in the brain and drains liquid down to the stomach cavity where it can be naturally absorbed."
The mechanism needs to be carefully monitored, or Baxter could be left brain damaged.
If too much liquid is removed too quickly it can create a vacuum and the brain collapses.
Paralysed from the chest down, Baxter is also much smaller than the average six-year-old.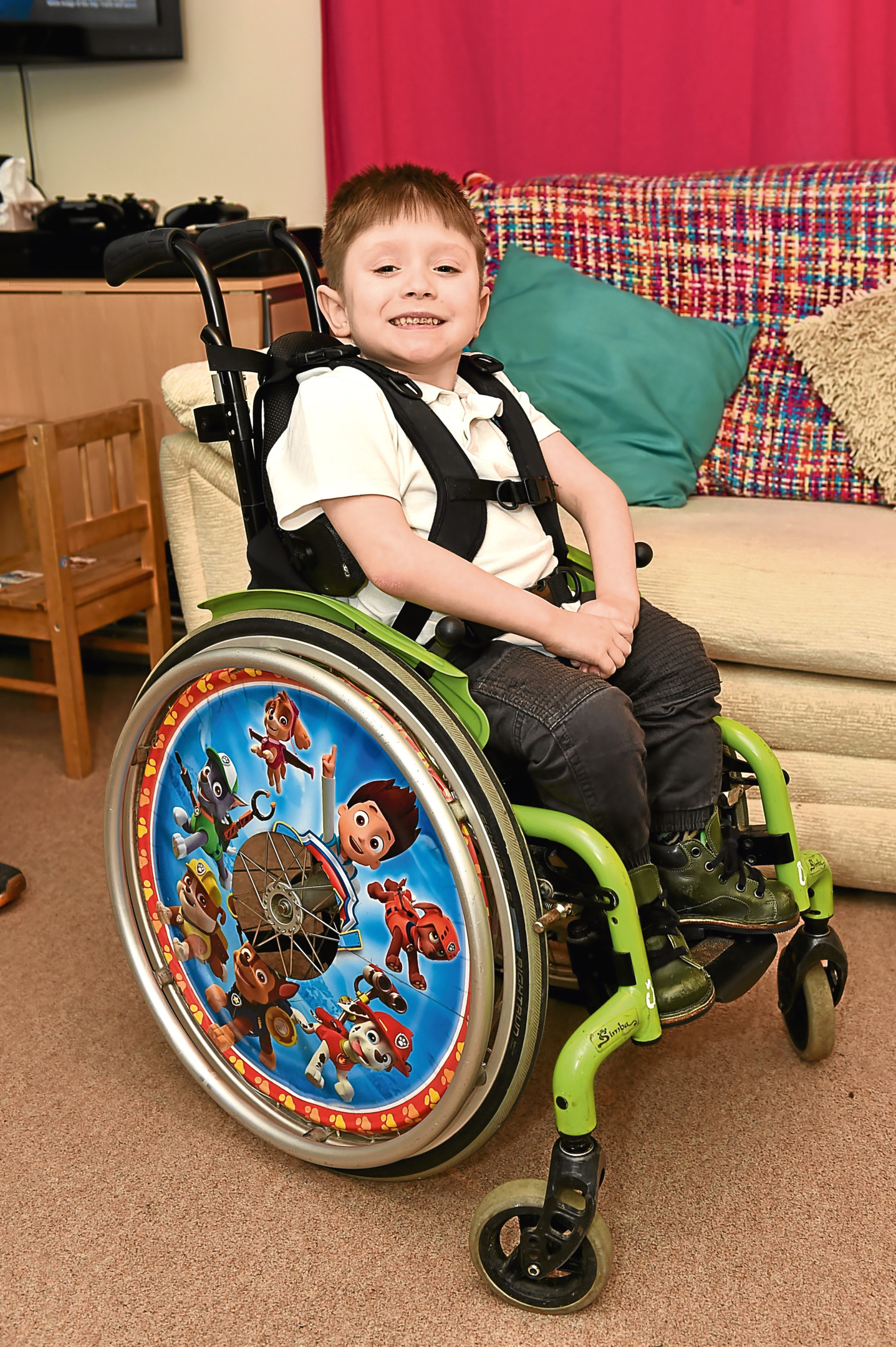 He relies on a wheelchair and has actually been self-propelling since he was just 18 months old.
"He used to have a tiny thing called a ZipZac, which is basically a mini baby seat with wheels," Ailsa said.
"We had to have it specially ordered from America as they weren't available in the UK then, and he looked so cute wheeling around."
The difference between Baxter and fellow pupils could be viewed as painfully obvious, but his disabilities have given him star status in the eyes of his friends.
"All the kids have known him since he was a baby, so no one bats an eyelid at his wheelchair," said Ailsa. He has lots of friends in his class, and you'd be surprised at how caring the older kids can be.
"In fact so many children wanted to help look after Baxter at lunch-times, that the school had to set up a rota so everyone could get a turn."
Hospital appointments are part of everyday life and the family have received constant support from SBHS.
The charity even pointed Alisa in the direction of an Aberdeen support group for families affected by spina bifida.
At the monthly meetings, children get to learn cooking and craft skills with trained professionals.
Exhausted parents are then able to relax and offer support to each other.
"It's really comforting to spend time with families who understand the daily struggles and our family support worker is always on hand," said Alisa.
To say thank-you, Ailsa has signed up to do a 130-foot charity abseil from the Northern Lights Tower at the Aberdeen Exhibition and Conference Centre.
Taking place on March 18, she is looking forward to the event and already has a head for heights.
In the past she has ziplined over the River Clyde and abseiled down the Falkirk Wheel in order to raise money and awareness for SBHS.
l Anyone wishing to donate can find out more at www.sbh
scotland.org.uk/abseil
WHAT IS SPINA BIFIDA?
Spina bifida is when a baby's spine and spinal cord don't develop properly in the womb, causing a gap in the spine.
The condition is relatively common and affects up to one baby in every 1,000 born in Britain today.
There are several different types of spina bifida ranging from very mild to severe.
Weakness or total paralysis of the legs, problems with incontinence and a loss of skin sensation are all common symptoms.
Overall life expectancy is often reduced as a result.
The condition is usually associated with folic acid deficiency during pregnancy, however an exact cause is not known and a number of other risk factors can contribute.
Almost all those with spina bifida also suffer from congenital hydrocephalus, a condition in which excess fluid gathers in the brain.
Because of this, learning difficulties, impaired speech and vision problems can be additional complications to deal with, and often make the lives of spina bifida sufferers even tougher.