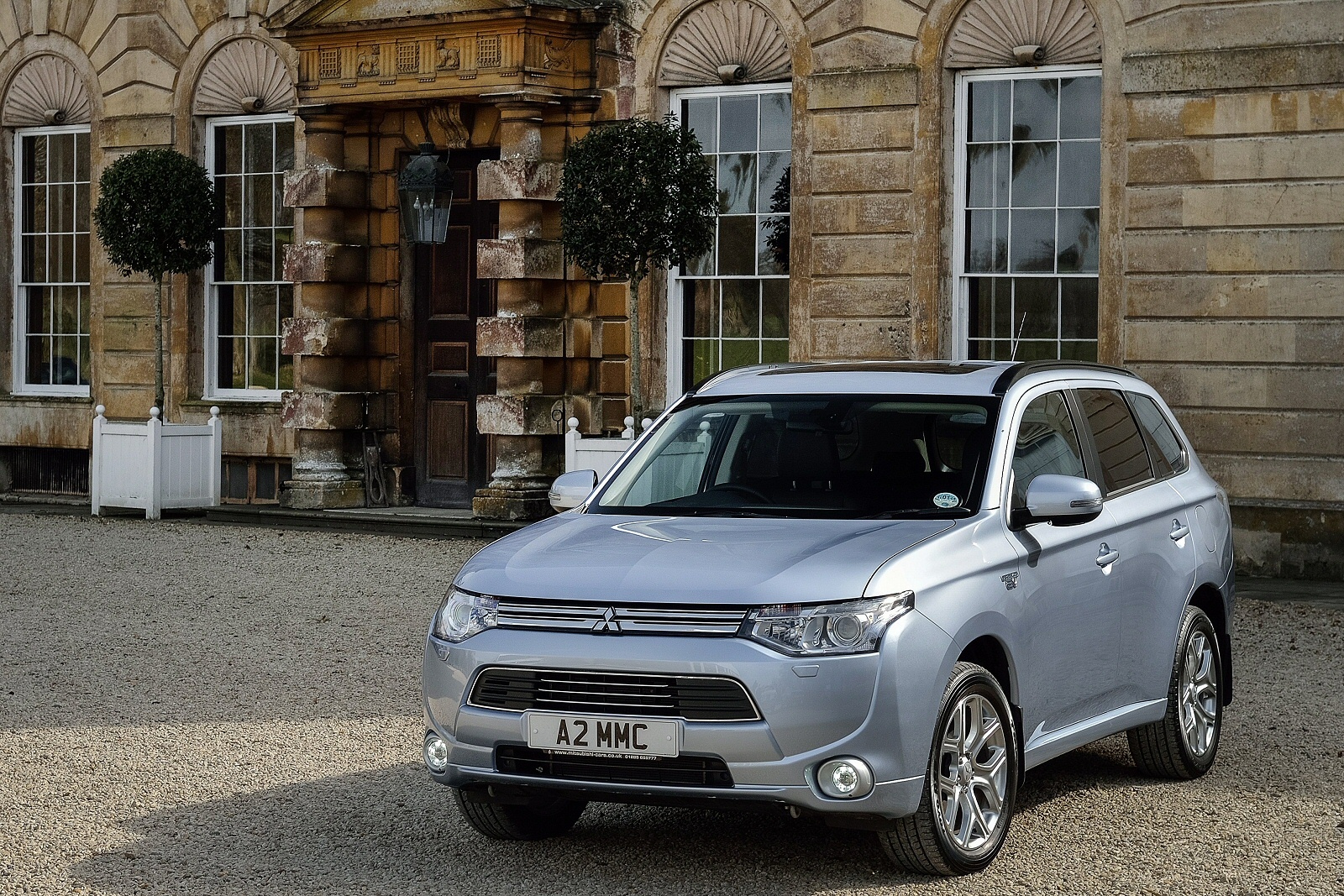 The Outlander PHEV is a plug-in hybrid SUV that gives Mitsubishi a real edge in this corner of the market.
We liked the Outlander diesel when we tried it recently but the PHEV uses very different mechanicals. This one features a 2.0-litre petrol engine and a pair of electric motors on each axle, giving all wheel drive and a combined power output in the region of 220bhp. So as you might imagine, it's pretty sprightly when you bury the throttle, although Mitsubishi's quoted sprint to 62mph of 11 seconds sounds strangely slow. Driven in full electric mode, you'll feel the huge torque of the motors and be able to cruise at motorway speeds on electric power alone, although not for too far. Refinement is very good, even without the sound of an engine to drown out wind and tyre noise.
There's a very handy feature included where you can request the battery holds a particular level of charge and you can also use the petrol engine as a generator, to drive battery power back up to 70% of its capacity. There is also a sophisticated five-level regenerative braking system that the driver can select using the wheel-mounted paddles or what you would otherwise take to be the gear lever.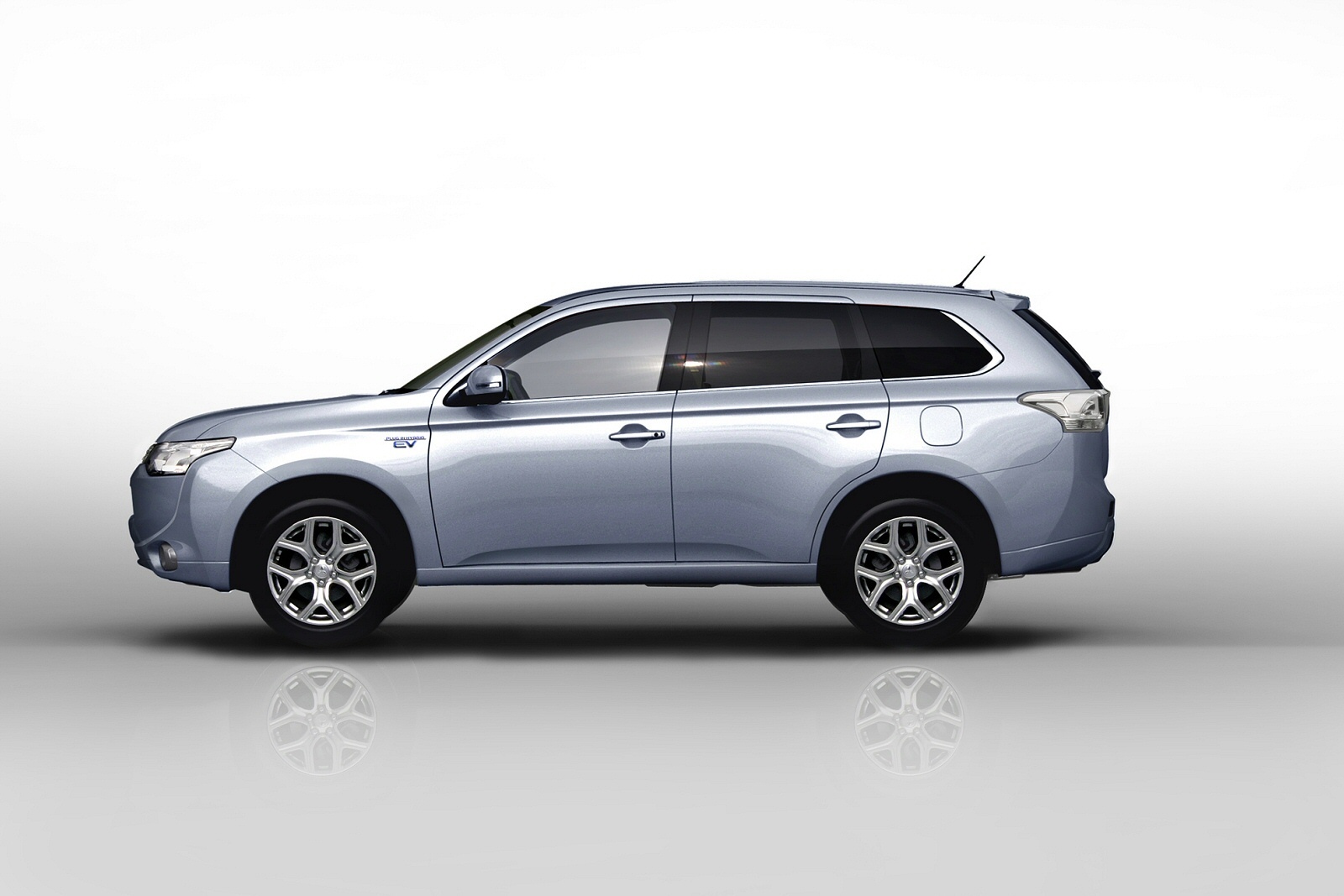 You might well need to be the judge when it comes to the Outlander's styling. We're not fans of the beaky front end and slab sides but there will be some who doubtless feel that the sharp suit makes a welcome change to the usual cuddly Nissan Qashqais and Mazda CX-5s. The front and rear overhangs are quite long as well, so don't be to tempted to go charging off road just because you've got drive going to each axle.
The cabin is very nicely executed. Mitsubishi is usually a company you can rely on for old-school hard grey plastics and mismatched fonts but this Outlander has clearly had some thought put into look and feel. Although you won't think you're in an Audi Q5, the Outlander offers plenty of soft-touch finishes and a clean, architectural fascia design. There's a small increase in the vehicle's weight due to the floor-mounted battery pack, a paltry reduction of 14-litres in boot space and rear legroom is a touch more pinched due to the raised floor height. The 577-litre boot is still more than adequate for most requirements and the luggage bay is well shaped.
Prices look very competitive, starting at just over £28,000 after subtraction of the government grant – so the same money as a conventional Outlander GX3 diesel auto. That's for the entry-level GX3h version: there are also two other PHEV models, the GX4h costing about £33,000 and the top GX4hs costing about £35,000. Expect a decently high spec to come as standard across the range, with a tally that'll run to dual-zone air-conditioning, power-folding mirrors, privacy glass, alloy wheels, cruise control, four powered windows, remote locking, seven airbags and stability control. Niceties include things like leather and dual-zone climate control, satellite navigation, a parking camera and a high-end audio system, along with advanced safety systems including lane departure warning, radar cruise control and a collision mitigation system (which applies the brakes automatically if it senses an impending crash).
The official fuel consumption figure of 148mpg merely serves to remind us that we have an urgent need for a new European fuel consumption test which more closely mirrors everyday driving conditions.
Likewise, the 44g/km emissions figure the Outlander PHEV records won't be something you'll be managing day in, day out. As an exercise in taking advantage of a flawed testing procedure, it's remarkable.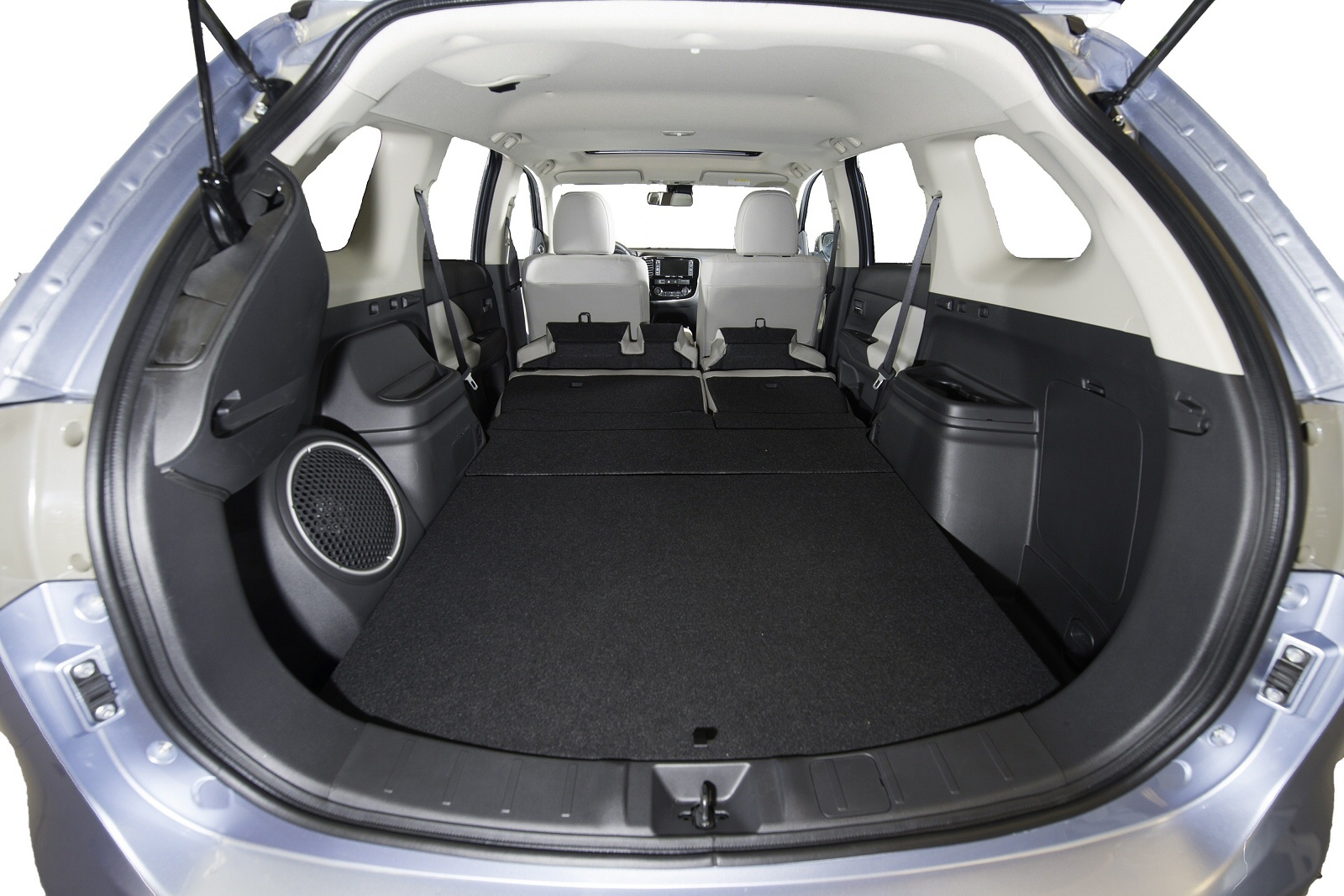 This plug-in hybrid can drive for over 32 miles on a full electric charge and can be fast charged to 80% in 30 minutes. This means that for some drivers, they'll be able to pop the car on charge in the evening, do the commute and bring it home without using any petrol at all. Mitsubishi reckons that if you cover more than 100 miles between charges, the diesel is going to work out more cost-effective. Charge the Outlander PHEV more frequently and the numbers swing in its favour. Residual values ought to be strong, as the trade has quite taken to the Outlander and this plug-in hybrid is the first example of its type in the sector.
As long as you get on with the styling and don't have a pressing need to seat seven people, we've got nothing but good things to say about the Mitsubishi Outlander PHEV. It's one of those rare vehicles that is massively better than you expect it to be. The calibration of the hybrid powertrain, the options it gives its driver and the sheer depth of engineering that's apparent in the way it's been built all point to a car that deserves all the acclaim it's now getting.
Being first to market improves the chances of success. Being first with a product so strong that it will have many rivals going back to the drawing board ought to guarantee success. This one deserves a big stage.
Facts & figures
Model: Mitsubishi Outlander PHEV
Price: From £28,000
Engine: 2.0-litre petrol engine plus two electric motors producing 220bhp combined
Performance: 0-62mph in 11 seconds
Economy: 148mpg
CO2 rating: 44g/km