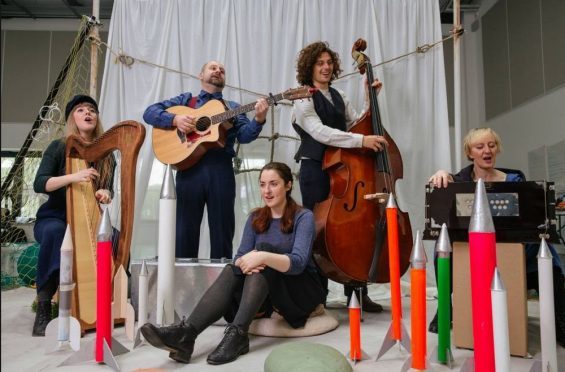 A globally-renowned theatre company is bringing a new touring production of Rocket Post to Banffshire next month.
The National Theatre of Scotland (NTS) will visit Portsoy's church hall on Wednesday, October 4 with the family show.
Rocket Post, written and directed by Lewis Hetherington, is based on the true story of "eccentric" rocket engineer Gerhard Zucker who launched a dramatic experiment to send two rockets full of letters 5,000ft between the isles of Harris and Scarp.
A spokeswoman for the National Theatre said: "It's a fantastically fun new show for everyone aged six plus and Rocket Post is full of humour, heart and hope for the future.
"It's a tale of miscommunication, vaulting ambition and the joyous discoveries that can happen when everything goes wrong."
The NTS was set up in 2006 as a "theatre without walls", touring unusual locations across the country including airport, schools, ferries and forests.
There will be an opportunity for Rocket Post tickets holders to take part in a free workshop with NTS in the run-up to the show.
Children will have the opportunity to become a rocket scientist for a day and build a new rocket.
The play is at Portsoy Church Hall on Wednesday, October 4 from 7.30pm. The free pre-show workshop is at the Scout Hut by Loch Soy at 4.30pm.
Tickets are £4 for children and £7 for adults.
NEAT Deveron (North East Arts Touring) is organising the events with NTS. For more information on both the show and the workshop, visit www.facebook.co/neatdeveron