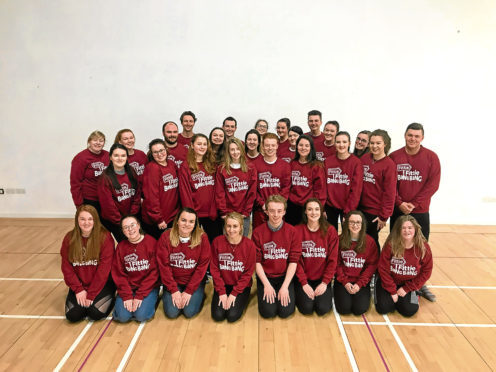 Aberdeen students are in the midst of intense rehearsals ahead of the famous Student Show which runs this week. A long-standing tradition in the city, many people flock to HMT every year to see the production.
Part of the annual Aberdeen University Student Association Charities Campaign, the past shows have raised thousands for local charities, including £100,000 from Michty Mia! the 2016 show.
The show usually parodies a well-known title, and this year is no different. After the success last year of Sister Echt, the team are back with another show with an Aberdonian twist – Fittie Fittie Bang Bang.
Involving students from The Robert Gordon University, the University of Aberdeen and North East Scotland College (NESCol), the young team have worked hard through an intense period of rehearsals.
Eighteen-year-old Bradley Phillips is making his debut at HMT with the Student Show in the role of male lead Dycie, but the NESCol sports development and coaching student is no stranger to the stage.
"I went to see the Student Show last year and my friend's drama teacher, who is a director this year, asked if we wanted to get involved," said Bradley. "I have also been in Beauty and the Beast recently as Gaston and plan to do a total of four or five shows this year."
Bradley developed his passion for theatre in school and has continued to juggle acting with his course work, including a performance of Spring Awakening planned for June.
Bradley explained how he manages to fit so much into his schedule: "I think it makes me study better, knowing that my time is filled. I crack on with the work and get it done when I have the time."
"My character in the Student Show is Dycie, who is very glaikit, clumsy and dopey and a bit silly. The show is full of a lot of Aberdeen humour and it is quite hard not to laugh. I hope the audience will laugh."
With the old population of Aberdeen disappearing, the hero is on a mission to track down his elderly relatives and save them from a sinister fate. The Doric tale takes the audience from a retirement village to a lighthouse in Fittie and promises plenty of laughter along the way.
But does the lasting popularity of the Student Show, which has been running since 1921, create a lot of pressure for the cast to live up to? Bradley, who is from Aberdeen, said: "People do buy tickets just because it is the Student Show and the reputation.
"Personally, I have been in various shows and put pressure on myself to be the best I can be and to feel that I have done my best.
"I think if you are harder on yourself then it makes it all worth it at the end.
"It is quite intense – we started with the auditions in mid-March and had roughly four weeks of rehearsals and the past two weeks have been from like 10am to 10pm.
"We started rehearsing the show in chronological order and have worked from there."
The Student Show is a real collaborative effort, with all of the cast pitching in to find their own costumes for the colourful characters and to create the scenery.
"I'm lucky I already had most of the clothes I needed," said Bradley. "But others have gone to charity shops to find their costumes and create the image the directors have in mind. We are all helping to paint the floor and, even though we are not allowed to say what it actually is, there is going to be a good surprise for the audience which I am very excited about."
The production allows the students to step on to the stage at HMT, which has seen performances from big names, including Sir Sean Connery and Sir Ian McKellan among the many.
Even though Bradley recently performed at the Tivoli just down the road, the breathtaking auditorium of HMT might be a bit daunting.
"I'm nervous. It is a big part and I have had one rehearsal downstairs in the theatre but have never been on the main stage," he said.
"It is quite scary performing to more than 1,000 people rather than 20 or 200, but I think it is also really exciting.
"I'm very passionate about musicals and it is cool to think that I'm on the stage which has seen those big names too."
Fittie Fittie Bang Bang runs until Saturday, April 21. See www.aberdeenperformingarts.com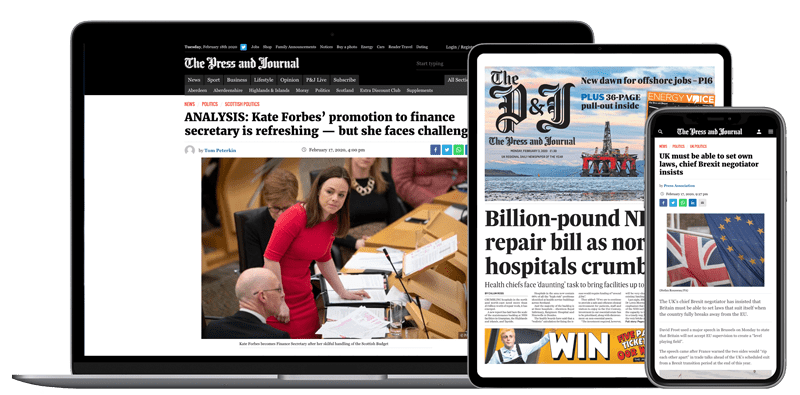 Help support quality local journalism … become a digital subscriber to The Press and Journal
For as little as £5.99 a month you can access all of our content, including Premium articles.
Subscribe