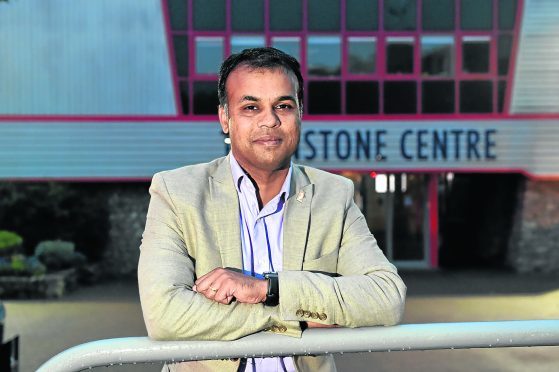 The stark reality of Scotland's problem with alcohol abuse has never been far from the headlines in recent years.
Just weeks ago, new figures revealed that booze-related deaths in NHS Grampian had hit a record high, with 10 fatalities last year.
The grim statistics have led to calls for a "redoubling" of efforts to quell alcohol abuse.
But while there is a clear consensus among politicians, doctors and charities about tackling this insidious habit, health experts have warned that some of the most vulnerable and innocent victims of our drinking culture are being ignored.
Fetal alcohol spectrum disorders (Fasd) are caused by alcohol consumption during pregnancy and the potential long-term physical damage of these conditions has been well-publicised.
Babies who are severely affected by these disorders can exhibit physical symptoms such as stunted growth, deformities, smaller heads and poor coordination.
There can also be long-term mental issues, such as under-developed intelligence and behavioural problems, while a propensity for drug and alcohol addiction is also more likely.
This Saturday marks International Fasd Awareness Day, which has been described as the leading known preventable cause of learning disability across the world.
The estimated numbers born with Fasds are difficult to quantify, because many of the symptoms are often wrongly attributed to other conditions.
Previously, experts have assessed there could be as many as 10,000 people in Scotland – aged up to 18 – who are affected by the condition.
Other researchers have estimated it could be as much as 3-5% of the UK's population – and a recent Jama Pediatrics study recently reported the prevalence was about four times the global average.
A leading expert on the issue believes that most studies have barely scratched the surface of the true extent of the "hidden disability".
Dr Raja Mukherjee is the lead clinician at a specialist Fasd clinic in Surrey, the only facility of its kind in the UK.
He was recently in the north-east, at a special awareness event in the Thainstone Exchange, which was attended by hundreds of people.
And he said: "The more a woman drinks during pregnancy, the more likely she is to be affected.
"There are a lot of people out there who have issues that they don't realise.
"When you go looking for the symptoms you find them – it gives an answer to a lot of the problems that people struggle with.
"The more extreme examples are people who have the bad physical problems, but that's not actually that common.
"It's the psychological symptoms that are far more common, they are far more prevalent than you would realise.
"But people just think it's normal, if someone has a really bad memory for example, you joke about it."
The Inverurie event was attended by about 450 people and was free to attend.
Donations were taken for Fyvie Nursery, which will go towards purchasing sensory equipment for children.
Dr Mukherjee has claimed there are close to 428 different conditions into which Fasd can manifest itself.
And while there is increasing awareness among people about the disorders and what causes them, he is convinced there still remains a lot of work to be done on the subject.
He explained: "More and more people have heard about it.
"When I started looking into this 15 years ago, you would have struggled to get 20 people who had any idea about what it was, so to have 400 people in a room was quite incredible.
"But there is still a long way to go, you can be either a glass half empty or a glass half full person."
Dr Mukherjee has no doubts that a cultural sea-change is needed before significant strides can be made.
He compared it to attitudes towards smoking and their health impact, which have changed markedly in the past 50 years from a time where lighting up was once considered glamorous and advertised by leading Hollywood stars.
"The problem is that to have a disorder, it has to impair your functions – simply having bad memory isn't enough," he added.
"But there are people who will end up in prison because they have a number of these difficulties.
"It is a hidden disorder, it is not obvious and it is not something like diabetes."
The doctor is among those who believe the UK's criminal justice system is full of people whose offences had been sparked by behavioural problems brought on by Fasd.
During her trial for passing secrets, it emerged that Private Chelsea Manning – the US soldier who was recently freed from jail – had been assessed as having symptoms of foetal alcohol syndrome.
At that stage, while using the name Bradley, she was sentenced to 35 years in a military prison for giving classified material to WikiLeaks, but was pardoned by President Barack Obama on the last day of his presidency.
Sheila Sambrook has been a foster parent for nearly 15 years and specialises in taking in children who have these types of disorders.
She currently has an adopted 11-year-old son and is in the process of adopting a five-year-old boy, whom she has been fostering.
Both have "full-blown" foetal alcohol syndrome (Fas) with both physical and mental disabilities.
Mrs Sambrook – who also worked as a midwife – says the 11-year-old struggles with basic maths problems, while the five-year-old cannot hold a pencil like his peers and instead is more like a three-year-old.
She said:"This is a much bigger problem than people realise and I think the behavioural issues are far worse than the physical impact.
"I think the message over the years has been mixed and can be quite misleading from professionals.
"Saying 'the odd glass of wine is fine' is quite damaging – a normal glass of wine isn't the same to everyone.
"I think the problem is people are drinking at home now too, and a glass of wine often doesn't mean just one glass.
"My advice would be that, if women are thinking of having children, they should stop drinking before conception or as soon they find out they are pregnant."
That advice might sound like simple commonsense. But, as long as there is so little awareness of the problem, it is likely to be difficult to get the message across.
SIDEBAR ONE
A study in January by the Canadian Centre for Addiction and Mental Health placed the UK among the top five countries in the world for the highest alcohol use during pregnancy.
The research estimated that more than 40% of women in the UK are drinking alcohol while pregnant.
It also placed Britain among the top countries for Fas in the world, with an estimated 61.3 cases per 10,000 births, whereas the global average is currently estimated at 15 out of 10,000.
However, the study also warned that this was just the "tip of the iceberg", because the syndrome is just one of is only one of many disorders, and there may be nine or ten times as many on the spectrum.
Sandra Butcher, chief executive of the National Organisation for Foetal Alcohol Syndrome-UK (or NOFAS-UK), said: "Consistently, [in surveys and studies], the UK shows up at the top of countries with regard to drinking during pregnancy and estimated rates of FASD.
"Scientific debates about prevalence should not hinder prompt, immediate and effective government action.  Policy makers too often have their heads in the sand about this known and devastating trend."
Scotland has traditionally had a difficult relationship with alcohol down the years and, unsurprisingly, that applies to the Fas figures.
The Scottish Government is continuing to strive to intrroduce such measures as minimum pricing for alcohol, in a bid to tackle the problem, but has faced sustained opposition from drinks manufacturers.
Sandra Butcher praised the politicians' initiatives, but warned there were no easy solutions.
She said: "Scotland is more progressive than some other parts of the UK on these issues, but there is still a lot of work to be done. Prenatal exposure to alcohol can cause lifelong brain-based disabilities. Early diagnosis, support and increased awareness are essential
"The fact is there are people living among us who have Fasd, a 'hidden disability' that may affect as many as 3-5% of the population or more.  They and their families, communities and those seeking to care for them deserve support.
"It should not be such a battle for so many to have access to the resources they need.  With greater education and awareness, we can help prevent Fasd."
SIDEBAR TWO
A diagnosis service targeting children and youngsters who have Fasd has been launched by NHS Ayrshire and Arran, which is believed to be the first of its kind in Scotland.
The Rainbow House unit, at Ayrshire General Hospital in Irvine, offers parents the chance to have their child assessed for the disorders if they are concerned about their development.
At the moment, there are no similar services in the north and north-east although NHS Grampian does run a unit for mums-to-be who have substance misuse issues.
Fasd awareness day is on September 9, a date chosen to symbolise the nine months of pregnancy.
Every year, expectant mothers are encouraged to take a "pregnant pause" until their baby is born to remove the risk of their child contracting the disorders.
Support is also being offered by FASD Scotland, who can be reached at mail@FASDscotland.com
Aberdeen, Aberdeenshire, Moray and Highland councils all have family information services which may be able to help those who require support.
Any parent who believes their child may be showing symptoms of Fasd should contact their doctor as soon as possible.