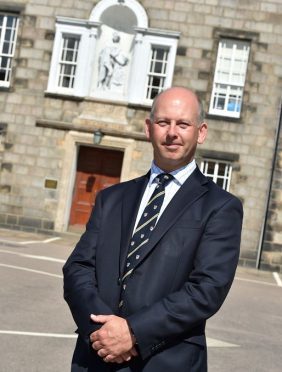 A north-east MP has warned that the state education sector and the economy could suffer if the SNP government follows through with a plan to impose business rates on independent schools.
A review of the rates system in Scotland by Ken Barclay has recommended that the 70 independent schools should lose their eligibility for relief due to their charitable status.
It would affect several schools in the north-east including Robert Gordon's College, Albyn school, Lathallan and Gordonstoun.
Scottish Conservative Ross Thomson has said a government decision to follow through with the proposal, which could be made tomorrow, would put huge additional pressure on an already overstretched state education system.
Every year, means tested fee assistance of £30million is provided by independent schools in Scotland, helping families on low incomes.
Mr Thomson said: "The contribution of these schools to society and to the economy vastly outweighs any tax relief that they receive
"If business rates are applied, then not only will that reduce their ability to provide bursaries to low income students, it will also lead to many schools raising their fees.
"A large proportion of parents could then be priced out; meaning places would have to be found for their children at state schools.
"Given the huge pressure already on education budgets due to SNP cuts and a shortage of teachers, particularly here in the north-east, this would be hugely detrimental."
Simon Mills, Head of Robert Gordon's College mirrored the MP's views and commented: "We are working with the Scottish Council of Independent Schools (SCIS) on the potential impact of the Barclay Review of Business Rates which we believe will be counterproductive to education for Scotland's young people and very costly to the Scottish economy."
Independent schools in Scotland hold OSCR charitable status because of the amount of bursaries and scholarships they give out providing free places or discounts to means-tested children.
Lisa Kerr, Principal at Gordonstoun said the scrutiny process for OSCR was fair and added:
"It's difficult to understand why we would be singled out amongst charities, the overwhelming majority of which have not yet been subject to OSCR scrutiny.
"Gordonstoun, as well as being renowned as the world leader in character education, is a significant contributor to the local economy and is a major local employer."
Director of the SCIS, John Edward said "one in three" pupils in independent schools currently receive means-tested assistance, adding: "The charity test for Scottish independent schools is the strictest in the world. Our high attaining schools have worked incredibly hard over 12 years to meet that test. Any sudden alteration to rates relief would have very serious consequences for their staff– as well as those 30,000 pupils educated."
A Scottish Government spokesman said: "We initiated our response to the recent Barclay review of rates in last week's Programme for Government, and will set out our fuller response to Parliament this Tuesday – fulfilling our promise to respond swiftly, and underscoring our ambition for Scotland to be the best place in the UK to do business."