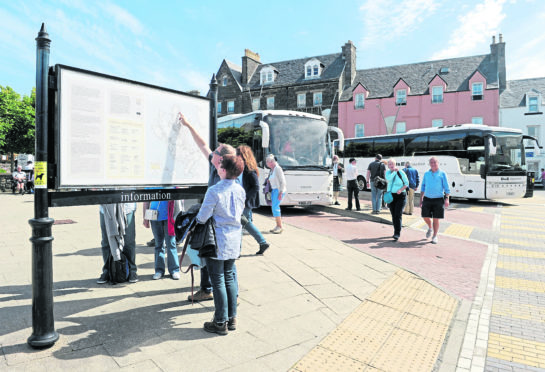 A tourism chief has said such high levels of administration would surround a tourist tax that would make it "almost impossible" to implement in the north.
Rob McKinnon chief executive of member-group Outer Hebrides Tourism, has said that any tourism tax would have wide-ranging implications for the small owner-operator businesses on the islands, and throughout the Highlands.
Mr McKinnon said: "While big businesses in the central belt might be able to cope with all the administration that would go alongside a tourist tax, it might be a step too far for those people in the Highlands or on the islands who have a small property.
---
>> Keep up to date with the latest news with The P&J newsletter
---
"And who would it benefit? You could argue that it won't benefit the operators – and while the the local authorities might need the extra cash – how would they make sure everyone made the payment? It couldn't be added to the cost of a ferry or flight.
"If it was added to people who are UK residents who already pay tax – that would also seem unfair. If it was only for people outside the UK – then how would it be paid?
"People who are staying in bed and breakfasts would be less difficult to tax, but often those people are already paying taxes in the UK.
"In the Western Isles, they would certainly be some of the 60 per cent who return to visit the islands every year. Should we be taxing them twice?
MP reports that tourist numbers on Skye have dropped because of publicity
"But not taxing people who come to wild camp or in a camper van because they are not in a hotel or bed and breakfast, would be a real problem. A tourist tax should not be an extra bed tax for those already staying in a hotel or guest house.
"I think it seems a fairly simple suggestion to introduce the tax, but there are many more things to think about – and real consideration has to weigh up if the benefit of the tax will outweigh the time, money and energy used to implement it."
Places such as the Highands, Edinburgh, the Lothians, the Scottish Borders have all considered a plan for a tourist tax to levy a small charge on visitors to the area. Earlier this year the Scottish Government announced a consultation on a tourist levy.
Support for a tourist tax in the Highlands
A senior Highland politician wants to provide the "best possible facilities" in the region by introducing a tourist tax.
Councillor Bill Lobban recently gave evidence to the Scottish Parliament's Culture, Tourism, Europe and External Affairs Committee, where he emphasised the importance of tourism to the Highlands.
Mr Lobban said: "The Highland region is vast and provides the most spectacular scenery you could see anywhere in the world.
"We want to provide the best possible facilities and infrastructure and whilst we welcome the huge numbers of visitors, this increase inevitably puts more pressure on our roads, parking, amenities and public conveniences, at a time when council resources are stretched more than ever.
"It is clear that we need to increase the resources available to deliver a high quality visitor experience in a highly competitive tourism sector. A visitor levy could help to fund the investment we desperately need."
Tourism generated £1.2bn for the Highland economy and employed more than 20,000 people in 2017.  Early indications suggest this growth has continued in 2018.