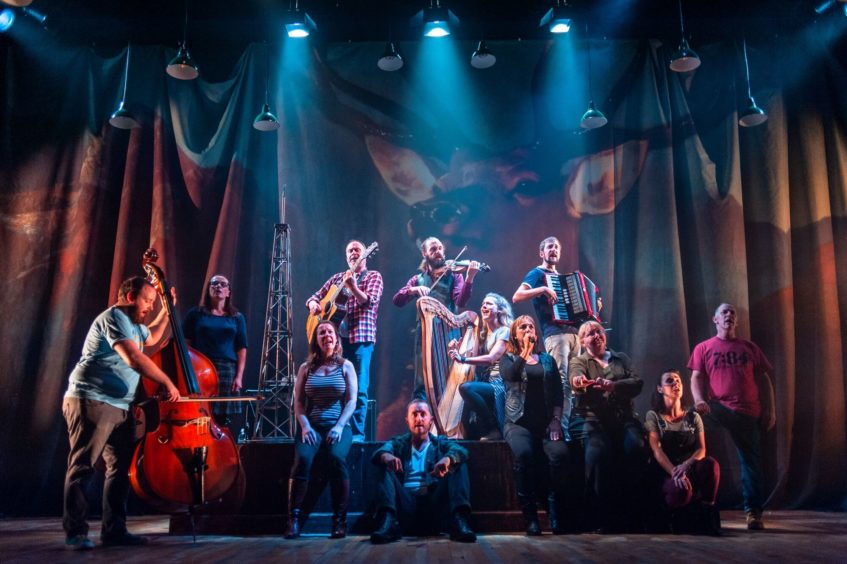 It's one of the most iconic works in the history of Scottish drama.
And in the next few weeks, a revival by the National Theatre of Scotland of John McGrath's  "The Cheviot, The Stag and The Black, Black Oil" will be staged at a variety of venues in the north and north of Scotland.
First staged by the 7:84 company in the 1970s, the drama has become a cornerstone of contemporary Scottish theatre.
Successfully restaged by director Joe Douglas in 2015, the show broke all manner of box office records at Dundee Rep Theatre before touring Scotland to critical and audience acclaim from the public and critics alike.
And the new production is being unveiled at Eden Court in Inverness on May 19 and 20, as the prelude to being performed from Skye to Lerwick and Ullapool to Aberdeen.
It's a work which weaves songs, poems, scenes and sketches into a freewheeling Highland ceilidh. From the ruthless croft clearances of the 18th century to the fashionable Victorian game hunts, and the scars left by the '70s North Sea oil boom, right up to the political upheaval of the current day, the play presents the stories and experiences of Scotland's land, sea, and people across the centuries.
The director, Mr Douglas, said: "This play has power. Or more specifically, it hands power back to audiences.
"Change is occurring in many rural parts of the country and the position of Gaelic language and culture within the wider Scottish psyche is changing too – but change takes time, which is why this play is still so relevant almost 50 years on.
"It will be fascinating to see how The Cheviot, the Stag and the Black, Black Oil sits in village halls and other more intimate venues in 2019 and to see what it stirs up.
"At the very least, we promise a good night out."
The play is touring Eden Court, Inverness (May 19 and 20); Mareel, Lerwick (May 23); Stenness Community Centre, Orkney (May 25); Macphail Centre, Ullapool (May 28); Dornie Village Hall (May 29); Sabhal Mòr Ostaig, Skye (May 31); Aros Centre, Portree, Skye (June 1); Aberdeen Arts Centre (June 4)