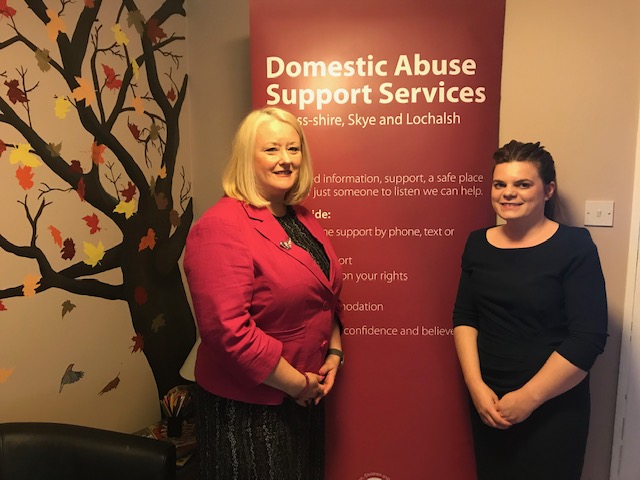 The Scottish Government's equality minister visited a rural Women's Aid project on Skye yesterday, to hear of the valuable work done to support women and children on the island.
MSP Christina McKelvie said she was inspired by the work in Portree, while outlining the funding that has been provided to support the service over the last year.
The government said domestic violence survivors in the north have been helped with more than £200,000 of funding in the past year.
Adele Newlands, the Women's Aid manager for the project, said: "We appreciate the minister taking the time to understand our difficulties from lack of services and support offered on the island, from children's provision, housing and transport issues, confidentiality matters and funding cuts.
"We hope to continue to be supported within the community and from future funders to enable us to grow and develop this much needed service further.
"We have some exciting opportunities to develop our service further with the addition of a young persons worker, we are looking to offer drop in sessions in schools, colleges, community centres and to develop a more robust schools programme to raise awareness and deliver further training on domestic abuse for services.
"We believe rural communities can benefit from a broad awareness of domestic abuse and the issues and dynamics surrounding this.
"We want everyone to recognise the symptoms of domestic violence – who believe women who report violent or controlling behaviour and remain a community where your neighbour is a friend."
Equalities Minister Christina McKelvie said: "Our vision is of a strong and flourishing Scotland where all individuals are equally safe and respected.
"That can only happen where women and girls live free from all forms of violence and abuse. This includes changing the attitudes that allow this harm to happen.
"It has been inspiring to see the difference Portree Women's Aid is making and their work addressing the unique challenges faced by rural communities in innovative and creative ways.
"It gives meaning to the money we have provided in the past year to support their work across the region, including Skye and Lochalsh."
Women's Aid working in Skye, Lochalsh and Ross shire received around £200,000, to support children and young people who have experienced domestic abuse and to support outreach services – in Skye and Lochalsh.