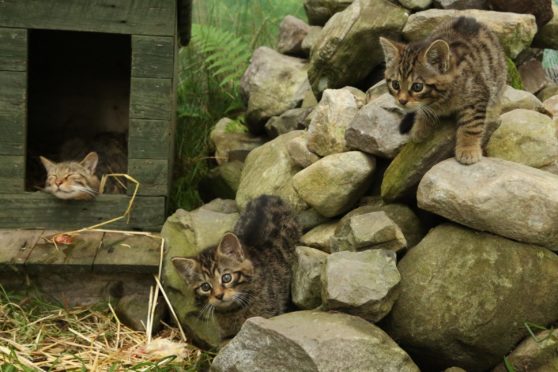 Two rare Scottish wild cat kittens have been born at Aigas Field Centre near Beauly.
Staff at the centre suspected new arrivals were imminent as mum Glynis had grown chubby, and then disappeared into her den for a few days.
The new arrivals are thought to have been born around May 4.
Aigas owner and conservationist John Lister-Kaye said the kittens had delighted the staff who care for the centre's nine wildcats.
The kittens will be fed on day-old chicks, rabbits and quail once weaned, and will form in important part of a breeding programme to restore the species to purity, for possible eventual release back to the wild.
Wild cat numbers have been seriously eroded through loss of habitat, persecution and road kill.
Aigas has been part of the Scottish Wildcat Action project involving the Royal Zoological Society of Scotland (RZSS) since 2011.
Pure wildcats are effectively extinct in Scotland, their genes diluted by breeding with feral domestic cats.
Mr Lister-Kaye said the new kittens are at least 80% pure wildcat, and are likely to go eventually to other captive breeding programmes working on breeding out the hybrid genes.
He said: "We're likely to have them until they are adolescent, then RZSS will decide where they go to breed from.
"Habitats such as the Angus Glens, Morvern peninsula and Strathpeffer are being prepared for eventual release of wild cats by the neutering and vaccination of feral cats.
"The new kittens are very rewarding for the staff who put all the hard work into looking after them, and very nice for our visitors."
Aigas is not open to the public, but runs wildlife holidays. Visitors can watch wildcats from a hide, although the kittens aren't yet visible in this area.
The new kittens have now started venturing out of their den, and have already started to show classic wildcat behaviour.
Staff have reported that they are already showing ferocity and stealth, and hissing at staff if they think they are getting too close putting out food.
They're now looking for names for the kittens, fathered by tom cat Affric, and have invited suggestions through the centre's social media page.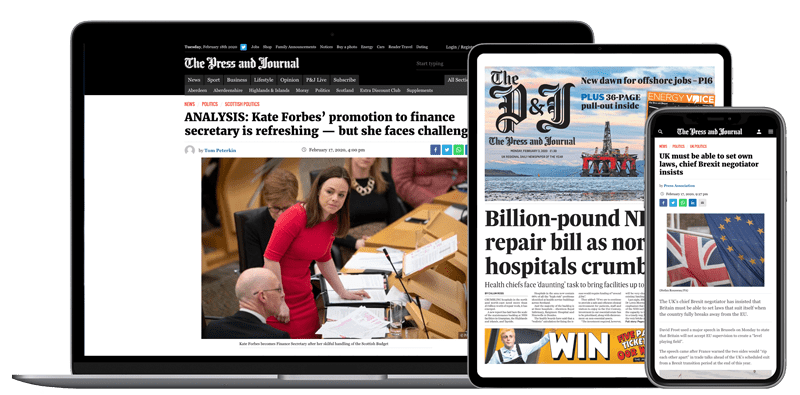 Help support quality local journalism … become a digital subscriber to The Press and Journal
For as little as £5.99 a month you can access all of our content, including Premium articles.
Subscribe