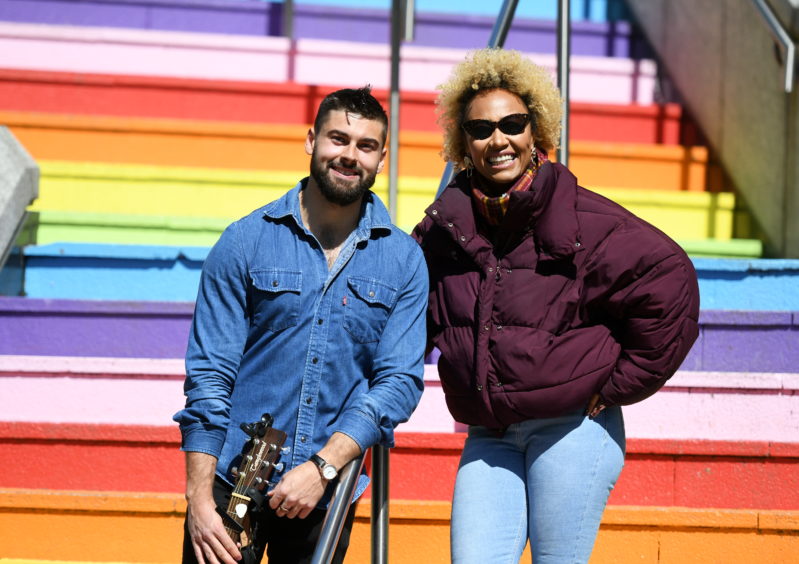 An Aboyne busker, who quit his job as a waiter to pursue a musical career, has been picked to appear in a high-profile concert.
Finn Henderson-Palmer, 21, is among the performers who will take to the stage in the finale of Emeli Sande's Street Symphony on BBC Scotland next month.
He was the first busker whom Ms Sande met in St Nicholas Square in Aberdeen and a video of her watching him perform Ben E King's Stand By Me was a huge hit.
She said: "When I first saw Finn, I loved how he delved into music and I loved his intimacy with it. He's there standing in this massive square with his eyes closed and he's so involved in the song.
"It really reflects in the tone of his voice and the style of his performance. There's something very humble and soulful about him and I could see that from the start."
Singers Ben Monteith, Rachel Howells and Sara & Junbug of Glasgow, Lothian funk band High Fade and Edinburgh trad musicians Mia Scott and Freya Ruuskanen will also join Ms Sande at the City Halls in Glasgow with a full symphony orchestra.
Originally, five acts were to be chosen from the dozens of musicians the award-winning singer-songwriter heard on her journey around Scotland. But the standard of talent was so high that she settled on a final six. All the acts will perform two songs at the final concert – one of their own, and a duet of one of Ms Sande's songs with her.
The hit-making artist, whose third studio album, Real Life, was released this month, said: "The stream of talented musicians we found was mind-blowing and inspirational.
"I'm glad that we stuck with six acts – we absolutely made the right choices. It has been a great privilege for me to follow them on this journey. Every one of them rose to the challenge and I am so proud of how far they've come."
The final two episodes of Emeli Sande's Street Symphony will air at 10pm on the BBC Scotland Channel on October 3 and 10.