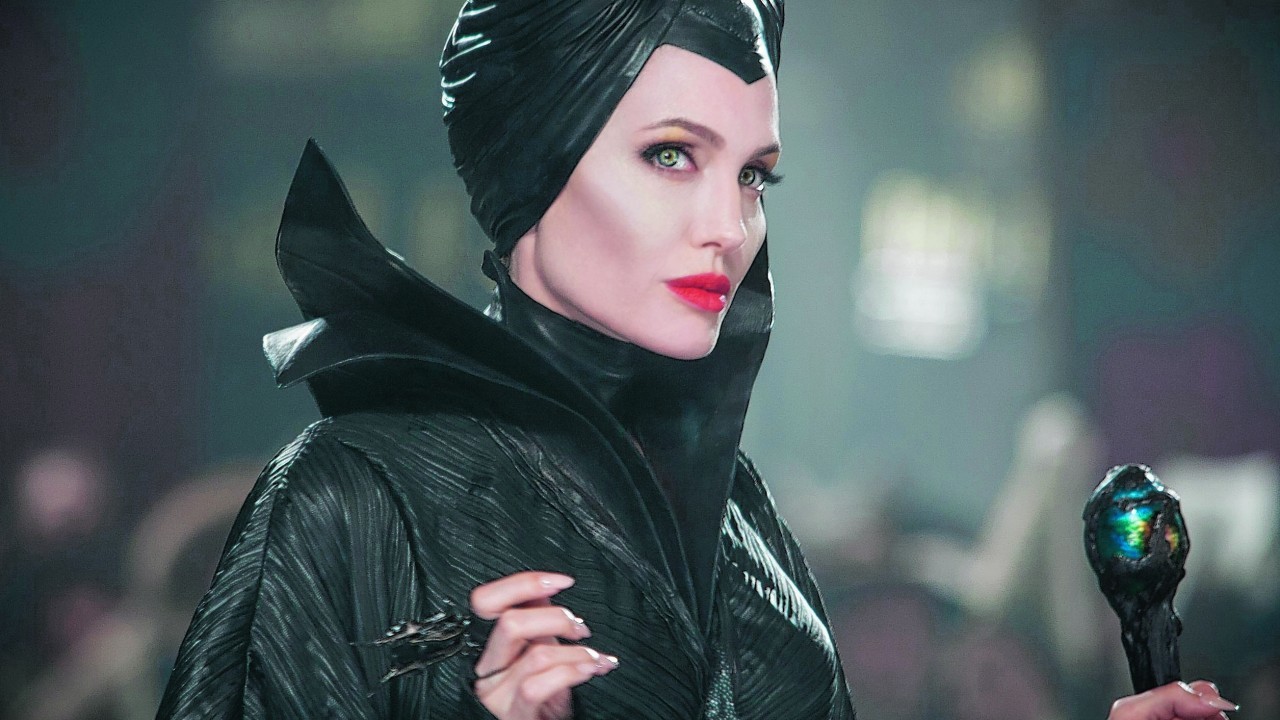 When Angelina Jolie heard that a live-action version of Sleeping Beauty was going to be made, one thought struck her immediately.
"How can you possibly make a film where the central character curses a baby and make that appealing?" says the 38-year-old, referring to the moment the villainous Maleficent casts a slumber-inducing spell on Princess Aurora that can only be broken by true love's kiss.
But then she read the script by Linda Woolverton, the lady behind the screenplays for Beauty and the Beast, The Lion King and Alice In Wonderland.
"Linda really wanted to understand how Maleficent became evil, and I thought that was really interesting," says Jolie, who eventually agreed to play the titular role in Maleficent, a reimagining of the classic fairy tale focusing on the vengeful villain (in cinemas now).
"I can't tell you how much fun it was when I got the script. It was like being a kid again and unwrapping the mystery to find out who she really was."
The film's release coincides with the 55th anniversary of the original Disney animation. However, Jolie (a woman who reportedly used to wear a vial of ex-husband Billy Bob Thornton's blood around her neck), was never really a big Disney fan.
"I wasn't into fairy tales when I was little," admits the actress, looking stunning – naturally – in a fitted white knee-length dress, vertiginous heels and with statement red lips. "I was of the generation where many of the female characters, with the exception of Maleficent, were not little girls I admired or characters I looked up to."
But things have evolved in Disney "land" over the decades and Jolie, who along with Brad Pitt is a parent of six children – Maddox, 12, Pax, 10, Zahara, 9, Shiloh, 7, and five-year-old twins Vivienne and Knox – believes "it's very different now".
"The side of fairy tales I don't like is this idea of happy endings and good and evil and everything's perfect," says the star, who makes up stories for her younger children before they go to sleep. "I'll make up a crazy thing that involves them as characters," she reveals, adding that in her eyes, a good children's story is one with a moral attached.
And that's what she and the Maleficent team strove to do.
"We have answers for people that loved the original and love Maleficent and the fun and wickedness of her, and love Aurora (played by Elle Fanning) and all her loveliness, but then we also wanted to go deeper.
"There are more complex characters and the relationships are more complicated, so we hope we've really upgraded it to make it more meaningful and have more resonance."
GIRL, INTERRUPTED
Despite having a string of challenging roles under her belt, including her Oscar-winning turn as a mental health patient in 1999's Girl, Interrupted, and a woman searching for her lost child in Clint Eastwood's Changeling, which earned her another nomination in 2009, the California-born actress approached this part with trepidation.
"I was quite afraid to do it because I thought the first one, voiced by Eleanor Audley, was done so perfectly," she says. "When I was young I thought she was so cool, so elegant and powerful and had such a great voice. And as an actress I do film, I don't do theatre, so I don't have that voice."
She prepared by listening to recordings of British theatre actresses. Her efforts have been applauded by her kids, who "love my Maleficent voice and make me do it at home".
But as well as perfecting the commanding tone, she also had to embrace her "bizarre and silliness". "There's no half way when you have horns," she says, laughing.
With high collars and sweeping capes, Maleficent's costumes are suitably theatrical. "I'd be thrilled to be embraced by drag queens," Jolie jokes, though the overall effect proved a problem for one particular scene, in which a young Aurora meets Maleficent.
"She has to not see her as a demon, but all the little kids we tried out would be terrified and they'd cry or freeze," recalls Jolie. That's why her youngest daughter, Vivienne, was cast.
"It was genuinely out of necessity so we could have a good scene," she explains. "But it's still funny to Brad and I because, like anybody, it's our little girl. She's silly and sweet and the idea she's in a movie is funny to her mum and dad."
The daughter of actress Marcheline Bertrand, who died in 2007 from ovarian cancer (Jolie had a preventive double mastectomy in 2013 and plans to have a hysterectomy after discovering she has the "cancer gene"), and actor Jon Voight (with whom she's had a tumultuous relationship), Jolie was also a schoolgirl when she landed her first screen role, in her father's 1982 movie Lookin' To Get Out.
It wasn't until she was 16, though, that she decided to focus on acting and, following a relatively slow start, won the first of three consecutive Golden Globes in 1998 for her role in TV movie George Wallace (followed by Gia and Girl, Interrupted, which propelled her to stardom).
MR & MRS SMITH
Asked whether any of her other children are likely to follow suit, she smiles. "Oh God, I hope not. We never have intended, and still don't intend, to put our children in film and encourage them to become actors. We just encourage them to be happy in whatever they wish to be."
While most of their movies are too adult for them to see, her older kids recently watched the 2005 action movie Mr & Mrs Smith, the film that brought Jolie and Pitt together. They thought it "was the funniest thing they'd ever seen". "Apparently watching your parents fight as spies is some strange child fantasy," says the actress.
"I think there's a side of all of us that would like to be completely free and use our voice to the fullest and have as big a laugh as possible, and there are very little opportunities to do this and explore that side of yourself. Maleficent was that character for me."
She now plans for acting to take a back seat so she can focus on writing and directing (she wrote and directed 2011's In the Land of Blood and Honey, set during the Bosnian war, and is in post-production on Unbroken, the story of World War II hero Louis Zamperini).
"But above all I want to focus more on my work with the United Nations," says Jolie, who will be co-hosting a summit on the prevention of wartime sexual violence in June.
"I've had a wonderful career and I'm happy to have had all the opportunities I've had," she says. "I'm sure there will be a few more films, "but I'm happy I'm able to be selective and just have fun with characters like this".