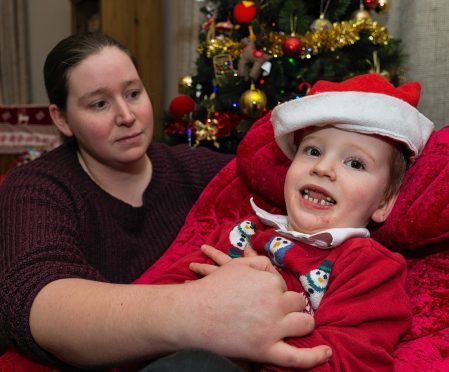 A Moray mum claims she felt "physically sick" when she discovered her disabled son had been segregated from his classmates during a Christmas concert and placed at the foot of the stage.
While the rest of Elgin's Greenward Primary School's primary one class huddled together to sing a selection of festive tunes, five-year-old Tom Groves was separated from them and faced with 150 strangers.
His mum, Gillian Groves, says she was "gobsmacked" by the events, and called on the schoo to explain itself.
Moray Council maintains that Tom was not treated unfairly, and said health and safety fears meant he could not join the others on stage.
Mrs Groves said: "Tom was parked at the front of the stage, with another pupil in a wheelchair, away from the other children who were singing in a group behind him.
"They were completely segregated from their classmates, it was like they were being paraded in front of the hall.
"It was as if he was being pointed out for having special needs, and to me that is discrimination."
While the other youngsters performed two songs, Tom was left without any role in the proceedings.
Mrs Groves added: "He wasn't given jingle bells to shake or anything."
The youngster managed to get through the first of the day's two performances, but during the third concert, he became upset after spotting his family in the crowd.
Mrs Groves feels that had Tom been surrounded by friends, he might have felt less vulnerable and could have controlled his emotions.
She said: "If he was with the other children he would have felt a lot better, he would have been less exposed up there."
However, Moray Council has stressed that Tom was "no more than 3ft" from his classmates, and said health and safety worries prevented him from joining them.
A spokesman said: "We are entirely satisfied that there was no segregation or isolation in this particular case, nor that Tom was paraded in front of the audience.
"The stage is elevated by a matter of 18 inches to 2ft, and Tom was directly in front of it, no more that 3ft from his classmates.
"The design of the stage makes it unsuitable for wheelchairs and that would not have been considered an option for reasons of health and safety."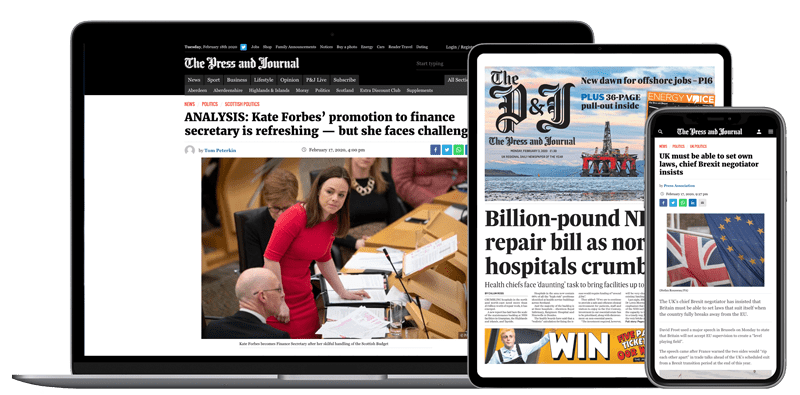 Help support quality local journalism … become a digital subscriber to The Press and Journal
For as little as £5.99 a month you can access all of our content, including Premium articles.
Subscribe