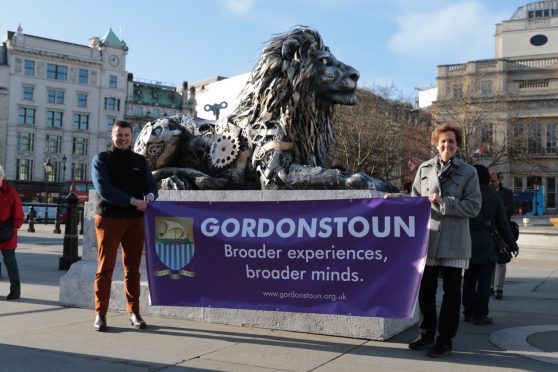 Gordonstoun pupils are fundraising for children who attend lessons in areas populated by some of nature's most feared predators.
The Moray private school is holding big cat themed events across the week, with the aim of raising money for a primary school in Botswana.
Youngsters at the exclusive establishment will hold a "roar-off" competition and plan to stage a school photo with every pupil's face painted to resemble a big cat.
Gordonstoun is the only Scottish school taking part in the scheme, which will help the Gudigwa Primary School purchase supplies.
The initiative, which has been organised by National Geographic, seeks to highlight dwindling big cat populations in Africa.
By forming ties with the African primary, it is hoped Gordonstoun pupils will gain firsthand insights into the challenges involved in preserving their numbers.
Principal Simon Reid, who is from South Africa, described the issue as one "close to his heart".
Mr Reid said: "We are very proud to be the first school in the UK to be participating in National Geographic's Big Cats Initiative programme.
"As a South African, I am delighted that Gordonstoun students have this opportunity to learn more about a cause that is close to my heart."
A National Geographic spokeswoman added: "We hope that Gordonstoun's involvement with its sister school in Botswana will encourage students from both schools to learn more about each other's cultures, and raise their understanding of the plight of big cats worldwide."
Gordonstoun representatives travelled to London's Trafalgar Square to mark the launch of the scheme, where a new statue of a clockwork lion was unveiled by TV personality Rachel Riley.
The sculpture is intended to emphasise the limited time available to stop big cat numbers tumbling further.