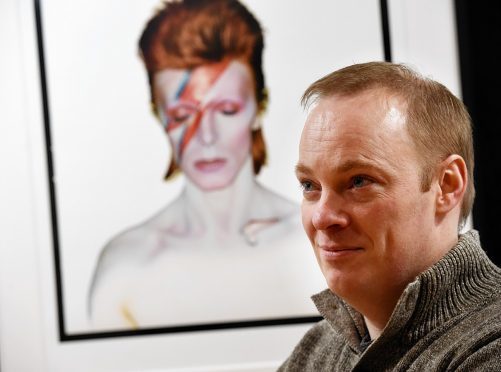 Rare prints of music icon David Bowie have pulled in more than £100,000 at an Aberdeen gallery.
Original photographic prints from the Duffy Archive went on sale in The Artists Gallery in Holburn Street just over a week ago.
The signed images from five sessions with top photographer Brian Duffy were snapped up as soon as they were released by the archive.
Garvan Murray, from the gallery, said he had been pleasantly surprised by sales, with 21 prints being snapped up.
He said: "It was a great honour to be one of the first galleries in the world to host these famous photographs from the famous five sessions that Duffy had with David Bowie. We thought we might sell one or two prints, but were amazed at the interest.
"Collectors saw this as an opportunity to own an iconic photo that will be a constant reminder of the David Bowie's huge contribution to not just the music world, but also to art as well.
"The strong demand is a good indicator that these prints will be an investment that will increase in value over the years."
The Five Sessions collection recalls the shoots that Duffy did with the musical superstar over a decade. The most famous of the photographs, dating from the 1970s, were the ones used for Bowie's Aladdin Sane album.
Mr Murray said the striking image and related photographs had been particularly popular with customers.
Duffy's work also featured on David Bowie's other projects, including Ziggy Stardust, The Man Who Fell to Earth, Scary Monsters and The Lodger.
Sale of the images in Aberdeen was done by contacting clients, and only 14 galleries in the world will have the opportunity to sell the prints.
In 2009, Duffy had his first exhibition in London and in the same year the BBC broadcast a one-hour documentary The Man
Who Shot the Sixties focussing on his life and work.
Duffy died in 2010 age 76.
The Artists Gallery has been the exclusive gallery in Scotland for the Duffy Archive Collection since 2012. Following the David Bowie Five Sessions show, the Artists Gallery is now showing Duffy's Fashion Collection.