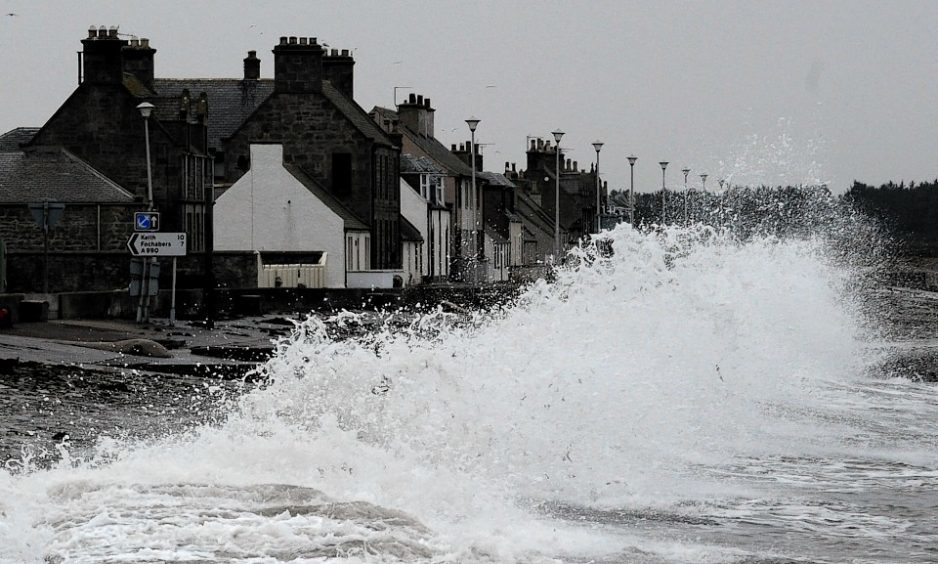 Moray Council will investigate methods of combating flooding in two at-risk communities, after receiving a Scottish Government cash boost towards defence schemes.
Following a string of devastating deluges across Scotland, First Minister Nicola Sturgeon pledged almost half a billion pounds towards safeguarding homes over the next decade.
Of a total £13.5million that will be spread across the north and north-east this year, Moray will receive £1.5million.
Yesterday, the local authority confirmed that the sum would be ploughed into a scheme currently under way at Newmill, and used to fund studies at Portgordon and Seatown, in Lossiemouth.
The coastal areas which will be investigated have suffered from flooding fears for years, with residents along both sections of the Moray Firth routinely setting out sandbags amid rising tides.
The chairman of Lossiemouth Community Council, Mike Mulholland, said that Seatown had experienced a few "lucky escapes, where water was "inches away" from spilling into residents' homes.
Mr Mulholland added: "The water has come very close to homes in recent times, and it would be prudent to prevent that threat from becoming a reality – you have to worry that it's just a matter of time before something happens."
Studies to be carried out at Portgordon will evaluate the benefits of installing defences along the village's seafront.
Meanwhile, Buckie councillor, Gordon McDonald, said he hoped that work on the programmes at Newmill, Seatown and Portgordon would not distract officers from looking into installing defences in other areas where they are required.
Mr McDonald said: "We have to prioritise Portessie, it is a proven risk and people there have been flooded in recent years."
Buckie couple Neal and Claire Stewart have been forced from their home by flooding twice in the past two years.
Last month, they were forced to flee the Fairway Road property when a burn burst its banks and sent water streaming into the town from the A942 road.
The family was left disappointed when Moray Council confirmed it could not afford to begin work that could safeguard their home until 2019.
But last night, Mr Stewart said that the Scottish Government's announcement had offered him some hope that funds would be available for remedial works in the near future.