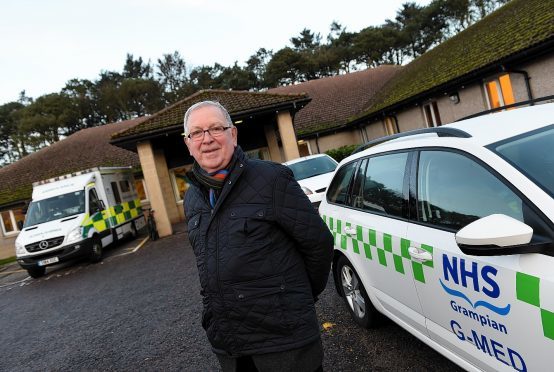 Plans have been lodged for a dialysis unit in an Aberdeenshire town, after years of fundraising by the local community.
More than £1million has been generated for the Stonehaven Dialysis Unit since spring 2011, with countless groups and individuals pitching in.
And now NHS Grampian has submitted a planning application to Aberdeenshire Council to allow them to build the facility as an extension at the rear of the existing Kincardine Community Hospital.
Earlier this year the health board revealed it had enough money to progress with the construction of the dialysis unit, and had hoped work could start by the end of the year.
It is hoped the satellite haemodialysis unit, which will feature around six beds, could be up and running by spring or summer next year.
The facility would serve south Aberdeenshire, saving journey times for local patients who currently have to travel to busy facilities in Aberdeen for treatment.
A total of £1,038,999 has been raised for the dialysis unit to date, in excess of the original fundraising target of £750,000.
There are currently no dialysis facilities in the south of Aberdeenshire, with those requiring treatment travelling to the city three times a week for between four and six hours.
Peter Newell, former president of Stonehaven Rotary Club – a driving force behind the fundraising efforts – said he was delighted the project was finally coming to fruition.
He said: "We're really very pleased, we've been working on the project for a number of years. We've collected a lot of money and galvanised local people around.
"As a consequence of the support we've given, the current rotary club president, Bill Hunter, is on the steering committee to get the unit up and running, so we're still having an input and can keep an eye on things.
"We've seen the plans and they look very good, hopefully things will go forward and it will be up and running by next year."
North-east MSP, Lewis Macdonald, took the case for the dialysis unit to the Scottish Parliament last year.
The Labour politician said: "I am delighted that we have reached this stage. It is an important step, I am sure the council will consider it properly and quickly.
"It has been a fantastic community effort and it is a real credit to the people of Stonehaven and the wider area who have chipped in to support this project and make it possible."
An NHS Grampian spokeswoman said: "We are pleased to be making progress on this development. Campaigners in and around Stonehaven have worked hard over a number of years to raise funds for a dialysis unit south of Aberdeen.
"Submitting a planning application for councillors to consider is the first step on the road to making that a reality."