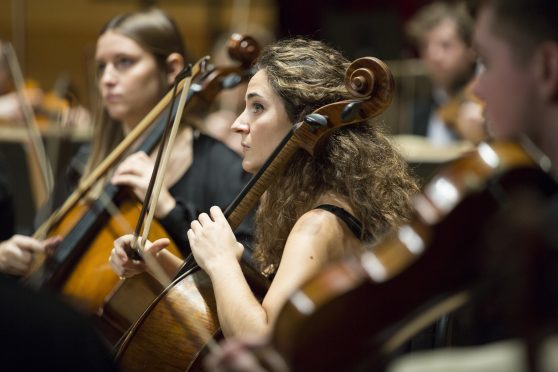 One of the world's best performing arts schools is to open its doors to the north-east in a move that will help disadvantaged children to realise their dreams.
The Royal Conservatoire of Scotland and Aberdeenshire Council yesterday announced a "ground-breaking" deal to train the next generation of elite musicians and performers closer to their homes.
Currently aspiring youngsters must travel to Glasgow to receive training from the academy which has taught Scottish greats like Robert Carlyle, James McAvoy and David Tennant.
But plans have now been put in place to open a new centre at Fraserburgh's Dalrymple Hall.
The move follows the success of the Royal Conservatoire's first "fair access" arts centre launched at Dumfries House in Ayrshire last summer, with the support of Prince Charles.
The deal, which was struck at yesterday's meeting of the region's education committee, means local youngsters will have access to the Junior Conservatoire programmes in music, dance, acting and film.
The initial agreement is for a 3-year programme in Fraserburgh and Aberdeenshire with an annual contribution set at £45,000.
The programme also opens up the award-winning Transitions 20/40 initiative which offers performing arts education to young people in the most disadvantage parts of Scotland.
The conservatoire currently supports around 3,000 children and 1,000 full-time students every year.
Arts teachers in the north-east will also be offered training to raise the level of attainment across the board.
Existing facilities in the town – including the academy, college campus, sports centre and dance studio and the Dalrymple arts centre – will be used for the scheme.
The Royal Conservatoire of Scotland, formerly known as the Royal Scottish Academy of Music and Drama (RSAMD), is currently ranked sixth in the world of performing arts institutes, just behind Juilliard in New York and the Sibelius Academy in Finland.
It is also ranked number one among Scotland's higher education institutes for graduate employability.
Speaking to the committee at Woodhill House in Aberdeen, Royal Conservatoire director of academic innovation, Andrew Comrie, said: "We know living rurally is a barrier for young people to access what we have to offer.
"It prevents people with ambition to study in the arts to an elite level from doing so. There are many people who simply cannot afford to pay for it. They may have talent, ability and a dream but cannot afford to achieve it."
Training will be offered for free to students who are from the 20% most deprived backgrounds or who have grown up in care. Mr Comrie said other bursaries and support would also be available.
He added: "We are Scotland's national conservatoire even though we're based in Glasgow. We have a remit to serve the whole of Scotland but we know for those living in rural areas we're not achieving that."
Mr Comrie's presentation was roundly welcomed by councillors. Charles Buchan, committee vice-chairman and ward member for Fraserburgh, said: "I am absolutely delighted about this initiative and I know my thoughts are shared with the community in Fraserburgh, which has a very strong arts background.
"I very much look forward to seeing the programme develop over the course of the next few months and years."
Council co-leader Alison Evison said: "This is an incredibly exciting moment for communities in Fraserburgh and across Aberdeenshire.
"The north-east is home to very talented children and young people who we want to nurture from primary school up so they have opportunities to develop not only their artistic skills but also their self-confidence."
And councillor Isobel Davidson, education spokeswoman for the opposition Alliance group, added: "This is a great initiative and will be a great asset for Fraserburgh. We look forward to seeing what happens in the future."
170 years of the Arts
The Royal Conservatoire of Scotland is celebrating its 170th anniversary this year as the partnership with Aberdeenshire Council is announced.
Around 1,100 students are currently pursuing degrees at the conservatoire across its specialisms in music, drama, dance, film and production.
Famous alumni include Scottish big screen stars Robert Carlyle and James McAvoy as well as former Dr Who actor David Tennant and singer Sheena Easton.
The organisation also works with national companies including the National Theatre of Scotland and Scottish Opera.
Last night Professor Jeffrey Sharkey, principal of the conservatoire, said he was excited to tap into the "artistic potential" of Aberdeenshire's youth.
"As Scotland's national conservatoire we're committed to creating opportunities for young people across the country to experience the power and transformative potential of the performing arts," he said.
"Innovative, community-based collaborations such as this are very welcome and are key to enabling young people to have access to the high quality arts education irrespective of geographical location."
Based in Glasgow, the Royal Conservatoire of Scotland is also a busy performing arts venue and hosts more than 500 public shows every year.