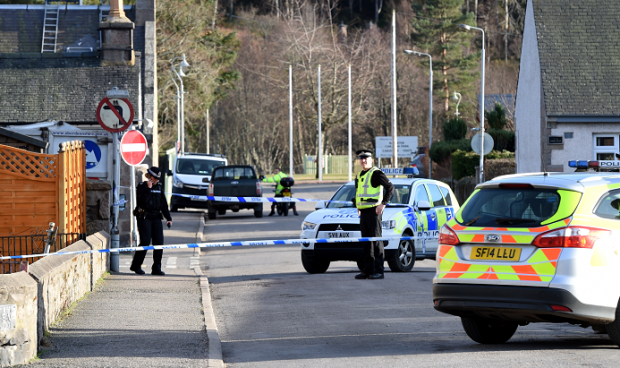 A wartime hand grenade was discovered in a block of flats yesterday.
The bomb squad was called out to Ballater after workmen found the unexploded World War II device in a flat on Braichlie Road.
Police sealed off the road, and the only occupant of the block at the time was evacuated.
Explosive ordnance disposal teams assessed the grenade, which is believed to have lain unnoticed in the flat for years.
One woman living next door said she had been shocked when police ordered her out of her flat – and admitted it had taken her back to the moment she was evacuated after the River Dee burst its banks during Storm Frank in December 2015.
She said: "It happened just after 11am. I'd looked outside and wondered what was going on. The only thing horrible about it was it reminded me of the floods, we got evacuated here.
"I was in the house and I was told to leave. They took my mobile number and I went to a friends. They called me when it was done and I came back. I was away for four or five hours.
"It (the grenade) would have been up there left for ages."
Another local woman, who was allowed to stay in her home, said she looked out of her window and saw police and soldiers converging on the street.
She added: "I just saw the road being blocked off, and then the bomb disposal unit and a couple of soldiers went down the sides of one of the houses. It was a wee bit of excitement.
"The police were here for quite some time then I suppose they had to wait as the bomb disposal unit investigated.
"The road was blocked and cars couldn't go up, and pedestrians were being sent the long way around."
Police later confirmed the device had "no explosive capability" and that there had been "no threat to the public".
The flat where the grenade was found is believed to have been undergoing renovation at the time. It is not believed anyone currently lives there.
Inspector Megan Heathershaw said: "Following a review, we can confirm that the item was a deactivated device from World War II which has no explosive capability.
"It has been safely removed from the site. Once again I would stress that there was no threat to the public at any stage.
"Thank you also to those members of the public who were affected while inquiries were carried out."