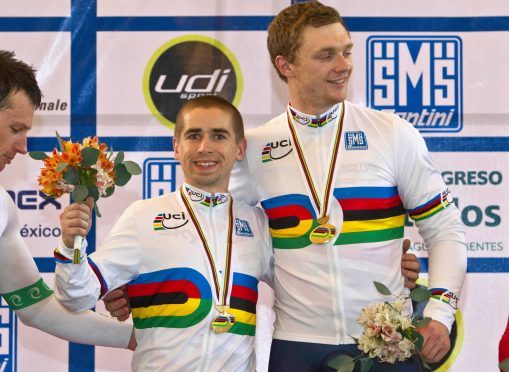 Sporting hero, Neil Fachie, has hailed the return of a lost world championship gold medal as an inspiration to pursue fresh honours.
The Aberdonian paracyclist was left distraught when the cherished framed prize and shirt went missing.
But, a month after the Press and Journal highlighted his plight, the pieces of memorabilia have been handed back to the 34-year-old.
Now, it could join other mementoes on his training room wall to help push him to even greater heights.
The tandem cyclist sent the prized items to sponsor First Oil to display in their Granite City offices.
But when he tried to retrieve them after the business went bust, he was told by administrators they were nowhere to be found.
However, energy tycoon, Ian Suttie, who owned the firm, has handed the items back after a misunderstanding over their status.
Mr Fachie was told the good news by his parents, who received the medal and shirt while he was in Los Angeles, adding another two world silver medals to his already glittering career haul.
He is relishing being reunited with the 2014 trophies when he returns to his home city on Saturday to watch Aberdeen play Motherwell as part of a community action day at Pittodrie.
He said: "I thought I was condemned never to see it again," after hearing Mr Sutttie had sent them to the Bridge of Don house of his parents Linda and Stan.
"As far as I'm aware, it was a misunderstanding.
"He had not realised at the time that it was given on a loan basis."
Mr Fachie was made an MBE after the 2012 games in London, where he was crowned Paralympic champion.
The recovered medal and "rainbow" shirt are from a world record-breaking ride two years later in Mexico.
They could end up joining other honours on display at his parents' house – or return to the home in England which he shares with his wife Lora, a fellow champion paracyclist.
He added: "It is inspiring to me.
"I have one of mine and one of Lora's up in the training room to keep reminding us of why we are doing it."
Mr Fachie lost about £24,000 in support when First Oil went into administration.
The sportsman, whose sight is severely restricted by the genetic condition retinitis pigmentosa, is still battling to recover some of the sponsorship from administrator KPMG.