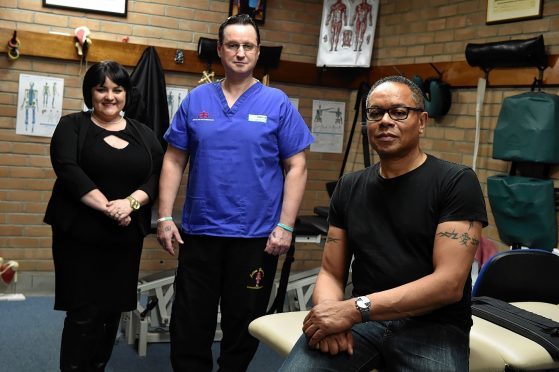 A new business has been set up in the north-east offering a unique form of therapy to musicians with injuries impairing their ability to perform.
Drummer Mairi Newburry feared she would never be able to play again after being struck down by joint condition fibromyalgia.
She had played all round the world and was even trained by Beyonce's drummer Kimberly Thompson but was told her career was over.
But the 41-year-old said her life was "saved" after she took part in Active Isolated Stretching (AIS) with muscle expert Garry Nimmo.
She was told that drugs were the only way to address the problem but after coming into contact with him she began to perform a series of stretches and was soon able to get back on the drum kit.
Now she wants to be able to help other musicians and spread awareness of the treatment.
She has one office in London and another in the Sheddocksley sports office.
Her north-east base was visited this week by Shakatak bassist George Anderson, who was full of praise for what was on offer.
He said: "Contrary to what people think musicians do not drink all the time.
"Our bodies need to be treated like that of an athlete.
"The session was excellent, it had a look at my posture and the mistakes I am making.
"They have spotted problems that will emerge if I keep going the way I am.
"I feel a lot more relaxed.
"I'll be telling all my musician friends about it, I play the bass but perhaps a drummer would benefit more."
Mrs Newbury revealed she was looking to raise awareness of the therapy and help other musicians.
She said: "We have a centre in London and one in Aberdeen.
"George was the person to visit us in Aberdeen.
"In London we've seen Mark Mondesir, Van Morrison's drummer, visit us.
"The aim of the therapy is to make the muscles unstable.
"They are normally stable but that means you can't relax.
"I want to help as many musicians as possible.
"There are only around three people in the UK who can offer this treatment.
"It can help musicians will all sorts of conditions."