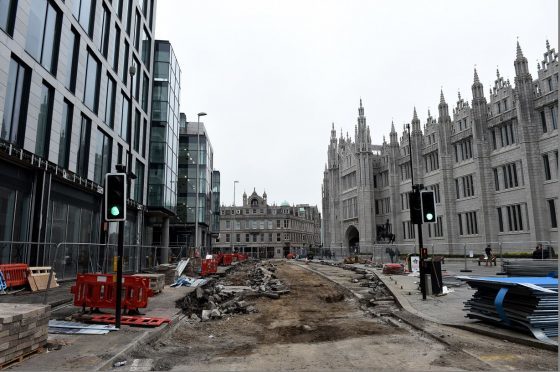 A busy city centre street will close to traffic for more than two weeks as a multi-million pound pedestrianisation project progresses.
Part of Upperkirkgate, between Flourmill Lane and Gallowgate, will be closed from June 7-23 to allow for the re-surfacing of the road's Gallowgate junction and installation of a roundabout.
The project is a key part of the 25-year city centre masterplan and will involve pedestrianising the street and will include large scale landscaping and a raised area in front of Marischal College.
The £3.2million project has been hailed by the local authority as "transformational" but the new works are part of a series of traffic restrictions that have been imposed in recent months.
In March, Broad Street was closed to vehicles for the final time in a move that will see it accessible to only bikes and busses when it reopens later this year.
Earlier this month the street surface was dug up to install Belmont Street-style paving, a project that will take two months to complete.
The development has also been delayed multiple times with work halted in April due to health and safety concerns and the overall completion date pushed back from July to November.
While the council say that the closures are needed to complete the work and ensure public safety, SNP group leader Stephen Flynn said motorists would be "rightly frustrated" by the fresh delays.
He said: "I think commuters will be scratching their heads at this closure. Everyone understands that the work of Broad Street is needed to try and make Marischal Square work economically.
"But people will be rightly concerned about delays."
The council's transport spokesman, Ross Grant, said: "As part of the Broad Street public realm improvements, it is necessary to put the restrictions in place on this section of the Upperkirkgate.
"We appreciate the inconvenience that this may cause but would ask for drivers to remain patient as the work is carried out and that they factor in these restrictions as part of getting about the city centre."
Alternative routes will be in place via Schoolhill and Little John Street in order to ease congestion.
A council spokeswoman said the closure was for "public safety".