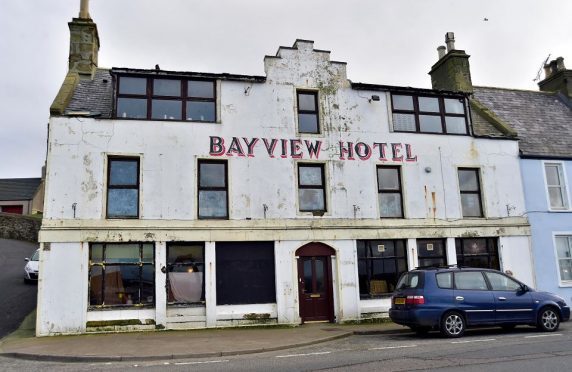 Plans to transform a run-down Banffshire hotel into a trawlermen's respite have taken a step forward.
The scheme, spearheaded by husband and wife team Susie Seui and Jim Perry, is an effort to support overseas fishermen when vessels are docked in Macduff.
Aberdeenshire Council are currently regenerating the town's harbour by relaxing landing regulations and attracting new business.
Ms Seui and her husband have joined the effort and submitted a planning application to convert two floors of the former Bayview Hotel on Shore Street.
They bought the derelict accommodation in October last year and already support visiting fishermen with free internet access and a social area.
The proposals to convert bedrooms on the first floor into bunkrooms for up to 10 sailors will allow The Bayview, as the building has been renamed, to accommodate an entire trawler crew at once.
The planning application being considered by the local authority includes proposals for a craft room, social area, museum and tuckshop on the ground floor as well as bunkrooms and a prayer room on the first floor.
Ms Seui, Mr Perry and the couple's son Matthew will continue to live in rooms on the second floor.
Last night Ms Seui said she was inspired by her time living near the Philippines and in Samoa.
"I was raised in the Pacific not far from the Philippines. There it's really important to open your home to seafarers.
"I think it's been welcomed. The Filipino and African fishermen will walk along the street and can be really shy because language is a barrier for them.
"To have somewhere to stop in sight of their boat is important. All they want is a place to come in and feel welcome."
Ms Seui is already working with visiting fishermen and has hosted entire crews at The Bayview with activities including a chess tournament.
She also praised a group of local volunteers who are helping to refurbish the property.
Historically Macduff had a branch of the Fishermen's Mission however in recent years branches of the organisation in the north-east – including in Peterhead – have closed or cut back their services.
In a letter to council planners, architect Michael Ritchie of Mantell Ritchie said: "As the Bayview Hotel is directly across from Macduff harbour the owner noted that on numerous occasions overseas fishermen were residing in Macduff during their shore time with limited access to onshore facilities or accommodation."
The move has been praised by local skipper John Clark who said the sailors' refuge would boost the regeneration of the port.
"I've spoken to the couple that own it now and I know of a couple of foreign crewmen who have used The Bayview," the Reliance II skipper said last night.
"If anything it's a positive step and the shore in Macduff definitely needs a good tidy up because there are far too many empty buildings lying idle that could be put to good use."
The proposals are currently under consideration by Aberdeenshire Council planners. The application will be open for public comment until October and a decision could be made in November.