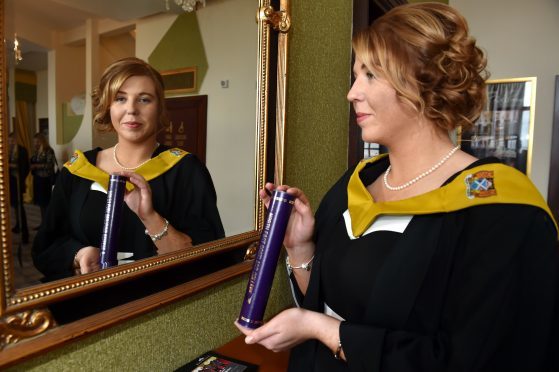 A woman whose life was thrown upside down by a car crash has been dubbed "inspirational" by lecturers after sticking with her studies.
Graduating yesterday with a HNC in Childhood Practice, Fraserburgh's Catherine Stewart has had to work harder than most to complete her course, and admitted she thought about quitting several times.
In January 2016, Ms Stewart's partner was involved in a crash that left him severely injured and hospitalised, throwing her and her two children, Jack, six, and Emily-Rose, two, into complete turmoil.
Yesterday, paying thanks to the "huge" support from her parents, the 29-year-old said: "I tried to quit a few times, but the staff at the college persuaded me to stick in.
"It has been very has been very hard going and we still have a long way to go.
"He's in Woodend hospital now and has been starting to speak over the last few weeks, which is amazing. We are hoping he will get home soon and are getting the house adapted for him."
Because she was spending so much time in a hospital environment with her partner, and was having to find childcare to allow her to do this, she was inspired to work towards setting up a day care facility within a hospital for the children of parents who were visiting or were in for treatments.
Due to her personal circumstances, her college experience was not without its ups and downs, but Ms Stewart succeeded in in spite of this.
She said: "The lows far outweighed the highs for a long, long time. The accident meant that I was very up and down emotionally, and did take some time off college.
"But the lecturers were so supportive throughout and encouraged me to come back and complete the course. They gave me space and time, and if any deadlines were not quite met they understood – although I tried hard for this not to happen.
"College gave me hope and something to concentrate on, taking my mind off of the problems within the clinical setting. I wanted to achieve this qualification and become an early year's practitioner for my children, and also my partner, who always encourages me to push forward no matter what. I also did not want to let the staff down after putting so much effort and time into my studies."
Having completed her qualification, Ms Stewart is now working as relief for Aberdeenshire Council and has just accepted a job with a local nursery.
She said: "The feeling of achievement is amazing.
"My aim is to open my own nursery one day, if not within the hospital environment, then one specialising in children with learning difficulties that need that little bit extra care and support."