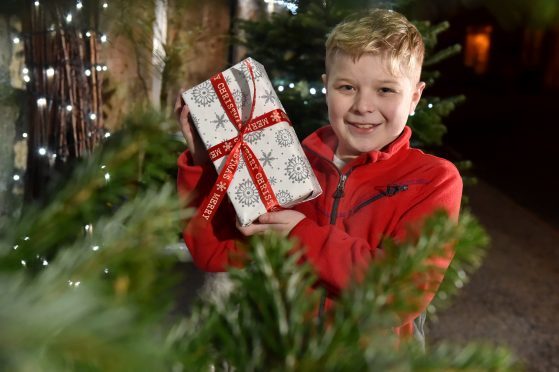 For most children, waking up on Christmas morning is the highlight of the year as they discover the delights left out for them to unwrap.
However, 12-year-old Caleb Middleton from Udny Green has requested that his family and friends don't buy him a gift and donate to a north-east charity instead.
He is taking part in the Human Anchor of Light candle-lit vigil in memory of his mum who died from cancer when he was aged four.
"I wanted to get involved to support people who are going through what I went through with my mum, whilst paying a special tribute to her," the youngster explained.
"I feel this is such a worthwhile cause and by supporting it, we are helping as many people as possible.
"It feels good to give something back and I know that my mum will be happy that I'm getting involved."
This Sunday, the small village will shine bright as people from across the region join together on the green in the form of an anchor to pay tribute to family or friends who have been affected by cancer.
The event, organised by Kilted Chef Craig Wilson will raise money for local charity Friends of Anchor and it will include a 'service of hope' with performers including Susan Boyle.
Restaurant Eat on the Green has raised £45,000 for Friends of ANCHOR over the past three years. Through the 'human anchor of light' event, Mr Wilson aims to raise a further £50,000 in recognition of the charity's 20th anniversary year and its 'Dream Big' campaign.
Mr Wilson said: "We have been overwhelmed by the response we've had to this event, we were so touched by Caleb's story and his enthusiasm to support this event and raise funds for Friends of ANCHOR. We've had so many inspiring stories from people who want to get involved and we are so grateful to everyone who has pledged their support.
"It is my dream to raise £50,000 for Friends of ANCHOR and there's still time to get involved, so I would urge as many people as possible to sign up and unite against cancer, in what promises to be a very special event."
The event takes place on Sunday, December 3 in Udny Green church and to participate each light-bearer should raise or donate a minimum of £100 for the charity.
Please visit www.eatonthegreen.co.uk/anchoroflight for further information.