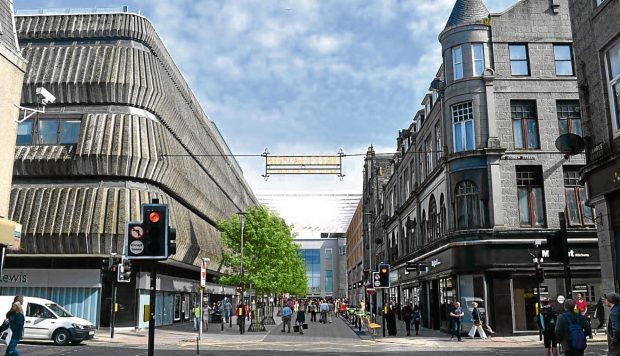 The city council is developing plans to protect the future of one of the most important shopping streets in Aberdeen.
The city centre masterplan seeks to revitalise the heart of the city by modernising key areas in an effort to make them more appealing to visit, work and live in.
Parts of the masterplan, which was approved unanimously by the council in 2015, are already under construction, including the regeneration of Broad Street and the Aberdeen Art Gallery.
And now the local authority is seeking to speak to local communities and businesses on George Street to find out how best to improve the area as part of the ambitious project.
With a number of ongoing developments in the region, including the overhaul of the Bon Accord Centre to include a cinema, proposals for a farmer's market and the refurbishment of Broadford Works into an "urban village", council chiefs believe the street has great potential.
Aberdeen Central MSP Kevin Stewart said: "George Street has always been one of our city's main shopping streets, but we need a plan to ensure it will remain a desirable place to live, work and do business.
"There's a strong will among the community and local businesses to improve the area, and I'd like to see the council working with local groups to achieve that.
"If we want to see a real change in George Street, then there needs to be a concentrated effort, led by the council, to get a masterplan together for the area.
"There could be benefits for everyone involved."
A spokesman for the city council said: "The city centre masterplan recognises George Street's potential.
"Aberdeen City Council has been working with Aberdeen Inspired, the banner under which the Busniess Improvement District operates, to explore opportunities for George Street, including holding discussions with the George Street Traders Association.
"The masterplan is a blueprint for transformation and notes that 'there is scope for further expansion and rejuvenation of the George Street area to the north'.
"When it comes to implementation and delivery, Aberdeen City Council is always ready to work with partners.
"The council is hoping to bring members of the George Street community together in the near future to help them formulate an action plan for the area."